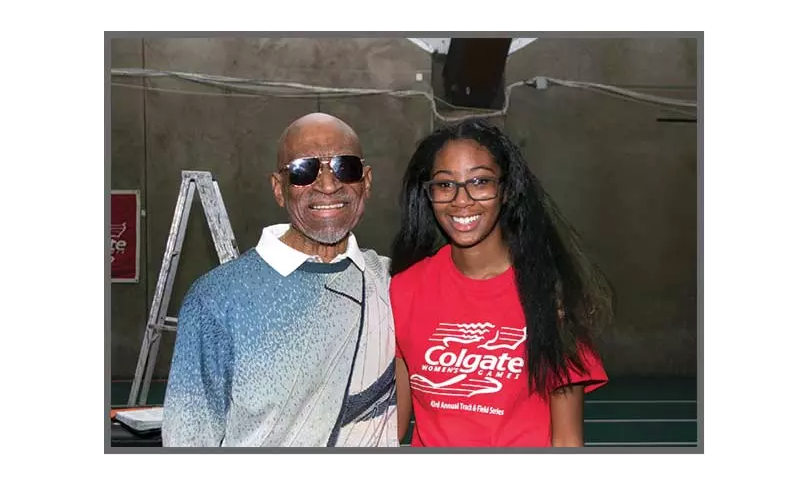 Fred Thompson, a champion of women's athletics and longtime member of the local community, died on January 22 at the age of 85. He was the director of the Colgate Women's Games, retiring after 40 years of service in 2014. The Colgate Women's Games began at Pratt in 1974, and are the largest amateur track series for girls in elementary school through college. The preliminary and semifinals competitions are held in Pratt's Activities Resource Center (ARC).
The Brooklyn-born Thompson was himself a track star at Boys High School and the City College of New York. He worked as a lawyer and New York State assistant attorney general, yet track and field athletics were his passion, and he was alarmed at how participation for girls was limited due to budget cuts and a lack of school sports programming. In response, he formed the Atoms Track Club. While they began in 1963 in a Bedford-Stuyvesant community center, the Atoms later found a home in the ARC.
"All those Sunday mornings at Pratt, the place is filled with mommies and daddies," Thompson told the New York Times in 1979 describing the Colgate Women's Games. "I know policemen who took days off to be there to see their daughter. I know guys who never get out of bed on a Sunday for anything else, but they were there to see their daughter run."
He coached generations of girls and young women from nearby neighborhoods like Bedford-Stuyvesant and Fort Greene, and even some who traveled from Queens and Staten Island. The Colgate Women's Games boasted more than 20 Olympians under Thompson's tutelage, including medalists Cheryl Toussaint, Diane Dixon, and Grace Jackson-Small. He also served as an assistant coach on the United States track team at the 1988 Seoul Summer Olympics.
Image: Fred Thompson with High Jump Champion and Colgate Games record holder My'Khiyah Williams in 2017 (Send2Press Newswire, via Colgate Women's Games)