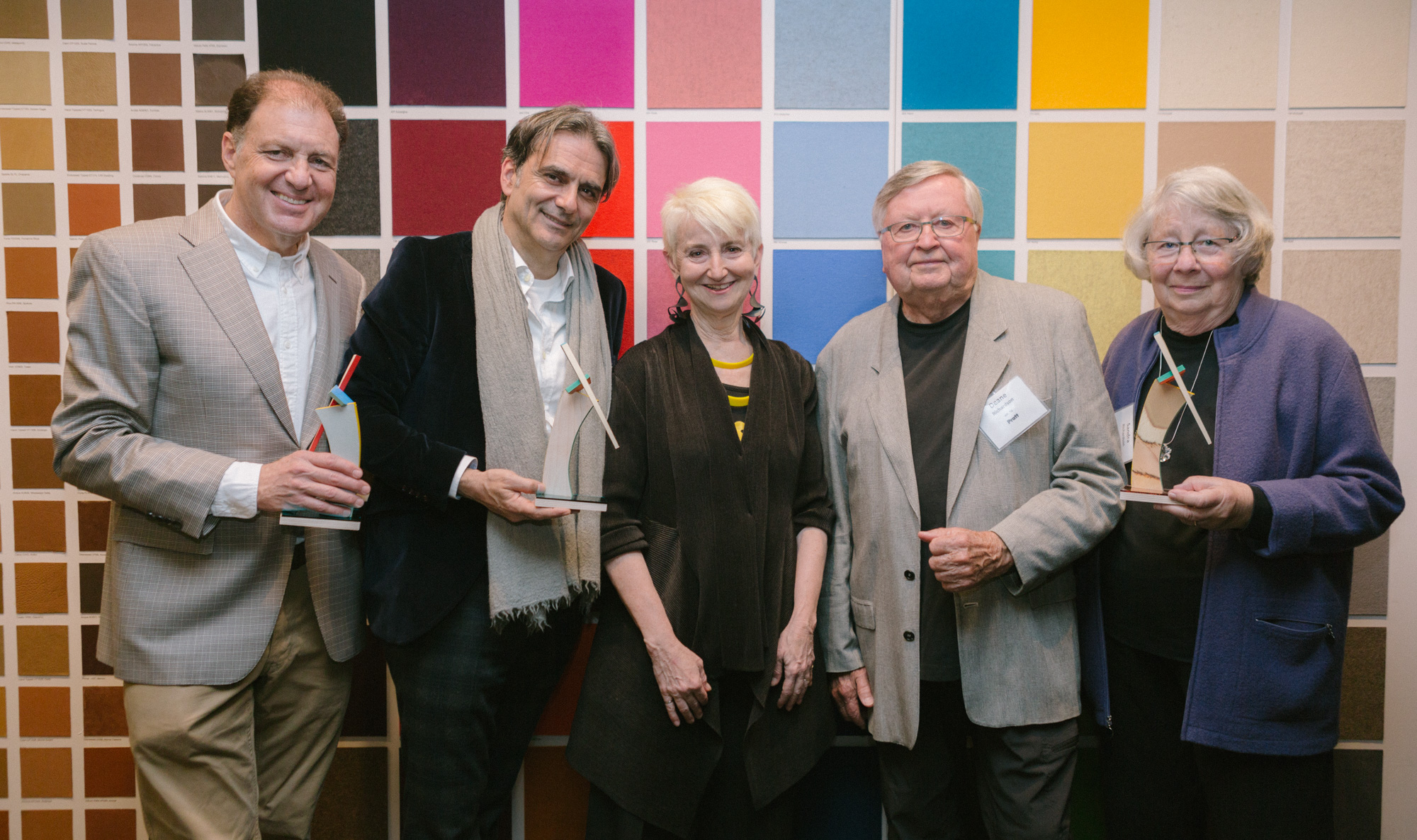 This year the Rowena Reed Kostellow Fund honored two sets of Pratt classmates for their achievements in industrial design. Deane and Sandra Richardson, ID '57, who both studied with Kostellow, were honored with the 2019 Rowena Reed Kostellow Award for the couple's respective work in product design and design education. René Bouchara, ID '85 and Simon Hamui, ID '85, who were Pratt classmates, were presented with the Young Designer awards.
The Rowena Reed Kostellow Fund at Pratt started following the death of Kostellow in 1988. It supports the continuation of her teachings through scholarships, publishing, and other programs. With her husband Alexander Kostellow and Donald Dohner in the late 1930s, she established Pratt's Industrial Design program and subsequently taught on campus for over five decades. While preparing students for a machine-oriented industry, she also emphasized the study of form, and how using these simple forms they could address difficult design problems. The pioneering program influenced industrial design coursework across the world.
The awards ceremony, a benefit for the Fund, was on April 17 at the Knoll Showroom in Manhattan. Speakers included the honorees as well as Fund Chair Tucker Viemeister, ID '74, Chair of Industrial Design Constantin Boym, and Tarik Currimbhoy, ID '79. The awards were designed by Pratt student David Haff, BID '19. Each year, the Fund commissions a student to create and build the awards, with Haff using recycled materials for his designs.
Sandra Longyear and Deane Richardson were in the same color class in their freshman year, with their later coursework including studies with both Rowena Reed and Alexander Kostellow. Deane says that these teachers taught them "to develop our intuitive powers and to integrate aesthetic analysis with imagination—exactly those skills needed to forge strategic paths to new visual languages and positive user-interactions." After graduating, they went their separate ways, Deane partnering with another classmate, David Smith, to form the RichardsonSmith consulting firm in Columbus, Ohio. Sandra was hired by General Motors (GM) Design in Detroit to work on Pontiac production and concept cars.
Soon, however, they got married, and Sandra joined Deane in Ohio to collaboratively continue their design practices. By 1990, following a merger with Fitch, RichardsonSmith was the country's biggest product design company, with its clients including Chrysler, Disney, Nissan, Hitachi, Xerox, Microsoft, and Nokia. Deane served as president of the International Council of Societies of Industrial Design and was named a Fellow of the Industrial Designers Society of America. Sandra taught industrial design at the Columbus College of Art and Design. RichardsonSmith continues to operate a small campus for fostering innovation.
René Bouchara and Simon Hamui were jointly selected to receive Young Designer awards as a reflection of Rowena Reed Kostellow's international legacy. Based in Paris, Bouchara is a multifaceted creator working in product, interior, and graphic design, with clients including commercial spaces and exhibitions, and collaborations with Christian Dior and Karl Lagerfeld. Hamui's company in Mexico City is similarly prolific, taking on residential work, corporate design, luxury yachts, furniture, and manufacturing.
Image: Simon Hamui, René Bouchara, President Frances Bronet, Deane Richardson, and Sandra Richardson