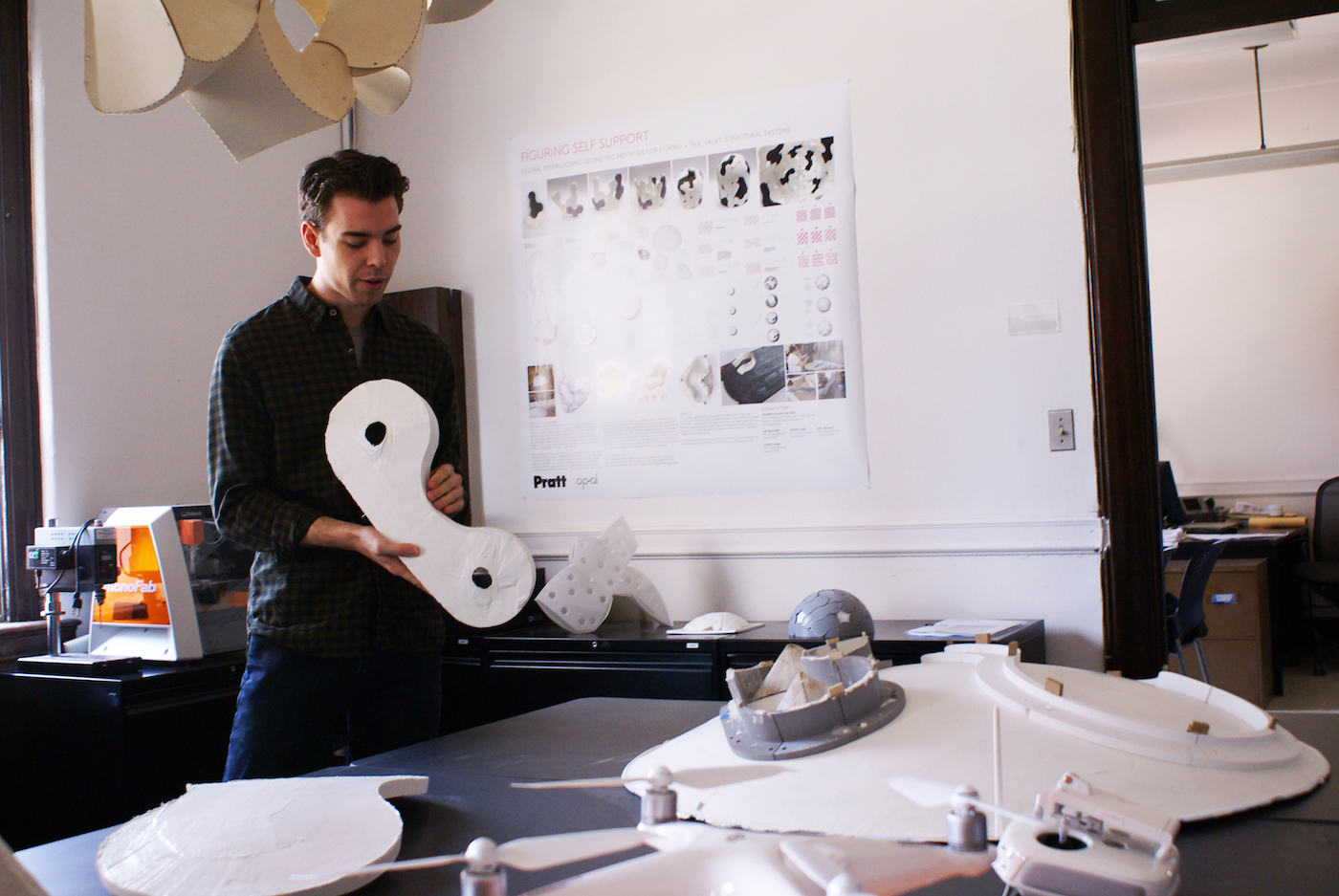 Cal MacAuliffe, BArch '21, presents Figuring Self Support, a project led by Jonathan Scelsa, assistant professor of Undergraduate Architecture, at the 2019 Research Open House (photo by Daniel Terna)
Throughout the year at Pratt Institute, research advances everything from the use of virtual reality in physical therapy to the building of architecture for bees. This May, the annual Research Open House (ROH) is going online, allowing anyone around the world to join in this celebration of new ideas, cutting-edge scholarship, and innovative experimentation. Organized by the Office of Research & Strategic Partnerships in the Provost's Office, the ROH site launches on May 4 in the third edition of the annual event.
"We're so thrilled to be able to bring the research we would have shared on our Brooklyn campus to the web, where those near and far can access the work of our incredible faculty, staff, and students," said Allison Druin, associate provost for research and strategic partnerships.
The digital version offers presentations by students, faculty, staff, and alumni through short videos, text, and images. These introduce attendees to forward-thinking research in art, architecture, design, technology, sustainability, and other disciplines. This year's ROH, which follows Pratt's 15th annual Green Week, has a special emphasis on sustainability and ecological consciousness. It also reflects ongoing initiatives like the Pratt Research Yard which is planned to open at the Brooklyn Navy Yard as a central facility for the Institute's numerous research centers, accelerators, and groups.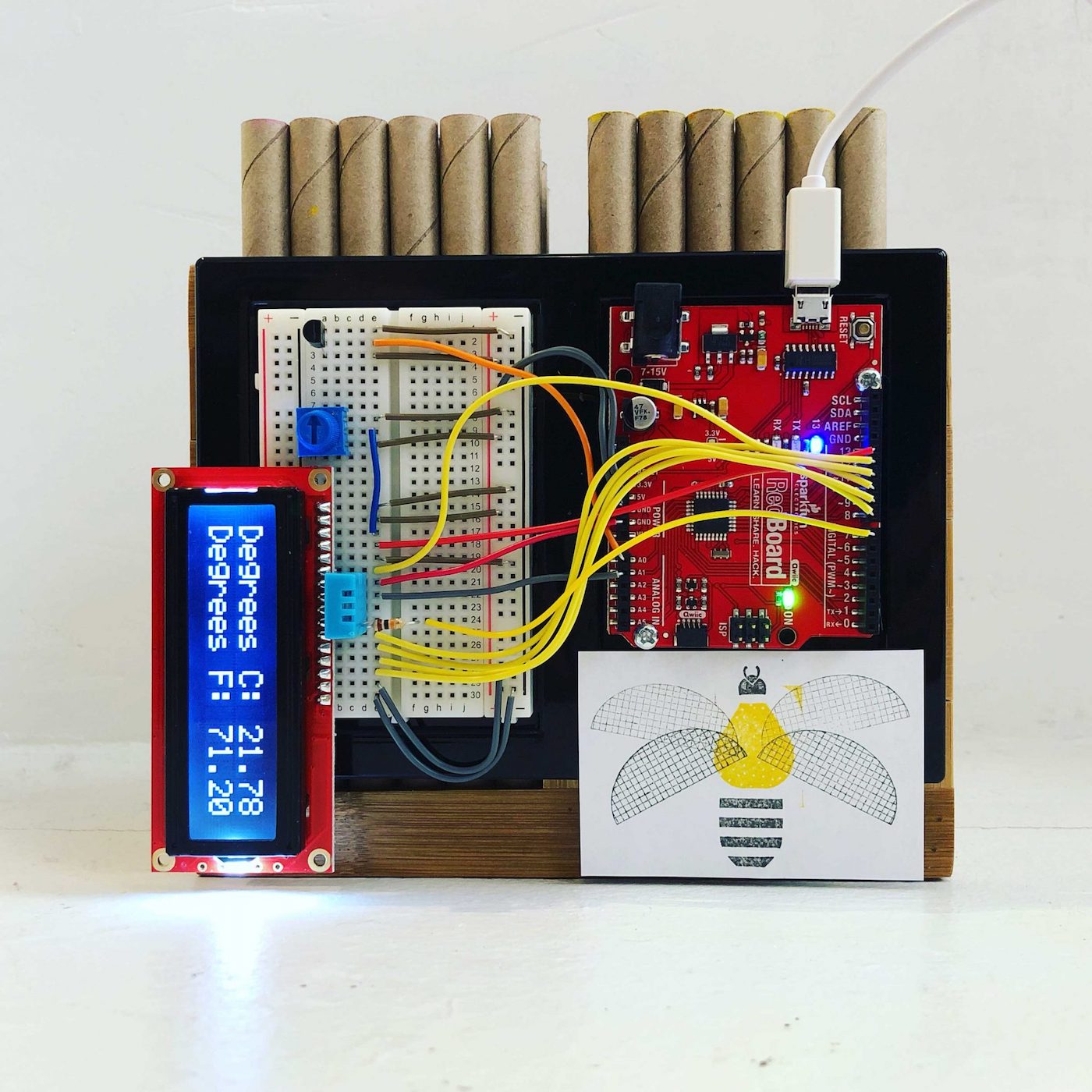 "Smart Hives: Designing for Native Bees" by Nancy Smith, assistant professor in the School of Information
ROH 2020 participants include Hannah Anousheh, MS City and Regional Planning '19, whose research commissioned by the Graduate Student Engagement Fund explores how women have been on the frontlines of transforming Puerto Rico through resiliency-building efforts and sustainability initiatives. Also exploring sustainability is Nancy Smith, assistant professor in the School of Information and 2019-20 Seed Grantee, whose "Smart Hives" are made from recycled and found materials and are designed for native, solitary bees, which are essential pollinators facing dwindling habitats.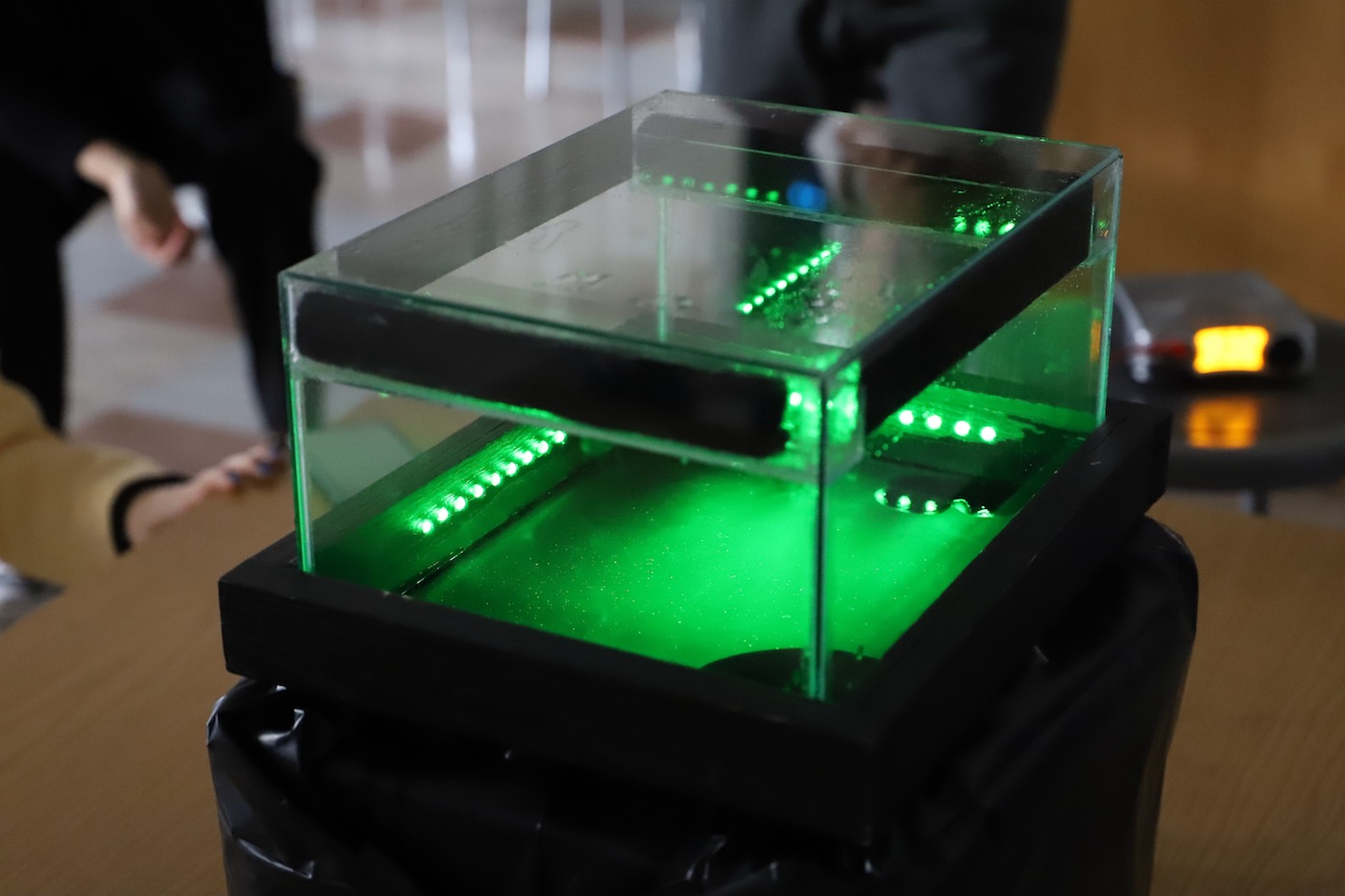 The Interactive Learning Station project led by Helio Takai, interim dean of the School of Liberal Arts and Sciences
Other participants are rethinking traditional education environments, such as Connie Fu, MFA Painting and Drawing '19, whose "Trust-events in the Art of Pedagogy" is the culmination of the inaugural Pratt/VACI Fellowship. Supported by the Center for Teaching and Learning and the Department of Fine Arts, Fu is studying how "trust-events," or interactions that foster healthy student-teacher relationships, can be part of the curriculum. Meanwhile, a team led by Helio Takai, interim dean of the School of Liberal Arts and Sciences, is working on an Interactive Learning Station that would offer accessible science education through art. Their concept is for pop-up stations that would be installed in public places for learning about science through hands-on activities and technology like augmented reality.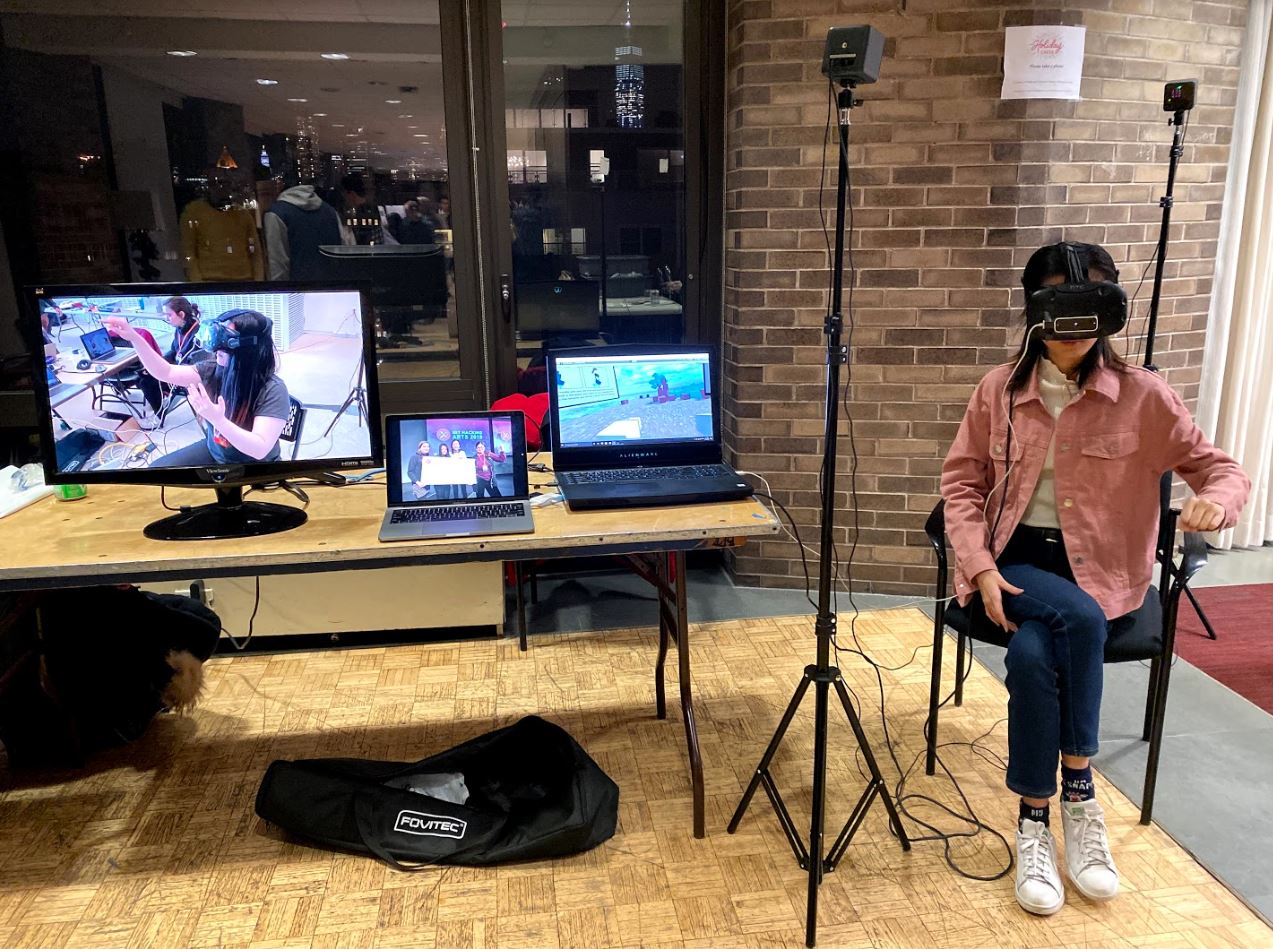 Interacting with Flex VR, designed by Yuting Wang, BID '20
Other researchers are similarly considering new applications for technology. Yuting Wang, BID '20, designed Flex VR, which uses virtual reality to help older patients reach their rehabilitation goals. The technology makes repetitive movements more enjoyable and allows clinicians to collect data on the frequency and quality of physical therapy exercises. Can Sucuoğlu, interim director of the Spatial Analysis and Visualization Initiative (SAVI), is also investigating wellness in "Who Takes Care of New York?." Examining New York City civic groups that take care of their communities, the project uses maps, art, and storytelling to better understand how people can come together to implement change in their neighborhoods.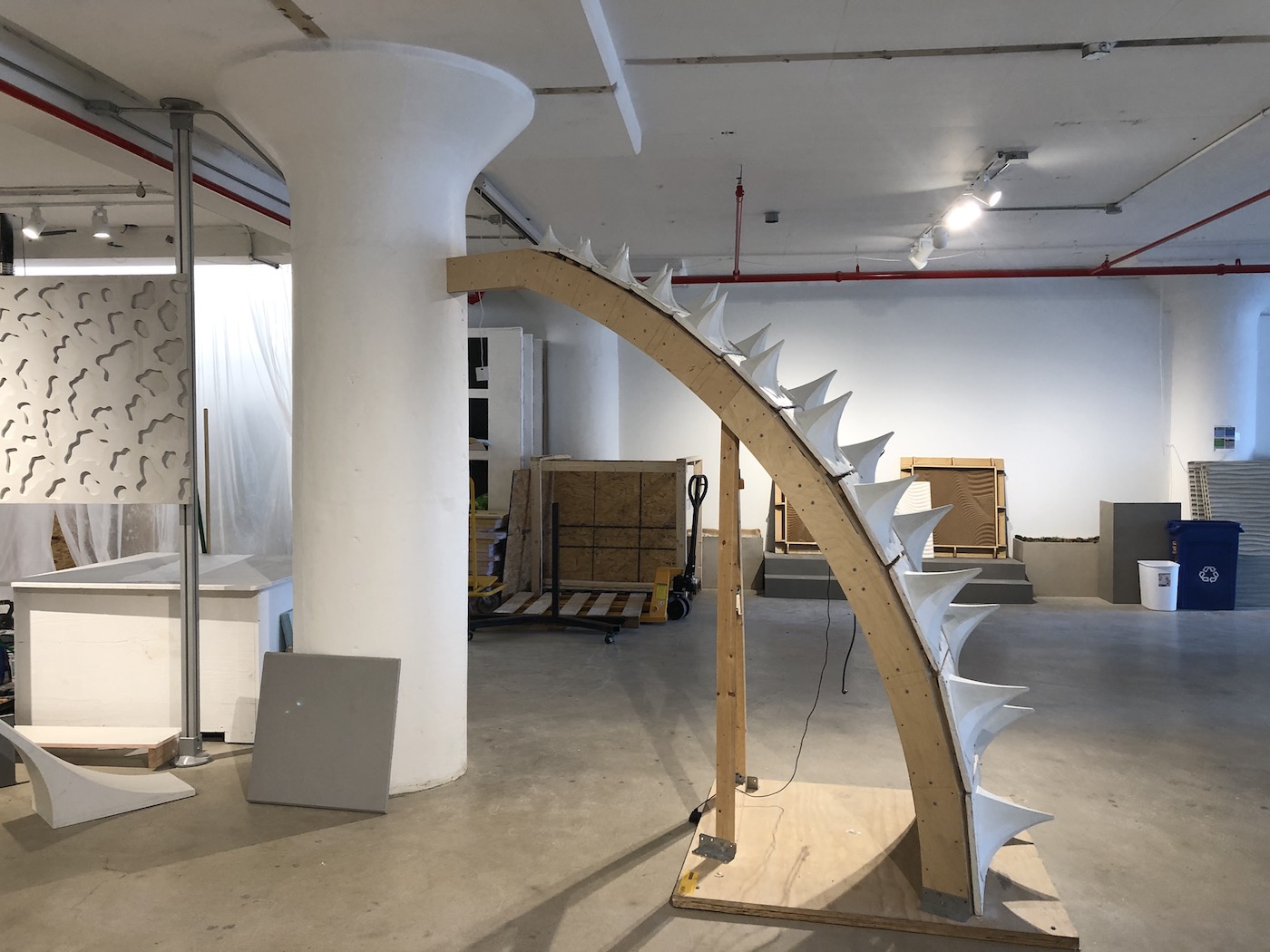 A structural element from the Pollinators Pavilion being developed by Ariane Lourie Harrison, visiting associate professor in GAUD
With each year of ROH, attendees can see the evolution of select projects from previous editions and discover how they've advanced. For instance, returning from the 2019 ROH is the Pollinators Pavilion. Being developed by Ariane Lourie Harrison, visiting associate professor in Graduate Architecture and Urban Design (GAUD), the architectural structure brings together design, machine learning, and conservation in prototyping a habitat that supports vanishing native bees. The first of several planned field stations was constructed last summer in New York's Hudson Valley.
Numerous other projects will be available to explore online at this year's ROH, including research in areas of historic architecture, social practice, art conservation, and ecological design, all easily accessible in this new virtual experience. Awards will be announced later in the month, including the second annual Research Recognition Award (RRA) given by Pratt Senate. Visitors will also be able to vote on the site for a People's Choice Award winner.
Bookmark the site at pratt.edu/researchopenhouse to join this year's ROH.