Pratt Institute will present the 2011 Pratt Institute Fashion Icon Award to Hamish Bowles, Vogue's European Editor at Large, at its annual fashion runway show at 6 p.m. on Wednesday, April 27, 2011 at the Manhattan Pavilion at 125 West 18th Street in Manhattan. Bowles is one of the most respected authorities on the worlds of fashion and interior design. The 2011 Pratt Fashion Show is partially funded through a competitive grant presented to Pratt by the Importer Support Program of the Cotton Board and Cotton Incorporated.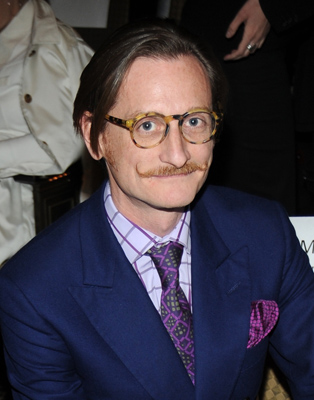 Bowles, who oversees all interior-design features, writes profile stories, and covers fashion, contemporary culture, and the history of fashion and style, will be the sixth Fashion Icon to receive this honor from Pratt, following Catherine Malandrino in 2010, Ralph Rucci in 2009, Carmen Marc Valvo in 2008, Narciso Rodriguez in 2007, and Diane von Furstenberg in 2006.

"I am delighted that Pratt Institute has decided to honor me with this award, and to be joining such a distinguished pantheon of past recipients. It means a great deal to me to be celebrated in this way by a fashion faculty that is thronged by such lively and inspired talents," said Bowles.

The 2011 Pratt Fashion Show will feature the work of select graduating seniors from the program. The designs to be shown on the runway will be pre-selected by a panel of fashion-industry critics and will span several categories of apparel including women's, men's, evening, bridal, sportswear, and costume design. One of the most prestigious colleges for art, design and architecture in the world, Pratt Institute is home to the first fashion-design program in the United States.

"We are thrilled that Hamish Bowles will be Pratt's 2011 Fashion Icon," said Rebeccah Pailes-Friedman, acting chair of the Pratt Fashion Design Department. "Students in this year's graduating class admire his knowledge and appreciation of fashion as an art form and look forward to honoring him at this year's runway show," she added.

Bowles began as Vogue's Style Editor in 1992 and was promoted to European Editor at Large in 1995. He also currently contributes to Vogue.com through his rubric "The Hamishsphere." Bowles began his career at London's Harper's and Queen magazine in 1984, working as Fashion Editor and rising to Style Director in 1989.

Bowles is curator of "Balenciaga: Spanish Master" at the Queen Sofía Spanish Institute, Manhattan. The exhibition considers the impact of Spain's culture, history, and art on legendary designer Cristóbal Balenciaga and is on view through February 19, 2011. The exhibition will be expanded for the de Young Museum, San Francisco, in spring 2011. Bowles also organized and mounted the internationally renowned and critically acclaimed "Jacqueline Kennedy: The White House Years—Selections from the John F. Kennedy Library and Museum" at the Metropolitan Museum of Art Costume Institute while a creative consultant at the museum in 2001. The popular exhibit later reopened at the Corcoran Gallery of Art, Washington, D.C.

In addition to his work at Vogue, Bowles has written for and contributed to countless articles, reviews, and books on fashion history, art, lifestyle, and interior design. His books include Jacqueline Kennedy: The White House Years (Bulfinch, 2001); Carolina Herrera: Portrait of a Fashion Icon (Assouline, 2004)Vogue Living: Houses, Gardens, People (Knopf, 2007); Yves Saint Laurent Style (Abrams, 2008); The World in Vogue: People, Parties, Places (Knopf, 2009); and Balenciaga: Spanish Master (Skira Rizzoli, 2011). His lectures include "The Dandy" (1984) at the Victoria and Albert Museum, London; "The Newest Art" (1998) and "The American Century: America's Fashion Ascendancy and Its Roots" (1999) at New York University; "Molyneux" (2008) at the Fashion Institute of Technology, New York; "The Line of Beauty" and "Yves Saint Laurent and the Influence of Christian Dior" (2008) at the de Young Museum, San Francisco; "My World in Vogue: Reporting the Fashionable Life" (2010) at Savannah College of Art and Design; and "Balenciaga: Spanish Master" (2010) at the Fashion Institute of Technology, New York.

Bowles has an extensive private collection of historic haute couture and fashionably significant clothes. He has lent pieces to exhibitions at several museums including the Costume Institute of the Metropolitan Museum of Art, the Fashion Institute of Technology, and the Museum of the City of New York in Manhattan; the Palais Galliera and the Musée de la Mode et du Textile at the Louvre in Paris; and the Victoria and Albert Museum and the Museum of London.

Bowles was educated at Saint Martins School of Art and Design and resides in both Manhattan and Paris.

Cotton Incorporated, funded by U.S. growers of upland cotton and importers of cotton and cotton textile products, is the research and marketing company representing upland cotton. The Importer Support Program is designed and operated to improve the demand for and profitability of cotton.

Tickets to the fashion show will be available for purchase by the general public in February 2011. Members of the press should contact Amy Aronoff at 718-636-3554 or aarono29@pratt.edu to attend the 2011 Pratt Fashion Show. Credentials will be required. For general inquiries, please contact 718-230-6814.