Pratt Manhattan Gallery–in conjunction with its current exhibition, "Resonance: Looking for Mr. McLuhan"–will present "From Celluloid to Digital," a free public lecture by internationally renowned English filmmaker and author Chris Petit. The lecture will explore the transitions of his career over the last three decades from 35 mm celluloid to memory stick. Petit's feature-length film essay Content (2010), an informal remake of his first film, the cult classic Radio On (1979), is currently on display as part of the gallery's exhibition "Resonance." The lecture will take place at 6:30 PM on Tuesday, December 6 inside the gallery at 144 West 14th Street, second floor.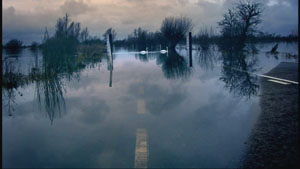 Petit's prolific film career covers 35mm feature films, mainstream television, fiction, and documentary as well as avant-garde and sustainable digital experiment. His work often abandons traditional methods of filmmaking and film crews, moving deep into experiment outside conventional classification. His work, which some rank alongside that of filmmakers Chris Marker, Harun Farocki, and Artavazd Pelechian, has been recognized with revivals at Tate Modern, London, and retrospectives at the Buenos Aires International Independent Film Festival, the Pesaro International Film Festival of New Cinema in Italy, the Vancouver International Film Festival, and the Sundance Film Festival. Radio On, which was backed by director Wim Wenders, was notable for a progressive music soundtrack featuring David Bowie and Kraftwerk, and was acknowledged by filmmakers Jim Jarmusch and Pedro Costa as a major influence on their work.
In addition to his work as a filmmaker, Petit is regarded as a leading exponent of the film essay, a status confirmed by major retrospectives in Europe and South America. Petit is a critic and the author of six novels. He continues to write internationally as a reviewer and cultural commentator, and lectures at university conferences. He was film editor for Time Out London from 1973-78, overseeing the magazine's ascendancy as a cultural influence.
The lecture will be presented as part of "Resonance: Looking for Mr. McLuhan," an exhibition of works from the 1960s to the present that commemorate the 100th anniversary of the birth of the pioneering media critic Marshall McLuhan, now through December 21, 2011, at Pratt Manhattan Gallery at 144 West 14th Street, second floor. The exhibition demonstrates how McLuhan's thinking resonates with contemporary artists and reflects how McLuhan's work is still pertinent to the general understanding of our complex media environment. The exhibition is free and open to the public.
"Resonance" is a multi-media exhibition featuring drawings, installations, photographs, prints, sculptures, videos, and one full-length film by 19 artists. The exhibition is guest curated by Berta Sichel, former director of the Department of Audiovisuals and currently a curator at large at the Museo Nacional Centro de Arte Reina Sofía, Madrid, and assistant guest curator Mariano Salvador, a filmmaker and former assistant curator in the Department of Audiovisuals and Web coordinator, also at the Museo Nacional Centro de Art Reina Sofía.
In addition to Petit, participating artists include:
* Terry Berkowitz
* Com&Com
* Monika Fleischmann & Wolfgang Strauss
* Martin Kohout
* Rafael Lozano-Hemmer
* Marcel Odenbach
* Nam June Paik & John Godfrey
* Magdalena Pederin
* Wolfgang Plöger
* Txuspo Poyo
* Joan Rabascall
* Elena del Rivero
* Juan Carlos Robles
* Ignacio Uriarte
* Wolf Vostell
Add Pratt Manhattan Gallery on Facebook by searching "Pratt Manhattan Gallery" and follow Pratt exhibitions on Twitter at "PrattGallery."
The exhibition and artist's talk are made possible with public funds from the New York State Council on the Arts, a state agency.
"Resonance: Looking for Mr. McLuhan"
Now–December 21, 2011
Pratt Manhattan Gallery
144 West 14th Street, Second Floor
Gallery Hours: Tuesday-Saturday 11 AM-6 PM
Content, video still by Chris Petit. Credit: Courtesy of Illuminations Films in association with More4 and ZDF in cooperation with ARTE.

MEDIA CONTACT:
Amy Aronoff at 718.636.3554 or aarono29@pratt.edu