Renowned artist Kara Walker will speak on her work and career at Pratt Institute at 6 p.m. on Monday, September 19, in Memorial Hall Auditorium on Pratt's Brooklyn Campus. The event is free and open to the public, however, seating priority will be given to Pratt students and faculty members with valid ID at 5:30 p.m. Members of the public will be admitted at 5:50 p.m. if seating is available. The talk will be presented by Pratt Institute's Writing Program, and its Departments of Humanities and Media Studies and Social Science and Cultural Studies, which are housed in the School of Liberal Arts and Sciences, and its Department of History of Art and Design, which is housed within the School of Art and Design.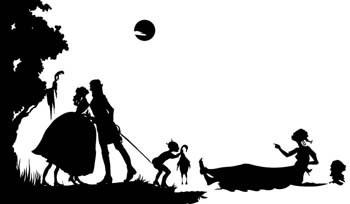 Walker is known for her candid investigation of race, gender, sexuality, and violence throughout life-sized silhouetted figures that have appeared in exhibitions worldwide. Her work was most recently on view as part of two solo joint exhibitions at Sikkema Jenkins & Co. and Lehmann Maupin Gallery in New York. Sikkema Jenkins & Co. presented new graphite drawings and hand-printed texts on paper that explore themes of transition and migration that run throughout the African American experience in the 20th century as part of an exhibition titled "Dust Jackets for the Niggerati — and Supporting Dissertations, Drawings Submitted Ruefully by Dr. Kara E. Walker." Lehmann Maupin Gallery presented an exhibition titled, "Fall Frum Grace, Miss Pipi's Blue Tale," which comprised three new video works drawing on Walker's experience in the Mississippi Delta.
Walker's major survey show, titled "Kara Walker: My Complement, My Enemy, My Oppressor, My Love," premiered at the Walker Art Center, Minneapolis, in 2007 before traveling to ARC/ Musée d'Art Moderne de la Ville de Paris; the Whitney Museum of American Art, New York; the Hammer Museum, Los Angeles; and the Modern Art Museum of Fort Worth. Other recent solo exhibitions have taken place at CAC Málaga, Centro de Arte Contemporáneo de Málaga, Spain, and MDD — Museum Dhondt-Dhaenens in Deurle, Belgium, both in 2008. Walker participated in the 52nd Venice Biennale in 2007 and was the United States representative to the 25th São Paulo Biennial in Brazil in 2002.
Walker is the recipient of many awards including the John D. and Catherine T. MacArthur Foundation Achievement Award in 1997, the Deutsche Bank Prize in 2000, and United States Artists Eileen Harris Norton Fellowship in 2008. Her work is included in numerous museums and public collections including the Solomon R. Guggenheim Museum, New York; the Museum of Modern Art, New York; the Metropolitan Museum of Art, New York; the Tate Gallery, London; the Centro Nazionale per le Arti Contemporanee, Rome; and Deutsche Bank, Frankfurt.
Walker was born in Stockton, California, and grew up in Atlanta, Georgia. She graduated from Atlanta College of Art in 1991 and received her master of fine arts degree from Rhode Island School of Design in 1994. She lives and works in New York City.
Image: Kara Walker's Gone, An Historical Romance of a Civil War as it Occurred between the Dusky Thighs of One Young Negress and Her Heart [detail], 1994. Courtesy of Sikkema Jenkins & Co.