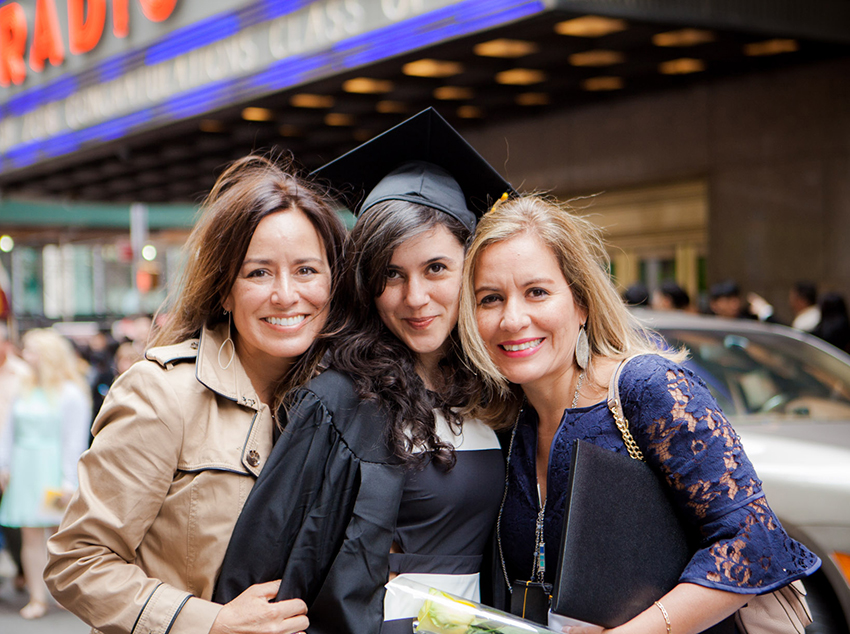 Celebrated artist and Pratt alumna Kay WalkingStick (M.F.A. '75) encouraged graduating students to take risks and choose interesting ways to lead their lives, urging each of them to "challenge yourself, and enjoy every single day" at Pratt's 127th Commencement on May 17. For the sixth time in Pratt's history, the event was held at Radio City Music Hall, where nearly 1,300 graduating students gathered in their caps and gowns to cross the stage and become the Institute's newest alumni.
Honorary degrees were awarded to WalkingStick (Doctor of Fine Arts), who was also the keynote speaker; Adam D. Weinberg, Alice Pratt Brown director of the Whitney Museum of American Art (Doctor of Humane Letters); and boundary-pushing painter and Pratt alumnus Terry Winters (B.F.A. '71) (Doctor of Fine Arts) at the ceremony.
In her speech, WalkingStick spoke about how much the world has changed since she attended Pratt 41 years ago (when there were no cell phones, web, or Chelsea art galleries), but also about what has remained the same. "[I still believe] that we who make visual art in all of its many manifestations are the carriers of our human visual history. We are the inheritors of Lascaux and Hovenweep. I have high hopes that you all still believe these things, too," she said.
WalkingStick urged the students to learn to persevere despite criticism. "Learn to take occasional rejection and keep on working. It's the work that will preserve and inspire you," she said, recalling an art dealer who suggested that she take her paintings and make a bonfire with them. She explained that those same paintings are now hanging in the Smithsonian at the National Museum of the American Indian in Washington, D.C.
Prior to WalkingStick's speech, Weinberg was awarded with his honorary degree. He quoted Pratt alumnus Felix Gonzales-Torres about being an artist and creating work, saying, "Above all else, it is about leaving a mark that I existed: I was here. I was hungry. I was defeated. I was happy. I was sad. I was in love. I was afraid. I was hopeful. I had an idea and I had a good purpose and that's why I made works of art. "
Upon receiving his honorary degree, Winters referenced his long journey from Pratt's Memorial Hall for freshman orientation to Radio City Music Hall for Commencement 2016.
Graduation speakers also included Adjunct Associate Professor of Graduate Architecture and Urban Design Jason Vignieri-Beane, who was named Distingished Teacher (2016-17) and was honored with a medal designed by Julian Anderson (B.Arch. '16). Elected student speaker A. Jack McKenzie (B.F.A. Communications Design '16) said that the most important thing he learned at Pratt is how to listen. He reminded graduates to use feedback and critiques to be a better person, artist, and creator.