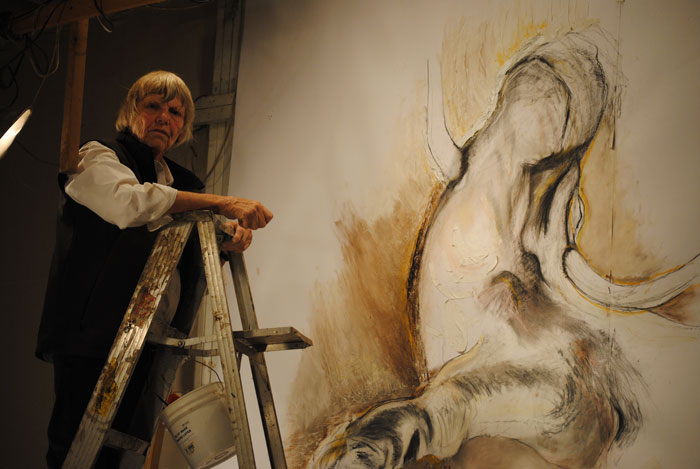 The Pratt Institute community mourns the loss of one of its longest-serving faculty members, the sculptor Gillian Jagger, who passed away on October 21, 2019 at the age of 88 in Ellenville, New York.
Jagger joined the Pratt Institute Fine Arts faculty in 1968, and taught at Pratt for almost 40 years before retiring in 2007. A tenured faculty member, she was named a professor emerita in 2009. She received Pratt's Distinguished Teacher Award (1986–87) in recognition of her exceptional teaching and dedication to the Institute's students and mission.
As an artist, Jagger was best known for large-scale sculptures and installations that frequently incorporated animal carcasses and sections of fallen trees. "Emotionally raw, yet with a demanding physical presence, [Jagger's] works are meditations on humans' relationship to the natural world as well as a kind of hovering between life and death," noted Jillian Steinhauer in an obituary in the New York Times.
"Not only was Gillian a wonderful artist, but she also dedicated much of her life to education and to raising environmental awareness long before the existential crisis of climate change was fully understood. Gillian's energy, spirit, and care for all around her have made a lasting contribution. She will be much missed," said Fine Arts Chair Jane South.
Jagger was an inspiration and mentor to generations of Pratt students. For alumna Jeanne Wilkinson, who earned her MFA in Painting at Pratt, studying with Jagger "was a life-changing event. She led us into our work and our lives; she made me see my art as soul-work."
In a tribute published in Hyperallergic, painter, Pratt alumnus, and Fine Arts Adjunct Assistant Professor Ben La Rocco, who also studied with Jagger, wrote that "Gillian granted her students permission to be in love with unpopular and unfashionable things, to persist in spite of circumstance, to retreat if necessary, and to be boundlessly passionate."
Jagger was also a highly respected colleague among Pratt faculty. "A vivid memory of Gillian Jagger was helping her and some robust students move heavy flat rocks (from Ireland, I think) onto the floor of one of the graduate galleries. Impractical, arduous, and weirdly beautiful. All of Gillian's work was like that—as close to nature as art can get," recalled Fine Arts Professor Frank Lind. "She and I created a course called MFA Symposium in the eighties. Six or so students would be selected through a rigorous process and would then work closely with Gillian for several weeks developing a tight body of work that they could explicate. Gillian invited well-known critics like Donald Kuspit and Robert Pincus Witten who would come to Pratt and criticize the work in a public forum. It was a huge success."
Knowledge and learning were an integral part of Jagger's work, both as an artist and as a professor. Quoted in a profile published in 2016, she talked about nature as a teacher. "The tree has a system and a life span," she said. "It has a wisdom to me. Its wisdom is what I want to somehow transmit. So the closer I can get to using the actual tree so that it speaks for itself, the better off I am. It's my teacher so I'd like to present it so it can talk to others."
Jagger was born in London, and moved to the United States when her family relocated to Buffalo, New York, shortly before World War II. She earned a bachelor of fine arts degree from Carnegie Institute of Technology (now Carnegie Mellon University), and a master of fine arts degree from New York University.
In 1961, Jagger presented her first solo exhibition of paintings at Manhattan's Ruth White Gallery, and showed regularly in New York City through the decades, including a midcareer survey at the Snug Harbor Cultural Center on Staten Island in 1987 and, starting in 1998, numerous shows at the Phyllis Kind Gallery in Chelsea. She was the recipient of numerous awards and grants, such as the John Simon Guggenheim Memorial Foundation Fellowship and The Louis Comfort Tiffany Foundation Grant.