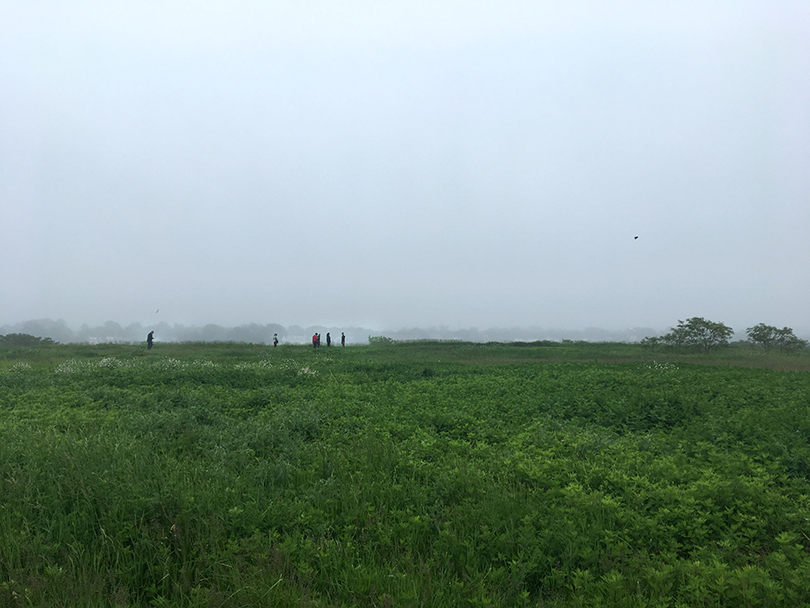 Bridging the expertise of Pratt students and faculty with communities beyond the gates begins with strong partnerships. For six years, the Taconic Fellowship, a program of the Pratt Center for Community Development, has supported projects driven by faculty, students, and staff working together with a variety of community organizations in New York City. Prattfolio looks at some recent Taconic Fellowship projects that have made an impact on Pratt's neighboring communities.
Engineering, ethics, and emotions. All of these components, some more subtle than others, have their part in shaping the design of public space. For Sonya Gimon, MS Sustainable Environmental Systems '18, and those she partnered with on a project to reimagine a New York City landfill, clarifying the considerations around a new design meant bringing a village of voices to the table—and making room for a community to dream.
Edgemere Landfill, on the north shore of the Rockaway peninsula in Queens, has been decommissioned for nearly 30 years. In its days as an active municipal dump, from 1938 to 1991, it received an estimated 1,200 tons of waste every day before it was capped, then underwent a remediation process to restore the land. Today, how exactly the land will be used remains an open question, creating an opportunity for a host of possible futures to emerge, and the Rockaway Waterfront Alliance (RWA), a community organization serving residents of the Rockaways, has been a hub for that conversation.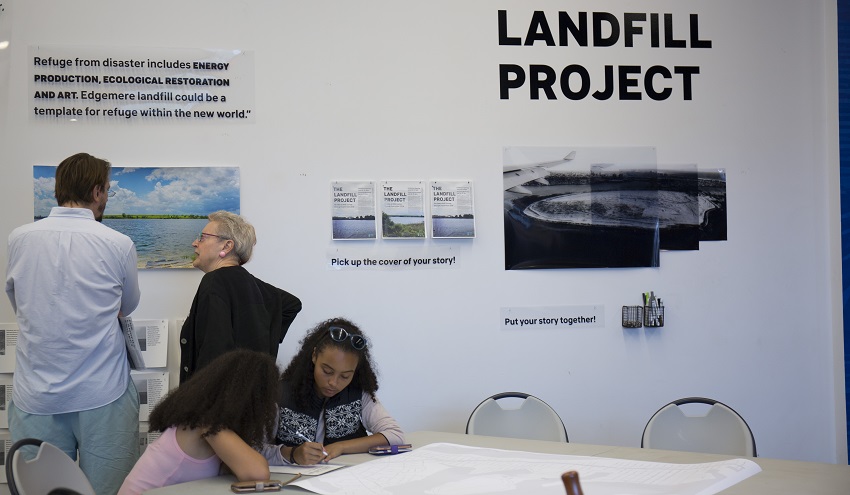 Gimon was introduced to RWA while working at Franklin Furnace, an arts organization fostering avant-garde art, housed at Pratt since 2014. Martha Wilson, Visiting Associate Professor of History of Art and Design and founder and director of Franklin Furnace, brought Gimon on to a prospective project that artist Agnes Denes was conceiving for the Edgemere site, and the seeds of a partnership with RWA were planted.
To Gimon, the research and interest around the potential of the landfill pointed to the fact that imagining a future for the site would have broad resonance—and to do this effectively, it would be critical to involve local residents, artists, and experts alike. The Taconic Fellowship helped solidify a partnership that would enable the insights of community members and of professionals to come together.
"This site is very complex from both an engineering and ethical perspective," says Gimon, hence the importance of having experts and artists at the table. "Moreover, as the site is so complex, it would have been unfair to organize a simple workshop with residents and expect to get substantial results. I felt this was true for many even less-complex sites, and I wanted this project to be a test for a more meaningful community visioning process."
To create an opportunity for residents to gain richer understanding of the site and create more informed proposals, Gimon and others organized an exhibition at RWA's RISE Center. (RISE stands for Rockaway Institute for a Sustainable Environment.) This approach to community workshopping opened up the potential for intellectual as well as emotional and intuitive consideration and responses.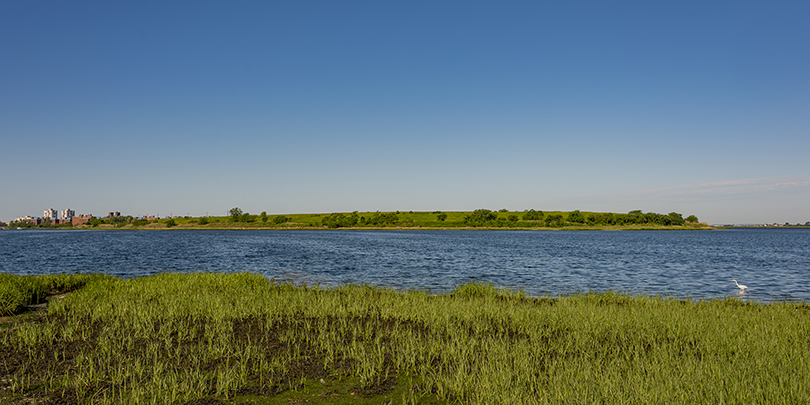 With the fellowship's financial support, Gimon was able to assemble a team and create a framework for this multifaceted workshopping project. Those who contributed along the way brought perspectives from a variety of practices: Alejandra Gomez Bolivar, MS Urban Placemaking and Management '18, co-led a series of workshops with high school students at RWA, guiding them as they created innovative proposals for the site. Ruyun Xiao, MFA Communications Design '18, helped design and curate the Landfill Project exhibition. Isil Akgul, MS Sustainable Environmental Systems '19, is working on a book, What If Not a Park?, that conceptualizes the results of the project around one of the pivotal questions that came up in the workshops.
Meanwhile, Pratt faculty played an important role in defining the project as a whole, at all stages of its development. Elliott Maltby, Adjunct Associate Professor of Graduate Architecture and Urban Design; Simon Kates, Visiting Assistant Professor in the Graduate Center for Planning; and Wilson met with Gimon regularly to brainstorm and formulate next steps. The faculty members also co-led workshops and invited artists and experts to join the conversation, and Kates played an important role in setting up the exhibition.
The Landfill Project team was, at the time of this writing, working on a final report to illustrate the results of the visioning sessions and exploring ways to develop the project further, centering on four focuses that came out of the sessions: environmental restoration, disaster relief, recreation, and energy. Ultimately, with the input of more than 60 participants, the project generated "proposals that look at public space beyond recreation and at the public design process beyond informational sessions."
For Gimon, one partnership paved the way for a web of connections and greater insight into what makes community outreach effective and essential. "Particularly among kids and young adults, who were among the most active participants of the project, there was a sense of importance of this site for the future of the neighborhood, which is currently facing multiple challenges, including flooding and lack of resources," Gimon says. "This project created a space not only to remember the landfill but to add a new positive meaning to it."
About the Taconic Fellowship
Funded by an endowment from the Taconic Foundation, the Taconic Fellowship is emblematic of Pratt Center's mission to promote a just, equitable, and sustainable city for all New Yorkers. In the 55 years since its founding, Pratt Center has advanced meaningful community participation in public decision-making and has tirelessly offered technical assistance and policy research in support of affordable housing, environmental sustainability, and equitable economic opportunity. Its three fellowship programs (the Graduate Planning, Made in NYC, and Taconic fellowships) offer financial support to Pratt faculty, students, and staff who seek to engage in community-building work in partnership with community organizations across New York City.
Taconic Fellows partner with community organizations and work with them to shape projects that address local needs. Pratt Center staff members provide administrative support and project oversight to ensure that each Taconic project is implemented in a way that best leverages the creativity, talent, and skills of the Pratt community. Since 2014, 40 Taconic Fellowships have been awarded, engaging 127 fellows from 18 departments in projects with 37 partner organizations throughout the city.
Images (top to bottom): Courtesy of The Landfill Project; photo by Cait Carvalho; photo by Giles Ashford.