As people grow older and many experience drastic changes to their lives from mobility issues and diseases like dementia, they are challenged to live in spaces that were not designed for aging. In the spring 2023 elective class Design for Aging and Beyond, led by Visiting Associate Professor Yutaka Takiura, interior design and architecture graduate and undergraduate students researched and proposed design solutions for this population. Considering quality of life, daily needs, and the importance of community, they created projects that emphasize holistic approaches to frequently complex problems. Their ideas range from adapting kitchens and living rooms to be more accessible and responsive to reimagining whole blocks of homes as a combination of public and private spaces.
"I wanted students to become aware of issues and possibilities—opportunities in many ways," Takiura said. "My teaching strategy was to avoid lecturing. I asked students to research, experience, and think while designing. When we design for the most challenging area, it will be easier for other areas. So when we focus on the aging population, it will naturally expand to accessibility design. This is why I called the class 'Design for Aging and Beyond.' The students gained all the skills and techniques; now it is time to try applying them to the subjects they care about."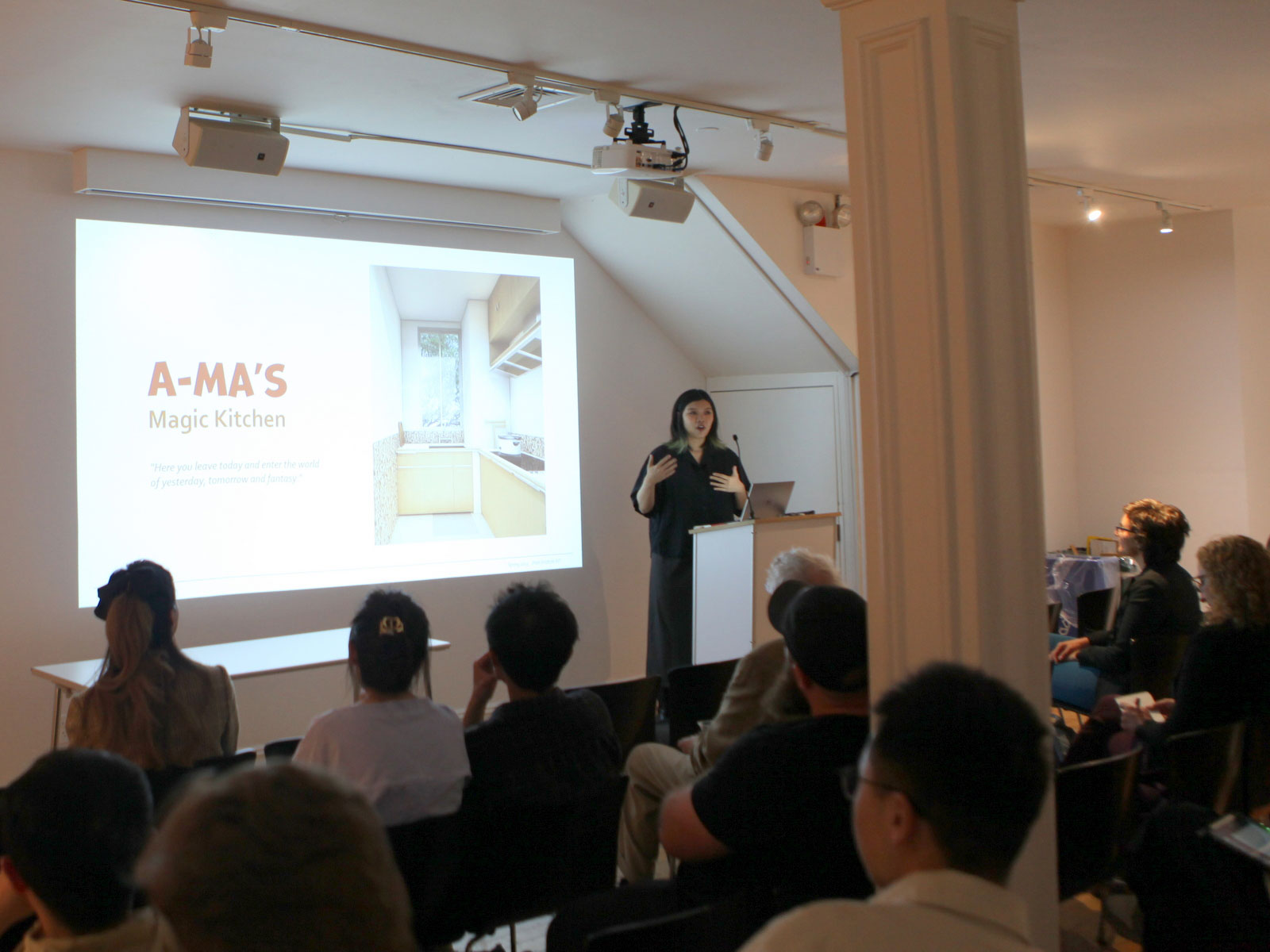 At a May 18 event organized by the AIA New York Design for Aging Committee, the students presented their work both in-person and virtually. Several students were inspired by their own family members, such as Changxin (Chang) Li, BArch '23, who envisioned a kitchen renovation with directional rails and audio prompts for her grandmother, who has a visual impairment and a need to reach items without assistance.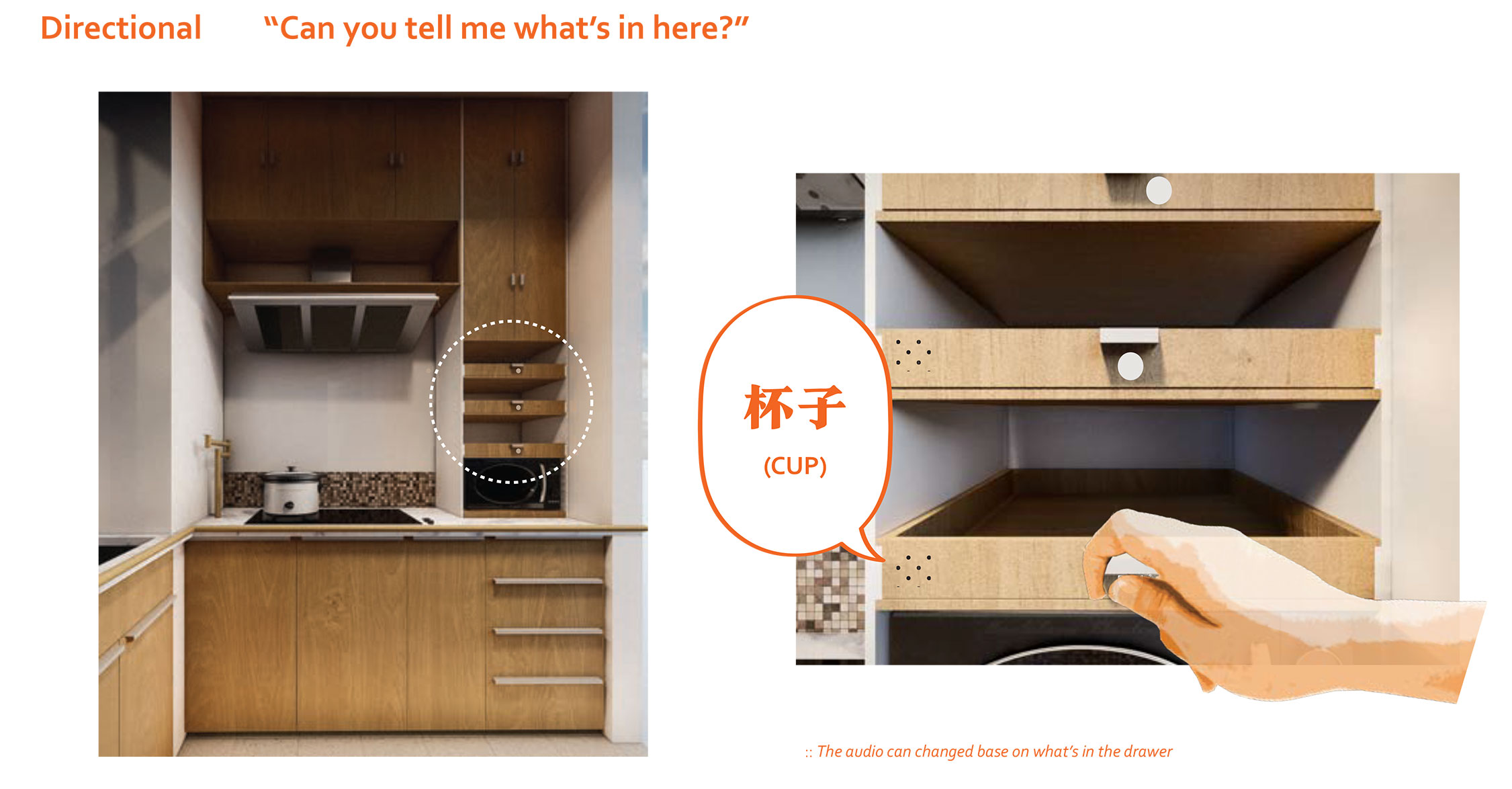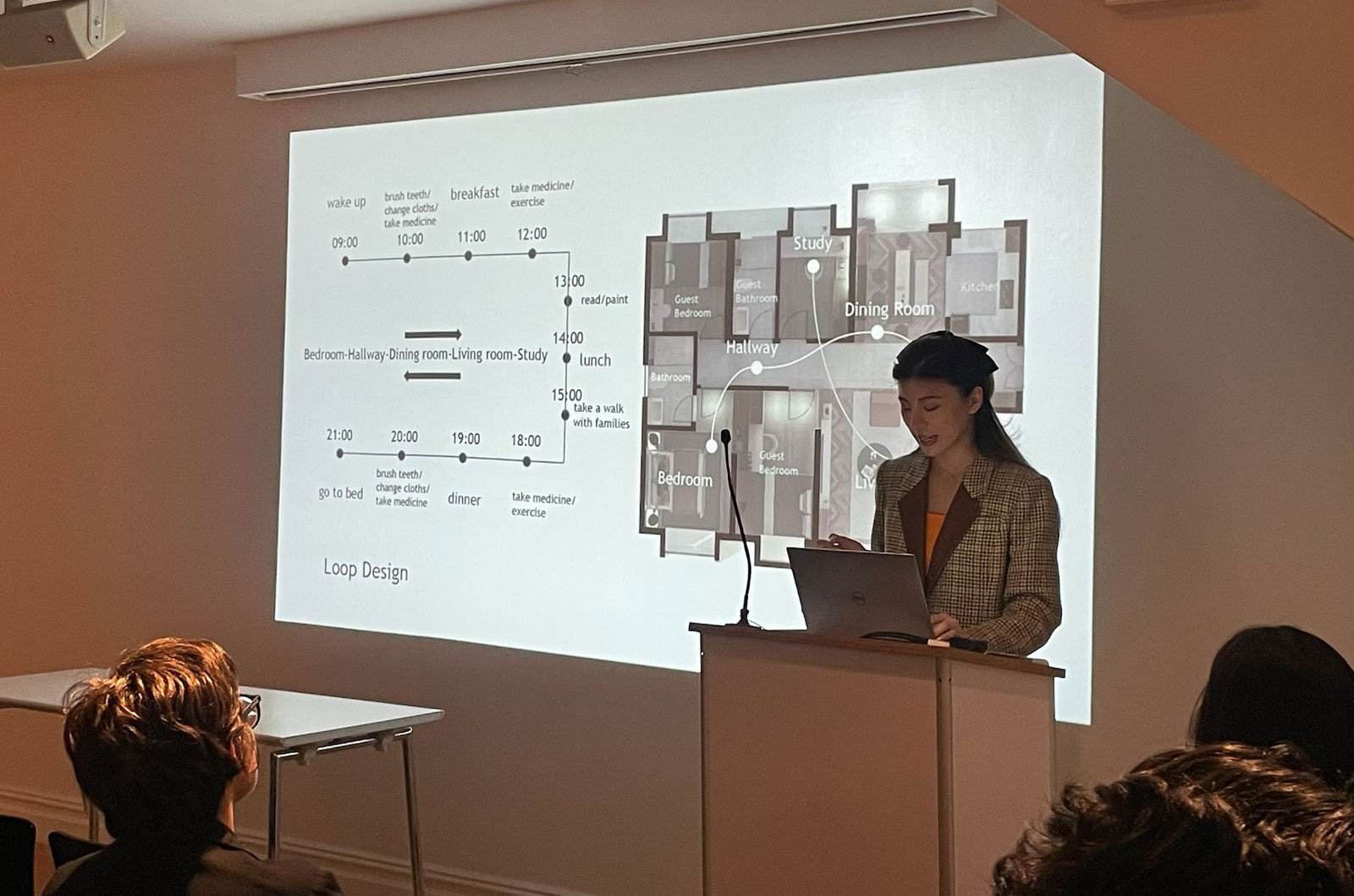 The Memory House project by Yanya (Mia) Mei, MFA Interior Design '23, involves a wall-based interactive system with guides like lighting, sound, and patterns responding to the daily routines of her grandfather, who has Alzheimer's disease.
"I was most impressed by the discussion in this class on empathy, I feel that it is important for designers to empathize with the actual users," Mei said. "My project is for my grandfather's current home and uses daily circulation patterns, lighting, and sound effects as guides. It creates a playful daily reminder system to help him and other family members live harmoniously in the space."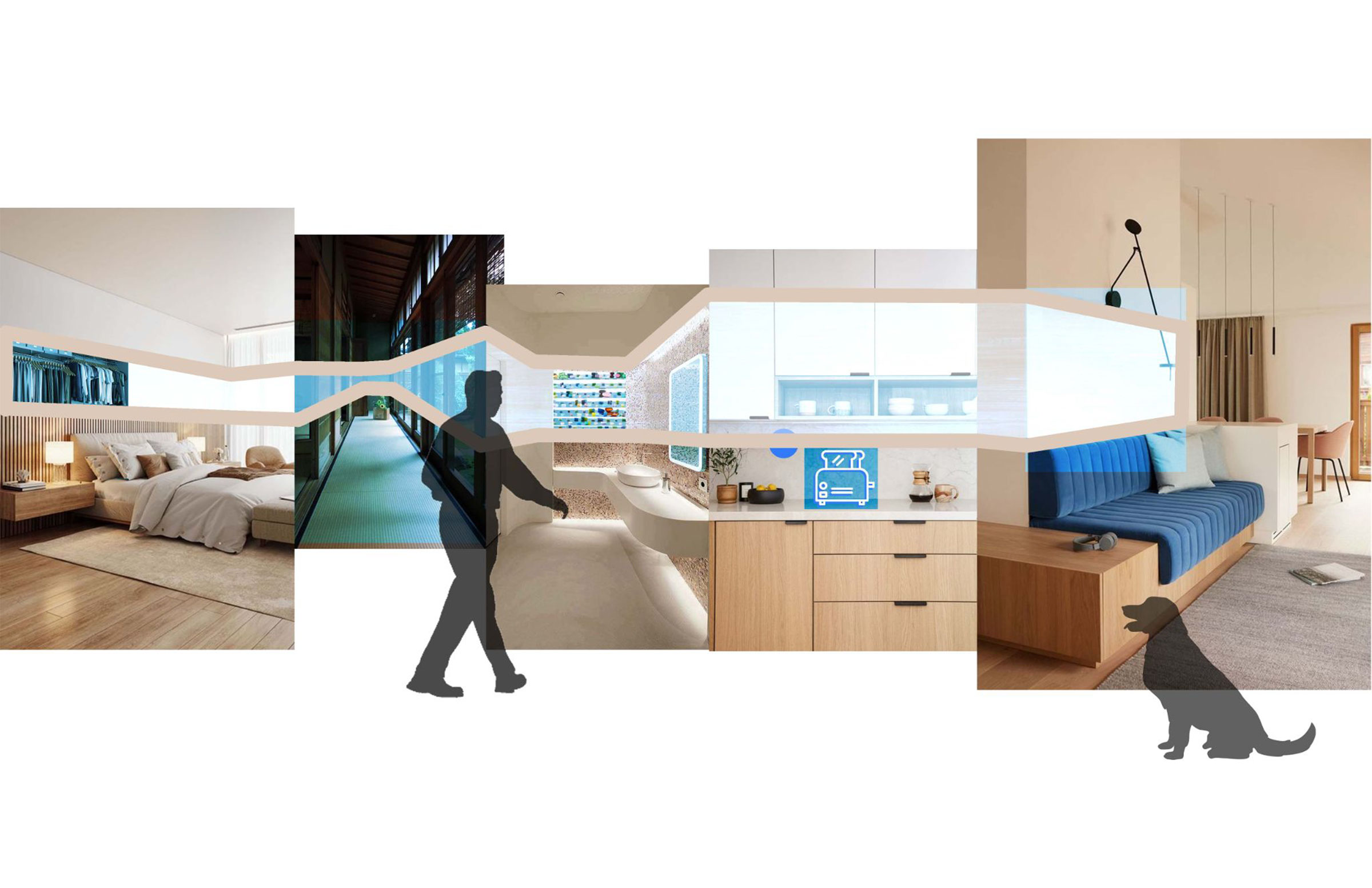 Students also tackled the shortcomings of existing health tools and systems, including the Intelligent Crutch by Yuzhi (Marx) Wang, MFA Interior Design '24, that addresses the issues of crutches like instability and discomfort with a more ergonomic design that incorporates technology like gyroscopic sensors and a sonar infrared detector that can respond to a user's surroundings. The students further highlighted how interior spaces could be easily transformed for a better quality of life, such as guiding lines that improve visual perception of different rooms by Byoungwook (Brian) Kim, MFA Interior Design '23, and prefabricated panel systems by Yuqing (Yuki) Lei, MFA Interior Design '23, that make things like refrigerators, televisions, and washing machines all part of a wall unit to reduce collisions and increase accessibility.
"East Asia, particularly Korea, is transitioning into a hyper-aged society, following in Japan's footsteps in becoming an aging society," Kim said. "Consequently, active research is being conducted on designing housing for the elderly and aging population. Given that facilities such as hospitals and resorts are likely to form a significant part of my practice, I do not doubt that the knowledge gained from this course will lay a solid foundation for my future growth."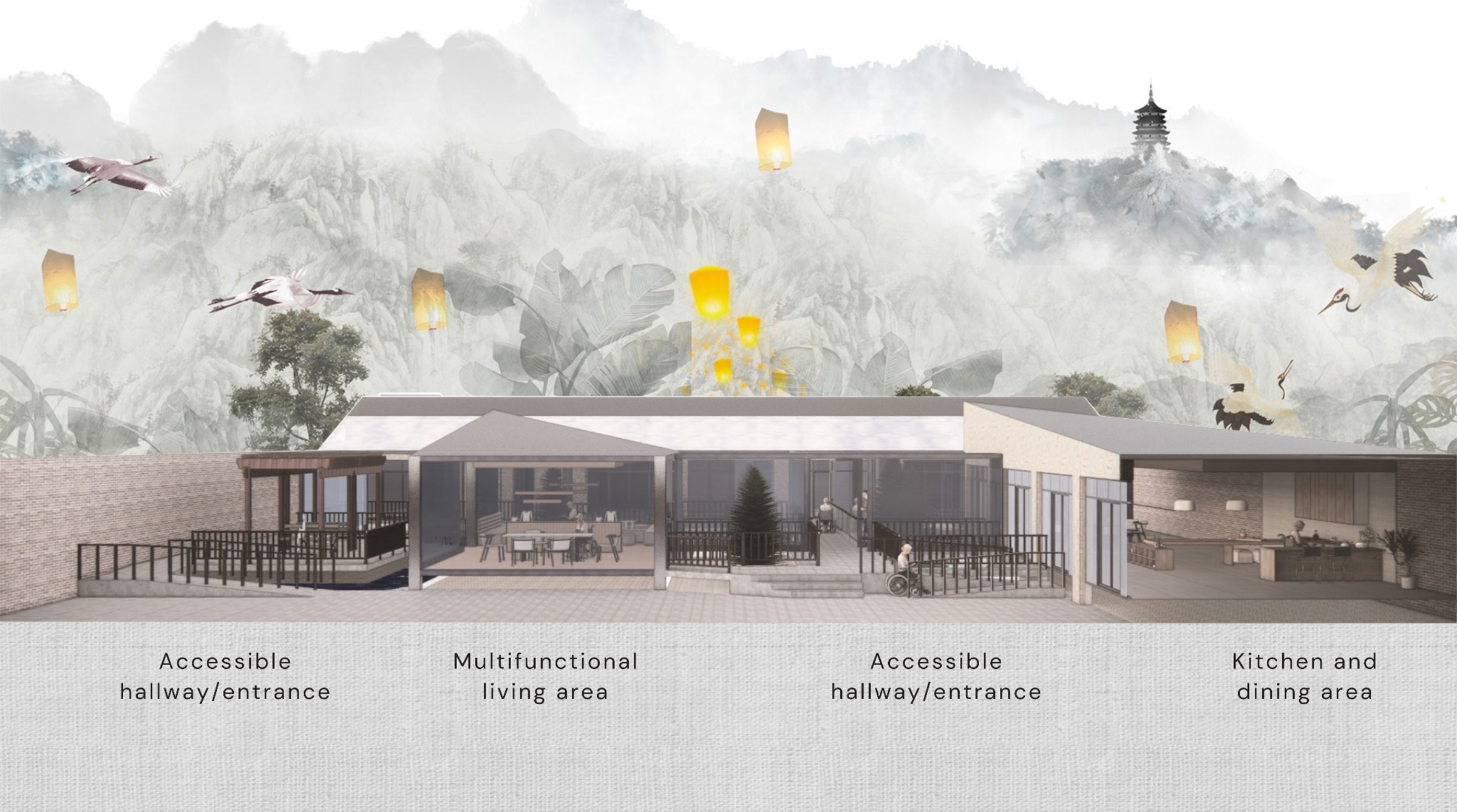 Others took a broader look at how whole places could be designed to support communities of aging people and their families and caregivers. Yanyu Yang, MFA Interior Design '24, examined a rural village in the Inner Mongolia province of North China that has a large population of aging people. An "activation plan" concentrates on house renovations that would maintain old structures but enhance circulation, add ramps and handrails, expand living spaces for gatherings, as well as involve features like photo-voltaic panels and films to harness sunlight in a place where the cold weather drives a high use of electricity.
Salvi Bhila, MFA Interior Design '23, examined how the New York City subway stations could be better designed to be ADA compliant. Despite public transportation being widely used in the city, many stations still lack this support.
"The most important thing I learned in this class would be that being able to design is a privilege and while we designers have that privilege, we should broaden our perspective and be mindful by keeping each and every individual in mind while designing," Bhila said. "Everyone should feel that the designed space is designed for them, making it an inclusive design for all."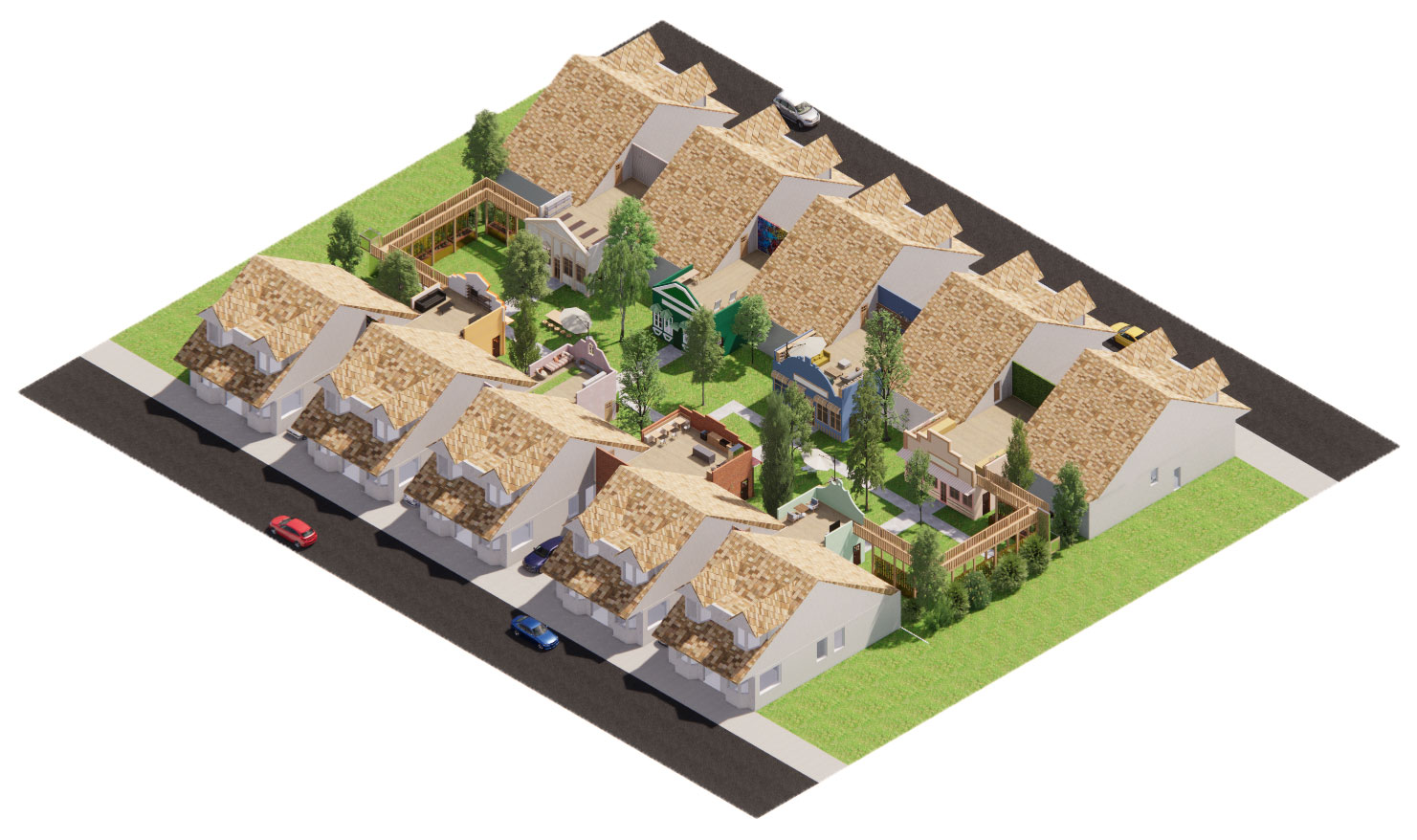 Sophie McCartney, BFA Interior Design '23, investigated inter-generational living for people with dementia by bringing together several single-family homes around a large backyard. Residents would be able to move through both private and shared spaces, giving people with dementia agency and independence in a safe environment while bringing together their families and live-in caregivers.
"Thinking about my site as a case study for an intergenerational cohort for older adults with dementia, I created a safe collective and communal backyard," McCartney said. "The backyard includes stores for the community to shop in similar to a main street but located in the backyard. Often, elders with dementia need meaningful activities to do with their time to give them agency for their independence. Thus, my design includes activities that recognize the collective support of this community."
These creative solutions thoughtfully involve technology, design, and a consideration for communities. Whether large-scale ideas or smaller changes to the spaces of daily life, the students recognized the challenges of memory loss, mobility, and accessibility for the aging population and everyone around them.