Whether investigating the supply chain of rare metals or considering the waste of excess materials, Pratt Institute jewelry students are engaging with how to make environmental and ethical practices central to their work. Each year as part of the senior curriculum, jewelry students complete a project focused on sustainability, encouraging them to look closer at the complex issues of being socially responsible in design.
"The class includes a deep dive into sustainable practices and we try to look at the idea from varied angles," said Katrin Zimmermann, visiting associate professor and interim area coordinator of the Fine Arts jewelry program. The annual sustainability project which started in 2019 is timed to coincide with So Fresh + So Clean organized by Ethical Metalsmiths (EM) which promotes sustainable and responsible jewelry practices. The annual initiative highlights the work of students from around the world, such as Maya Rose Weiss, BFA Jewelry '18, who was honored with the EM Student's Choice Award in 2019 for pieces that were handwoven with natural fibers.
"The initial idea for the project was to switch one material in a piece of jewelry with one that is sustainable," Zimmerman said. "This has now grown into making an entirely sustainable piece. The project has really helped expand their own ideas and made ethical making much more accessible to them."
Some students have been motivated by this emphasis on sustainability in the curriculum to use recycled materials in their thesis projects, such as Qianwen Lu, BFA Jewelry '20, whose work with ferrofluids to create "living gemstones" involved recycled silver alongside a concentration on sustainable studio practices. Others have examined how to be more conscious of ethical sourcing, clean production, and the environmental footprint of their jewelry.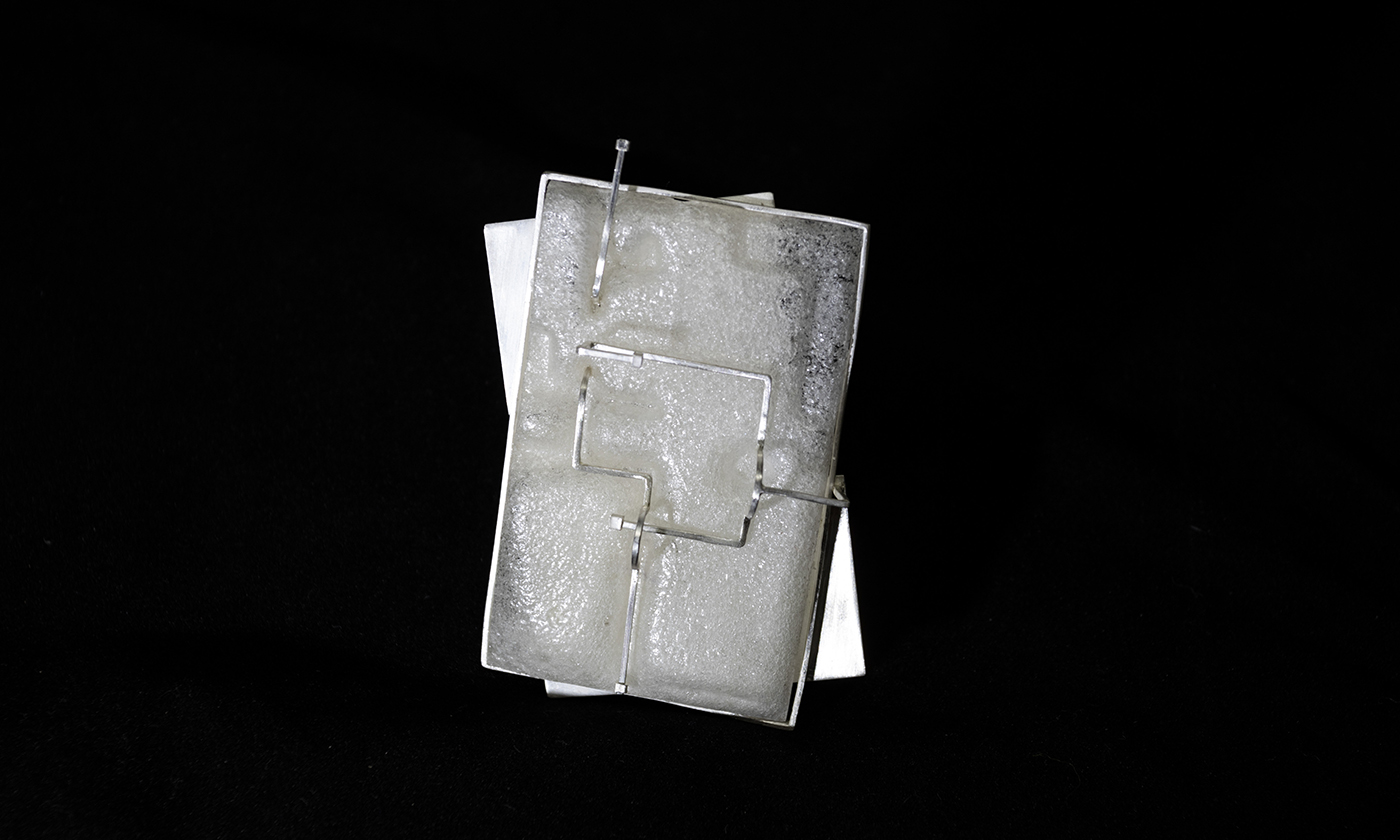 Several of the students in this year's graduating class are addressing sustainability in their collections, such as Xiaoqing Rong, BFA Jewelry '21, whose "Rebuilding the Verification of Existence" collection includes a sub-collection called "Rebuilding Mistakes." The thesis project evolved from the experience of solitude during the pandemic, leading to a reflection on the importance of self-acceptance. While the objects in the main collection each visualize feelings related to beauty, fragility, and grappling with negativity—incorporating transparent materials like acrylic, resin, 3D printed parts, and crystal along with sterling silver—the sub-collection involves pieces made from the byproducts of the main collection.
"Most of my material needs to be tested several times until I get a satisfactory result," Rong said. "That's made me consider the importance of sustainability in my jewelry. Through rebuilding those 'mistakes,' I deconstruct their original shape or form and reconstruct them to match pieces from my main collection. Rebuilding allows me to learn more about the material and give those 'inappropriate' samples a chance to be worn."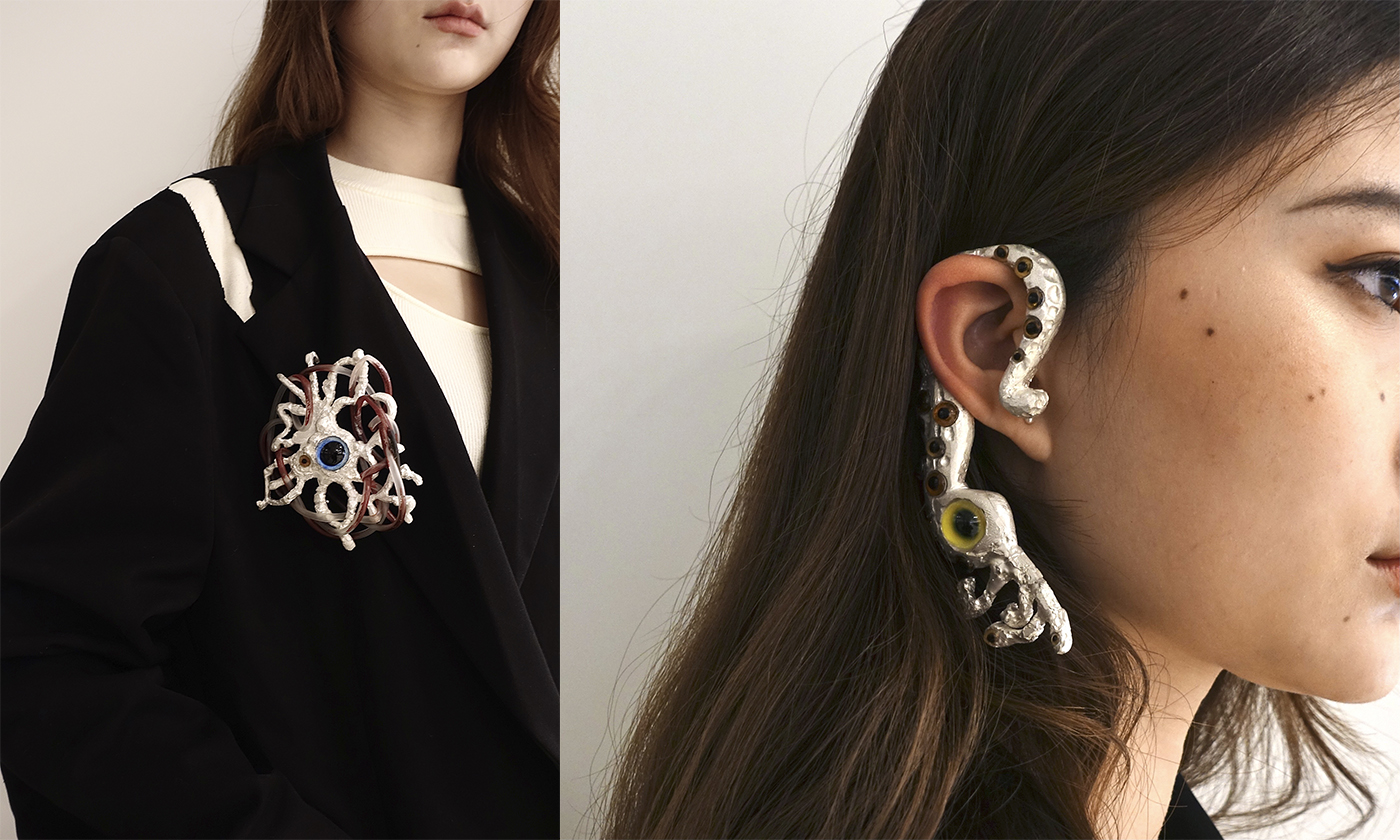 Cathy Zhang, BFA Jewelry '21, was also influenced by the current moment with a rumination on the fear of nature in a time of COVID-19. The jewelry in Zhang's thesis collection—entitled "Doomsday"—involves unearthly shapes inspired by H. P. Lovecraft's Cthulhu Mythos that appear to be consuming the body, reflecting on the relationship between people and natural disasters. The pieces incorporate recycled metal as well as taxidermy glass eyes repurposed from second-hand sources. Ranging from a brooch to an ear piece, each tells part of a story where a monster appears and begins to infest the body.
"Ever since COVID-19 occurred, I have felt the urgency to take the responsibility of using ethical resources and contribute to sustainability in the jewelry world," Zhang said. "I replaced gemstones with recycled taxidermy eyes to create unique pieces of jewelry that convey a message of respect and reverence for nature. During the process, I found it was not as hard as I imagined to keep my materials sustainable. The leftover material from a necklace is sufficient for me to do a pair of earrings."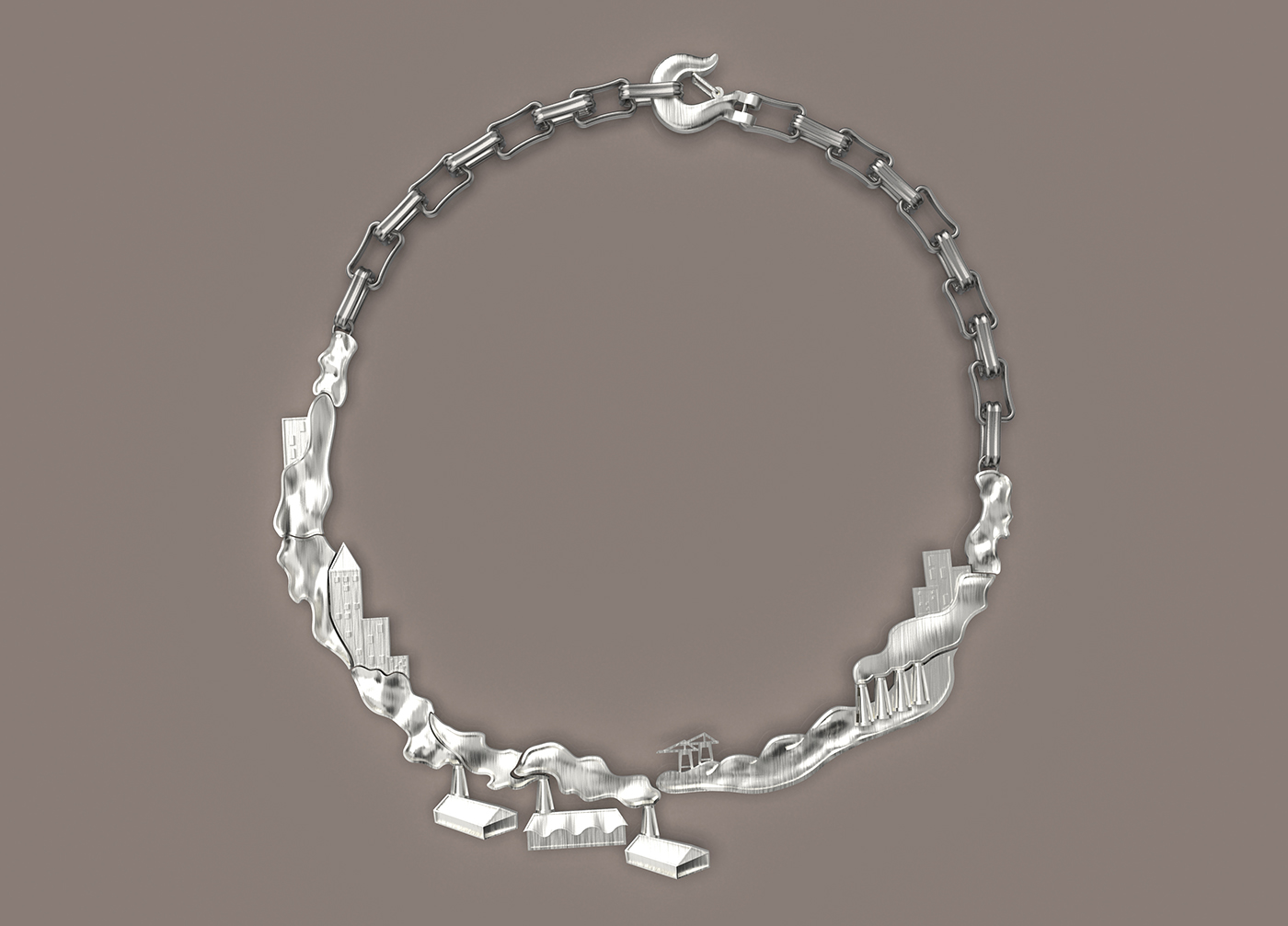 Melissa Tu, BFA Jewelry '21, is also examining the human connection to the environment in a senior thesis collection entitled "The Odyssey of Our Time." Its pieces evoke visual sources ranging from ancient stone carvings to landscape paintings, adding modern interruptions like skyscrapers and power stations. Tu uses 21st-century production methods such as 3D modeling as well as traditional handicrafts—such as basse-taille enameling—to explore the progression of technology and its impact on the value of labor and our relationships to nature.
"There is a need to create more meaningful designs that can fulfill both people's need for fashion and sustainability," Tu said. "Focusing on sustainability has changed my design and fabrication process completely. I used to make designs based on things I find interesting or appealing, but now I would consider the meaning and value behind every element and how to include them in my concept to make a great design."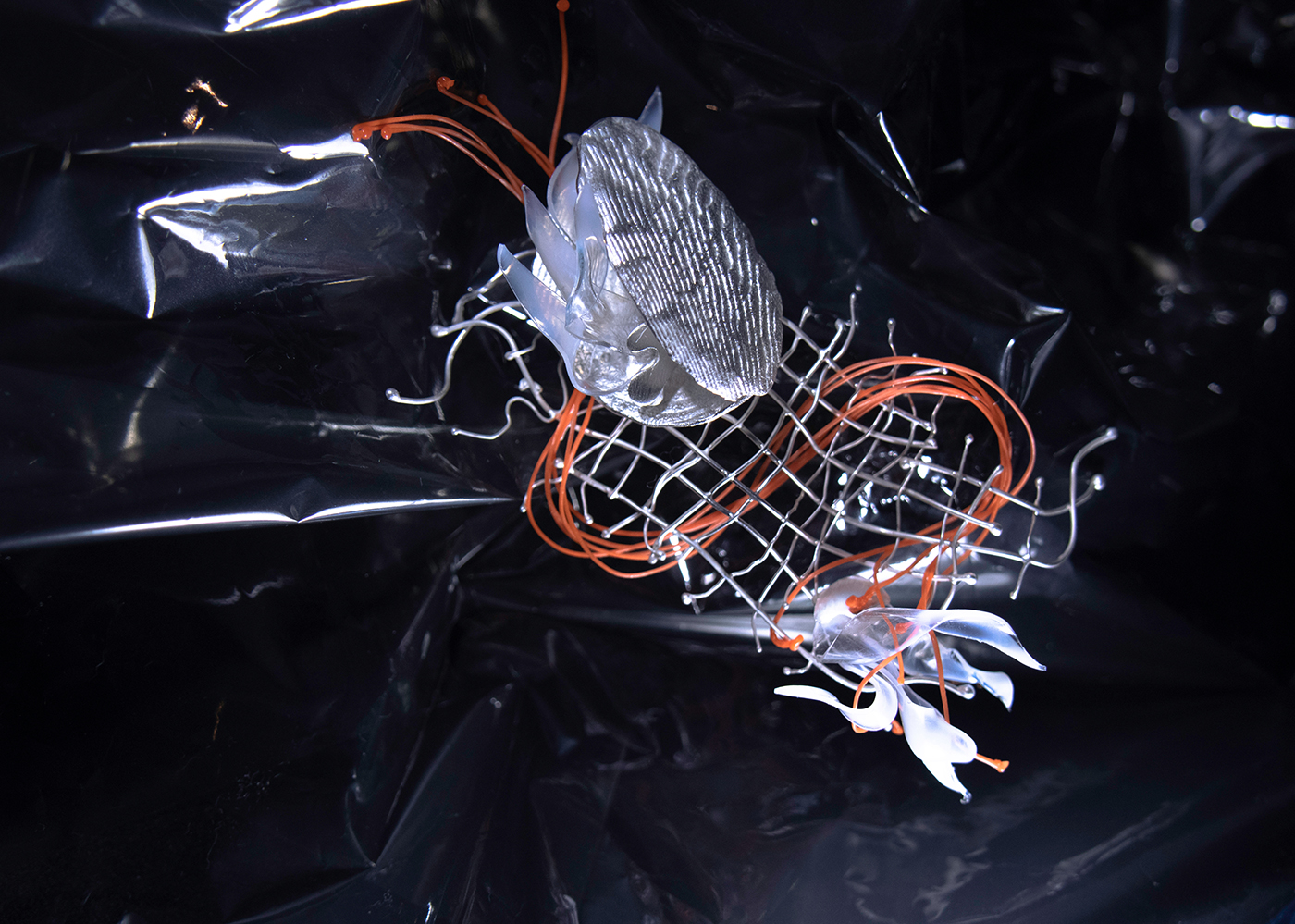 Angel Zhang, BFA Jewelry '21, is similarly interested in portraying the disruptions of nature by modern industry. Assemblages of pod-like forms and flower-like petals reference the natural world while other uncanny shapes represent how toxins are spread and dispersed. Transparent elements, allowing glimpses of color in their material, are incorporated into the elaborate works to remind viewers of the intricacies of the human body and the vulnerability of nature. A brooch Zhang made includes fishing net debris collected in Oslo, shared with Zhang by Synne Skjulstad, the founder of the reclaimed jewelry practice Seabling, who was an invited speaker for the class in the fall.
"I have become more aware of the materials I use and try to source materials from companies that are ethical," Zhang said. "Mining and production processes raise problems concerning harmful chemicals that not only destroy ecosystems but also have long-term negative effects. I think we can spread awareness and practice jewelry with mindfulness of where we are sourcing our products and how these materials could have effects on the environment as well as ourselves."
As the students work on their final thesis projects, this recognition of the consequences of their material and fabrication choices fosters a long-term investment in sustainability as they progress into their professional work. "This project has really encouraged students to look at their practices and we now have a robust understanding of the importance of ethical making that comes naturally to the students," Zimmerman said.