Pratt alumna Danielle Pecora, who graduated with a master's degree in architecture in May 2010, recently won first place and $2,000 in the DESIGN 21 Game Changers Competition for her be-B: Braille Education Ball design. The competition challenged participants to create a game design which aims to improve lives or inspire new behaviors. Pecora's game concept design was selected out of 90 entries from 29 countries by DESIGN 21 Advisory Board members and renowned design professionals Emily Pilloton and Richard Hutten.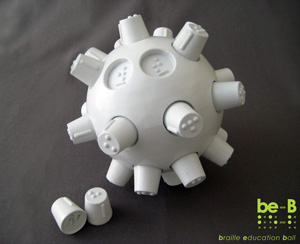 The be-B: Braille Education Ball allows both blind and sighted users to learn Braille letters through a challenging and educational game that engages multiple senses and encourages cognitive development; her design is suitable for adults learning Braille and children ages 3 or older. The aim of Pecora's be-B was to create a fun and interactive learning experience for children learning Braille and to invite sighted users to learn about another way of seeing the world

Pecora's design is equipped with 26 magnetically attached pegs, one for each letter of the alphabet; on one side of each peg is a Braille letter, and on the other side is a corresponding Latin letter. The Braille Education Ball has 26 indented circles on it, each designated with a Braille letter. The object of this DESIGN 21 winning game is to match each Braille peg with its corresponding place on the ball. Inside of Pecora's design is an electronic device that "speaks" the letter that is touched on the ball and emits a chime sound when a Braille peg has been correctly matched with its corresponding letter on the ball.
Pecora was previously honored by DESIGN 21 with an Award of Excellence in the Child's Play Competition for her Children's Building System in 2002. This Children's Building System was also featured in the 2002 International Contemporary Furniture Fair (ICFF).
DESIGN 21: Social Design Network is a collaborative project undertaken by the global design and merchandise company Felissimo and the United Nations Educational, Scientific and Cultural Organization (UNESCO). The mission of DESIGN 21 is to inspire social activism through design and to connect individuals who want to explore the ways in which design can positively impact the world.
Prior to her studies at Pratt, Pecora earned a bachelor of fine arts degree in product design from Parsons School of Design in 2002 and grew up in Toms River, NJ. To view Pecora's winning design and other submissions in this year's DESIGN 21 Game Changers Competition, visit http://www.design21sdn.com/competitions/26.