Pratt Institute, one of the most prestigious independent specialized colleges in the United States, will showcase 2-D and 3-D animations and films by approximately 20 recent graduates and students from its Departments of Digital Arts and Film/Video & Photography as part of The Big Screen Project, a new venue for video, film, live, and interactive content on a public digital arts and culture wall on Monday, November 15 in Midtown Manhattan.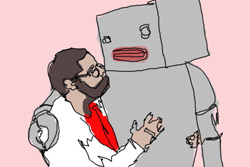 Animations from the Department of Digital Arts will be screened from 5-6 PM and films and animations from the Department of Film/Video & Photography will be screened from 6-7 PM. The main entrance to the public venue is through Food Parc at 851 Sixth Avenue between 29th and 30th Streets.
The Big Screen Project is an innovative presentation model for digital arts and culture. The project's team of curators select the best in the arts, cinema, and new media and expose the general public to fresh cultural content to raise awareness, entertain, and inspire involvement in the arts. The screen shows a diverse schedule of daily programming organized into conceptual blocks.