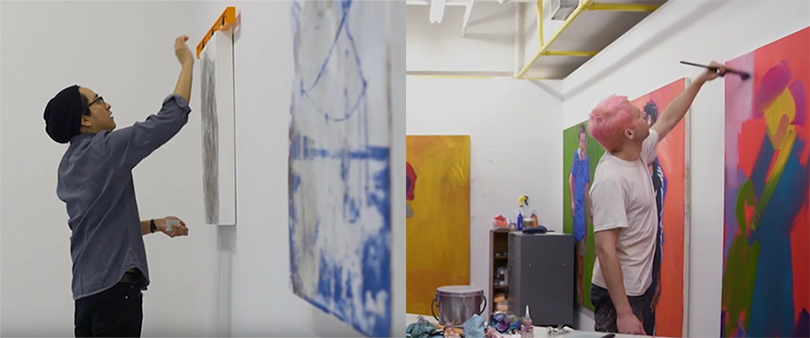 Two Pratt alumni, Cameron Meade and Cougar Vigil, both MFA '18, are featured in a new online series highlighting the art and personal stories of New York City-area university students. Called Rising Artist, the series of shorts was recently launched by ALL ARTS, an arts and culture broadcast channel and streaming platform produced by the public television station WLIW.
The videos on Meade and Vigil's work were filmed before their graduation from Pratt. In his Rising Artist video, Meade discusses his vibrant paintings of the important people in his life, whether his friends, family, or the homeless youth supported by his family's nonprofit in Tampa, Florida. "My portraiture hopefully is a humanizing of a diverse group of people, all of which I know intimately and care about, that I want to see represented kindly," he says. Meade adds that he came to Pratt in part to seek mentorship for his practice, and found a mentor in Pratt alumnus Derrick Adams, BFA Art and Design Education '96, who is also featured in the video.
Vigil similarly uses his art to respond to his community. In his Rising Artist video, Vigil relates how he combines painting and photography to address issues affecting his Jicarilla Apache community in New Mexico, and to combat stereotypes of indigenous people. He presents some of his techniques, including his use of alternative processes like salt prints and solar prints. "I really got into experimenting because of living on the reservation where there were no facilities at all, even a computer lab was out of reach for me," he says, demonstrating how he uses the interaction of the sun with photographic chemicals to create layered images.
All of the Rising Artist episodes are available to watch on the ALL ARTS website and to stream on iOS and Android smartphones and tablets, Apple TV, Roku, and Amazon Fire TV.
Images: Cougar Vigil in the Rising Artist series (courtesy ALL ARTS), Cameron Meade in the Rising Artist series (courtesy ALL ARTS)