Internationally acclaimed designer Marc Rosen, a Pratt Institute professor and alumnus, has conceived and authored Glamour Icons: Perfume Bottle Design (Antique Collectors' Club, 2011), a stunning book that recognizes and celebrates perfume bottle design as an art form. Proceeds from sales of the book benefit the Marc Rosen Scholarship Fund for Packaging by Design at Pratt Institute. The Fund is the only scholarship in the world available to college students looking to pursue careers in cosmetics and package design. Each year the scholarship is supported by the cosmetic industry at The Art of Packaging Award Gala, an event that attracts the top-tier of New York City's multi-billion dollar cosmetics industry.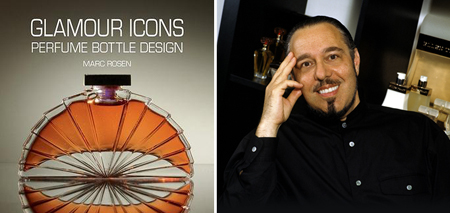 Rosen's book, Glamour Icons, is the first of its kind to celebrate the most iconic perfume bottles throughout history, and provide an insider's look at this unique brand of artistry including highlights of the design process from the original sketches through completion. The book also includes a prologue by Fleur Cowles, editor and founder of Flair Magazine, a foreword by Harold Koda, and an interview by Hamish Bowles.
The book comprises Rosen's personal reminiscences and industry back-stories including:
–Working at his first job with Revlon founder, the impervious Charles Revlon
–Collaborating with the fashion houses of Chloe, Karl Lagerfeld, Fendi, Perry Ellis, Ellen Tracy, and Jill Stuart and celebrities Joan Rivers, Christina Aguilera, and Celine Dion
–Working with Princess Grace of Monaco and Saudi Prince Fahad
–Working on a fragrance with Arlene Dahl, one of Hollywood's most glamorous leading ladies, whom he later married
Rosen teaches the only course in existence worldwide on fragrance packaging in Pratt's graduate program in Communications Design. The course takes a focused view of cosmetic packaging through a workshop format and the development of a term project. Students learn the art and process of designing perfume bottles, from the initial hand-drawn sketch to the realization of the design as a three-dimensional prototype.
Rosen is the president and CEO of Marc Rosen Associates, New York, and is a seven-time winner of the FiFi award — the fragrance industry's equivalent of the motion picture industry's Academy Award. His designs are in the permanent collections of The Museum of Modern Art in New York and the Museum of Fashion and Textiles in Paris.
For over 20 years, Rosen, who is also a Pratt trustee, has designed packaging for such famous beauty manufacturers and fashion names as Avon, Bath & Body Works, Burberry, Chloé, Elizabeth Arden, Estée Lauder, Fendi, Halston, Karl Lagerfeld, Nina Ricci, Oscar de la Renta, Perry Ellis, Princess Marcella Borghese, Revlon, Sanofi, and Victoria's Secret. Prior to establishing his own firm in 1989, Rosen was senior vice president of corporate design and communications for Elizabeth Arden Worldwide.
The Pratt program in which Rosen teaches-Communications and Package Design-is ranked as one of the top 10 graduate graphic design programs in the country by U.S. News and World Report and collegecrunch.org.
Pratt's master's degree program in package design offers a broadly based curriculum centered on the decision-making process for new product/package development. The program features courses in package design, brand development, visual communications, digital technology, marketing, and structural packaging. The final stage of the curriculum is the thesis, which provides knowledge of the problem-solving process through directed research and, over the succeeding two semesters, gives students the opportunity to develop an extensive, innovative project. The graduate program is chaired by Jeff Bellantoni and is part of the Pratt Institute School of Art and Design, which is led by Dean Concetta M. Stewart, Ph.D.
Image credits from left: Image of Glamour Icons: Perfume Bottle Design (Antique Collectors' Club, 2011) book cover and author Marc Rosen.