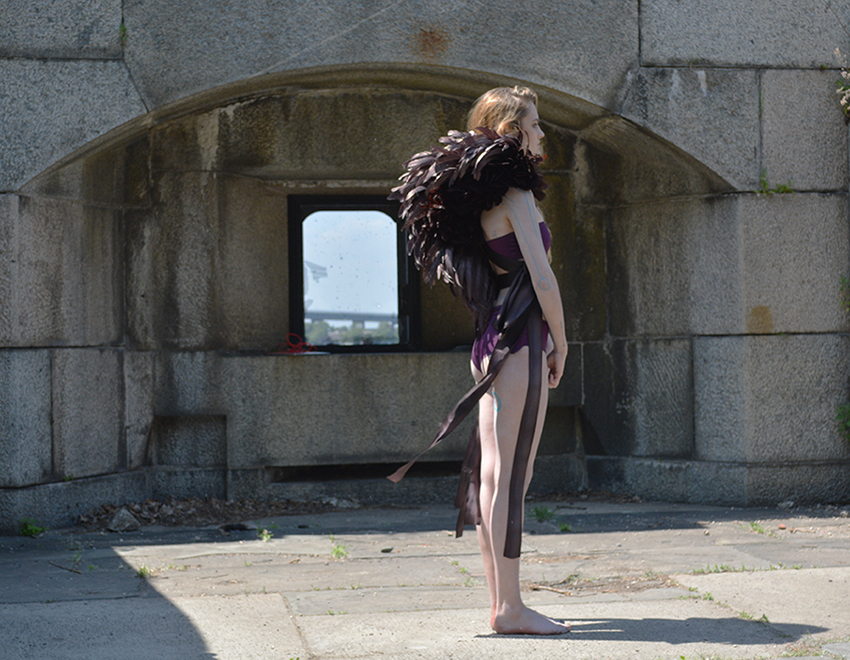 The Biet Ha'ir Museum in Tel Aviv is displaying The BioWear Project, a wearable technology piece designed by Adjunct Associate Professor of Industrial Design and Fashion Rebeccah Pailes-Friedman. Also on view are a number of works created by the students in Pailes-Friedman's wearable technology design studio class at Pratt, in which they collaborated on a project for NASA's WEAR lab to create clothing that astronauts on the International Space Station would wear. The exhibition, which opened in June, will run until December 1.
Funded by the United States Embassy to Israel, Pailes-Friedman toured Israel in June to give lectures and workshops at four universities and high schools about work being done in wearable technology at Pratt. Four Pratt student projects from the NASA studio class traveled with her for display and discussion on the tour.
"The work and the tour were a great way to share knowledge about wearable technology and blur boundaries between engineering, science, tech, and art," said Pailes-Friedman. "The experience of having their work included enabled Pratt students to understand that what they do in the classroom is not just an exercise, but work that has a global context and that people are curious to see and understand," she added.
The Be'it Hair Museum, which aims to bring together art and life, invited Pailes-Friedman in fall 2014 to display a project focusing on fashion and innovation. The resulting work, The BioWear Project, is a kinetic accessory that works with the body to sense and display emotions through feathers that move in response to the emotions of the wearer. The accessory was shown on a mannequin along with a short looping film to illustrate the movement of the piece being worn.
A number of Pratt students were commissioned to create the film—including Haden Hoyl (B.F.A. Film/Video '15), Lach Miner (B.F.A. Fashion Design '16), Dylan Pailes-Friedman (B.F.A. Film/Video '17), Dakota Pailes-Friedman (B.F.A. Digital Arts '15), and Dan Romito (B.F.A. Film/Video '17)—and to help develop The BioWear Project.
"The BioWear Project was such a great learning experience. Closing the gap between humans and technology is exciting, but learning how to create a harmonious relationship between the two is the reason why I chose to study industrial design," said Theo Ferlauto (B.F.A. Fashion Design '15), whose work was included in the exhibition.
Image: Still from The BioWear Project looping video (courtesy of Rebeccah Pailes-Friedman)