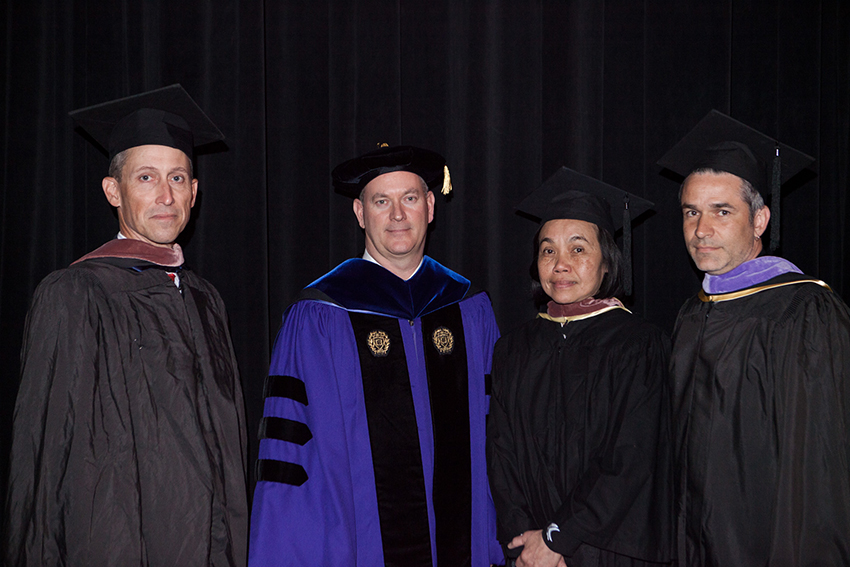 Jason Vigneri-Beane, adjunct associate professor of graduate architecture and urban design within the School of Architecture, is the recipient of Pratt Institute's Distinguished Teacher Award 2016-2017. The Award recognizes exceptional dedication to Pratt's mission and applauds the recipient's career accomplishments. The winner is nominated by Pratt students, and the award is conferred by the Institute's Board of Trustees on the recommendation of the Academic Senate. In recognition of the honor, VIgneri-Beane received a Distinguished Teacher Award medal designed by Julian Anderson (B.Arch. '16) at Commencement 2016, which was held on May 17 at Radio City Music Hall.
Vigneri-Beane coordinates Pratt's Master of Science in Architecture degree program and thesis sequence; the Master of Architecture option studios and digital media courses; and the Graduate Architecture and Urban Design in Rome program. An instructor at Pratt since 1999, Vigneri-Beane teaches a range of studios and media courses for both incoming and upper-level students that explore relationships among contemporary design techniques, architectural categories of production, and the history of discourse in the discipline.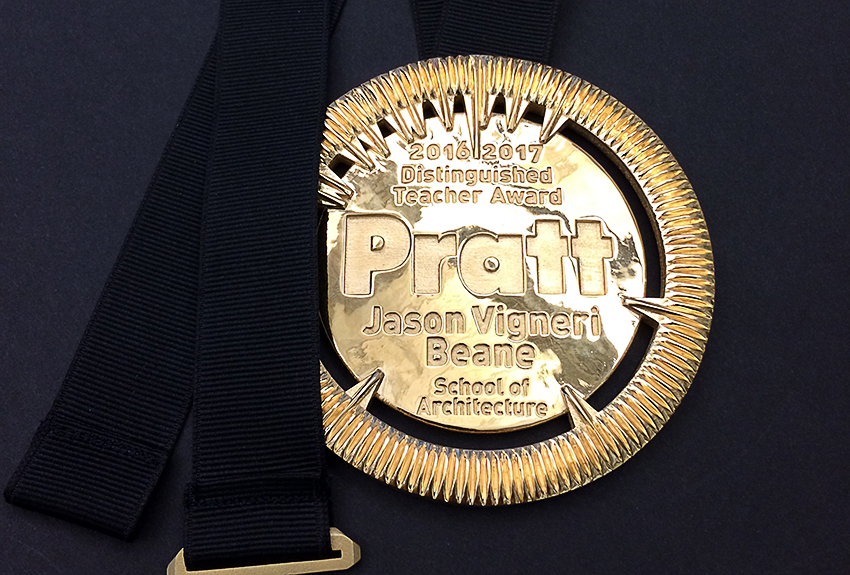 In addition to his teaching at Pratt, Vigneri-Beane is the founding principal of Split Studio and a founding partner of Planetary ONE, both Brooklyn-based multidisciplinary design practices. His individual and collaborative projects include architectural robots, information-harvesting drones, amphibious buildings, future cities, swarming infrastructures, prefabricated landscapes, and cyborg ecologies. He has published on projects for aquatic settlements and informal infrastructures, as well as texts on science-fiction design, floating buildings, and swarming building systems.
An inaugural annual design competition open to all Pratt students was held in early 2016 to create this year's Distinguished Teacher Award Medal design. The competition attracted 37 entries, which were reviewed by a jury of Pratt faculty and staff. Visiting Assistant Professor of Undergraduate Architecture Farzam Yazdanseta served as chair of the Distinguished Teacher Award Committee. Anderson's winning design includes a border of 129 ridges symbolizing Pratt's 129-year legacy. The design honors key dates that have shaped the Institute, including marking the 2016 Distinguished Teacher Award Medal as another important step in Pratt's history.
As the winning medal designer, Anderson received an honorarium and inclusion in the Institute's web archive. Submissions by Industrial Design juniors Lane Samata (B.I.D. '17) and Kai Valencia (B.I.D. '17) received honorable mention in the medal design competition. Department of Fine Arts Jewelry Technician Alexia Cohen-Toledo was the technical advisor for the medal and fabricator of the ribbon, clasp, and finishing touches. Academic Senate President and Adjunct Professor of Fine Arts Jenny Lee presented the inaugural medal to Vigneri-Beane at Commencement, where the winner of the highest teaching honor was announced by Pratt Institute Provost Kirk E. Pillow.
Image (L-R): Undergraduate Foundation Department Adjunct Assistant Professor Andrew Lenaghan (Pratt Institute Distinguished Teacher 2015-16); Pratt Institute Provost Kirk E. Pillow; Academic Senate President and Adjunct Professor of Fine Arts Jenny Lee; Adjunct Associate Professor of Graduate Architecture and Urban Design Jason Vigneri-Beane (Pratt Institute Distinguished Teacher 2016-2017)