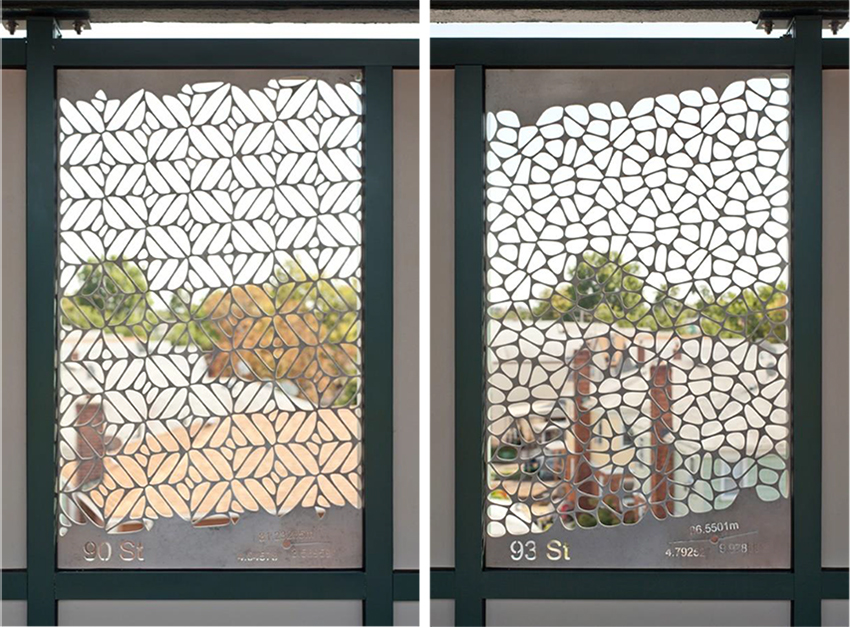 Pratt Institute alumnus and architecture professor Haresh Lalvani has created a series of 24 permanent art panels entitled MORPHING88 for the newly renovated 88th Street subway station on the A line in Queens, New York. Lalvani was one of five artists commissioned by Metropolitan Transportation Authority (MTA) Arts & Design to create artwork for stations along the subway system's Liberty Avenue Line.
Consisting of 24 laser-cut stainless steel panels Installed within the station's platform windscreens, MORPHING88 captures the unique global coordinates (latitude and longitude) of 82nd Street through 93rd Street, the streets serviced by the station. The pattern in each panel is determined by the distance between streets and their angle to the equator. There are 365 holes within each panel, capturing the perennial nature of year-round travel. The back-and-forth nature of travel is embedded within each pattern of the 12 Manhattan-bound and 12 Queens-bound panels.
As the MTA renovates subway and commuter rail stations through its capital program, it allocates a portion of funds to commission permanent works of art. Artists are chosen through a competitive process in which selection panels comprised of visual arts professionals and community representatives review and select artists. The commissioned artwork can be seen on the miles of walls within the transit system as well as in its gates, windscreens, plazas, and architecture.
Image: Two panels from MORPHING88 (2015) © Haresh Lalvani, MTA NYCT 88th Street Station, Commissioned by MTA Arts & Design (photo: Bill Kontzias)