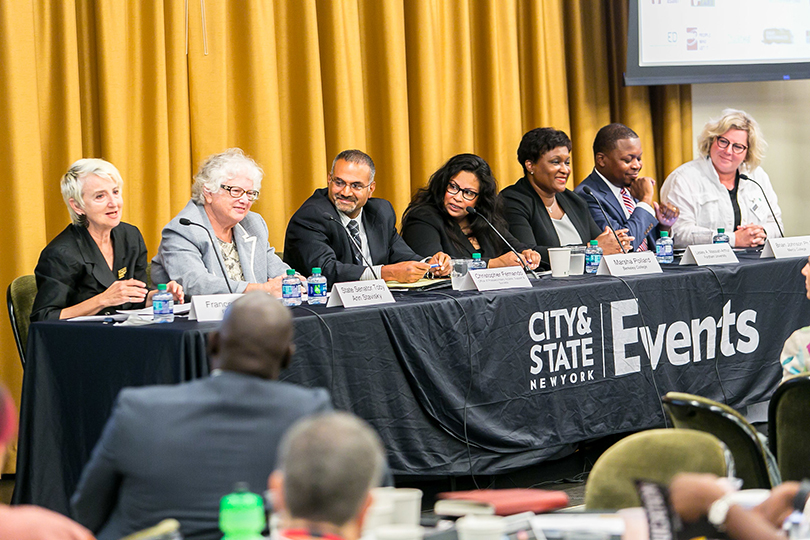 Pratt Institute President Frances Bronet joined Richard A. Carranza, Chancellor of the New York City Department of Education, and other pivotal leaders and innovative thinkers in New York education at City & State's 2019 Education Summit held on August 15 at Baruch College. The New York-based publication on local and state politics and policy organized the day-long series of talks and panels on current ideas and complex concerns such as the future of standardized testing, school safety, and how to prioritize STEM-based learning in classrooms.
Bronet moderated the "Collaborative Strategies that Address Equity, Access and Affordability" panel, which explored issues of school diversity, traditional and non-traditional students, and the disparities in college access for various student groups. Bronet asked the panel of educators and policymakers about the experiences of traditional and non-traditional students and current demographic shifts in student populations, what government programs are having a positive impact, and how the arts and other creative studies can be choices for all students regardless of background. Bronet highlighted Pratt's leadership in these areas as well as the over century-long service of Pratt's K-12 art programs like Saturday Art School, which introduces students to art and design on campus at an early age. She discussed how Pratt is a vibrant institution because of its Brooklyn community, and how the college connects with its neighbors to build relationships beyond campus.
"We're all working to improve how we educate students and just as critically—how we ensure that anyone who wants one can access a quality, tailored, and robust education," Bronet said in an introduction.
Panel participants included Christopher Fernando, Supervisor of Education Programs from the Office of Postsecondary Access, Support and Success at the New York State Education Department; Brian L. Johnson, Vice President of Mercy College; Lesley A. Massiah-Arthur, Associate Vice President for Government Relations and Urban Affairs at Fordham University; Marsha Pollard, Provost of Berkeley College; State Senator Toby Ann Stavisky, Chairwoman of the Higher Education Committee; and Ruth Taylor, National Educational Specialist at Edgenuity.
Together, the panelists examined how collaborative models of education can provide accessible pathways to careers and how New York is addressing these challenges in college and employment readiness. They also considered how to educate students for futures which may be very different from today, whether in communication, financial exchange, or technology.
Photo: President Frances Bronet (at left), 2019 Education Summit Panel (courtesy City & State)