Pratt Institute will celebrate a quarter century of The Rubelle and Norman Schafler Gallery, a forum for student and faculty shows and a center for visits by guest critics, with an anniversary exhibition highlighting six memorable and influential past shows. "Schafler@25" will run from October 7, 2010-January 21, 2011 and will be celebrated with an opening reception on Wednesday, October 6 from 4:30-6:30 p.m. The exhibition and reception are free and open to the public.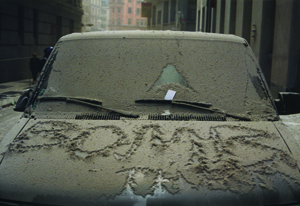 Since its opening in 1985, the Schafler Gallery has primarily served as an exhibition space for students, faculty, and alumni. Annual shows representing departments and programs have always been popular, but in recent years, cross-disciplinary exhibitions such as "Light" and "9/11: Pratt Artists Respond" have also been organized around a theme to bring together art and design works from many fields. In addition, the Schafler Gallery has presented independently curated exhibitions of work by contemporary architects, designers, and artists not affiliated with Pratt. Throughout these first 25 years, the Schafler Gallery has struck a balance between exhibitions that look back in time to honor the Pratt community of the past and exhibitions that confront the social issues of the present and Pratt's future.
Guest curator Eleanor Moretta, who previously served as Pratt's director of Exhibitions for most of the last 25 years, has chosen six exhibitions, two each from the 1980s, 1990s, and the current decade, all of which demonstrate how the creative community of Pratt Institute has been vital to the development of art, design, architecture, and culture in Brooklyn and throughout greater New York. Selections from these exhibitions will be reassembled and displayed along with an array of recent work by many of the original participants and a number of current Pratt students. The six exhibitions are as follows:
· "The Energy of Light" (1986), an exhibition that reiterated Pratt's far-sighted commitment to sustainable design and featured architecture that employed natural light for its sheer beauty as well as for energy efficiency.
· In order to draw attention to the need for more opportunities for women artists, "The Exceptions and the Exceptionals" (1987) displayed art works by Pratt's 24 "exceptions," that is, the entire female teaching staff of Fine Arts and Foundation Art, and by the "exceptionals," an invited group of promising women students.
· A rare historical exhibition, the result of History of Art and Design Professor Marsha Morton's original research in Pratt's archives and elsewhere, "Pratt and Its Gallery: The Arts & Crafts Years" (1998) documented the existence of a well-respected art gallery in the Library building during the 1890s and early 1900s, and included works by Robert Blum, Arthur B. Davies, Arthur Wesley Dow, John LaFarge, Louis Comfort Tiffany, and other artists of the time who exhibited there.
· A term project of Professor Stephan Klein's Exhibition Design Intensive class, "Where Are the Picassos in the Natural History Museum?" (1999) illustrated how our culturally conditioned notions of art and artifacts determine the way we display and interpret them.
· The first in a series of open-call, cross-disciplinary exhibitions in Schafler, "9/11: Pratt Artists Respond" (2002) expressed, in a variety of media, the reactions of faculty and students to the attacks of September 11.
· An ensemble of drawings, prototypes, handmade and manufactured pieces, as well as paintings, videos and installations all relating to the theme of furniture, "Crossing Disciplines: Furniture" (2007) allowed Pratt artists, designers and gallery visitors to discover new relationships in their work, putting aside the old categories for works of fine art, craft and mass production.
The Schafler Gallery has long been active in addressing the challenges of our time with its audience of faculty, students, and the Clinton Hill/Fort Greene community, where many alumni reside. Like the exhibitions it recalls, "Schafler@25" will confront visitors with the issues of responsible energy-conscious design, discrimination against women and minority artists, the impact of terrorism and war, and the role of the museum in contemporary culture.

Originally outfitted as a chemistry lab, and later as administrative offices, the gallery was dedicated in 1985 and named for its benefactors Norman Schafler (Engineering '38) and his wife Rubelle. The gallery resides in a beautiful Romanesque Revival building, built in 1905 on Pratt's main campus in Brooklyn. The building still bears the name "Chemistry" on its façade, but now houses jewelry, ceramics, and sculpture studios in addition to the gallery.
For more information, please call 718-636-3517 or email exhibits@pratt.edu. For more information on "Schafler@25" and all of Pratt's gallery exhibitions and events, visit www.pratt.edu/exhibitions.