Pratt Institute's ranking has risen to #20 in the region in U.S. News and World Report's prestigious "Best Colleges 2013" publication. The rankings, which were published on September 12, 2012, rank Pratt #20 out of the 98 peer institutions in U.S. News's Regional Universities North category, which rank institutions that provide a full range of undergraduate and graduate degree programs. In 2012, the Institute ranked #26 in the Regional Universities North category.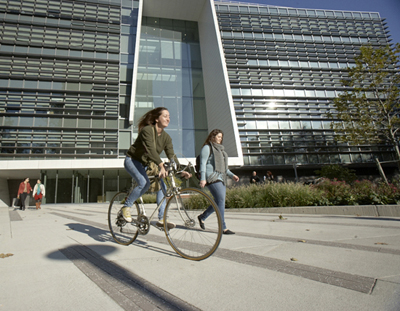 Pratt Institute, which was tied for 20 with Le Moyne College (N.Y.) and Rutgers, the State University of New Jersey at Camden, and was the only independent college of art and design on the list. The top three colleges on the list are Villanova University (Pa.), Fairfield University (Conn.), and Loyola University Maryland.
According to U.S. News and World Report, the "Best Colleges 2013" rankings allow comparisons of the relative quality of institutions based on such widely accepted indicators of excellence as freshman retention and graduation rates and the strength of faculty.
The U.S. News and World Report ranking system takes data gathered from each college on up to 16 indicators of academic excellence, and assigns a weight that reflects their judgment about how much a measure matters. Key measures of quality include peer assessment, graduation and retention rates, faculty resources, student selectivity, financial resources, and alumni giving. Finally, the colleges and universities in each category are ranked against their peers, based on their composite weighted score. A more detailed explanation can be found at www.usnews.com/collegemeth.
The 625 universities in U.S. News and World Report's "Best Colleges 2013" Best Regional Universities category are not ranked nationally but rather against their peer group in one of four regions — North, South, Midwest, and West — because, in general, they tend to draw students most heavily from the surrounding states. In addition to the Regional Universities category, the rankings include National University rankings, National Liberal Arts College rankings, and Regional Colleges rankings.
Last year was the first year that Pratt Institute was considered for the rankings given an update in the breakdown of types of higher education institutions as derived from the Carnegie Foundation for the Advancement of Teaching. The Carnegie classification system is the accepted standard in higher education.
The "Best Colleges 2013" guidebook is available online and will be on newsstands September 18, 2012.
Students outside of Myrtle Hall, a LEED-Gold Certified Academic and Administrative Building on Pratt Institute's Brooklyn Campus. Photo: Bob Handelman.
MEDIA CONTACT:
Amy Aronoff at 718.636.3554 or aarono29@pratt.edu