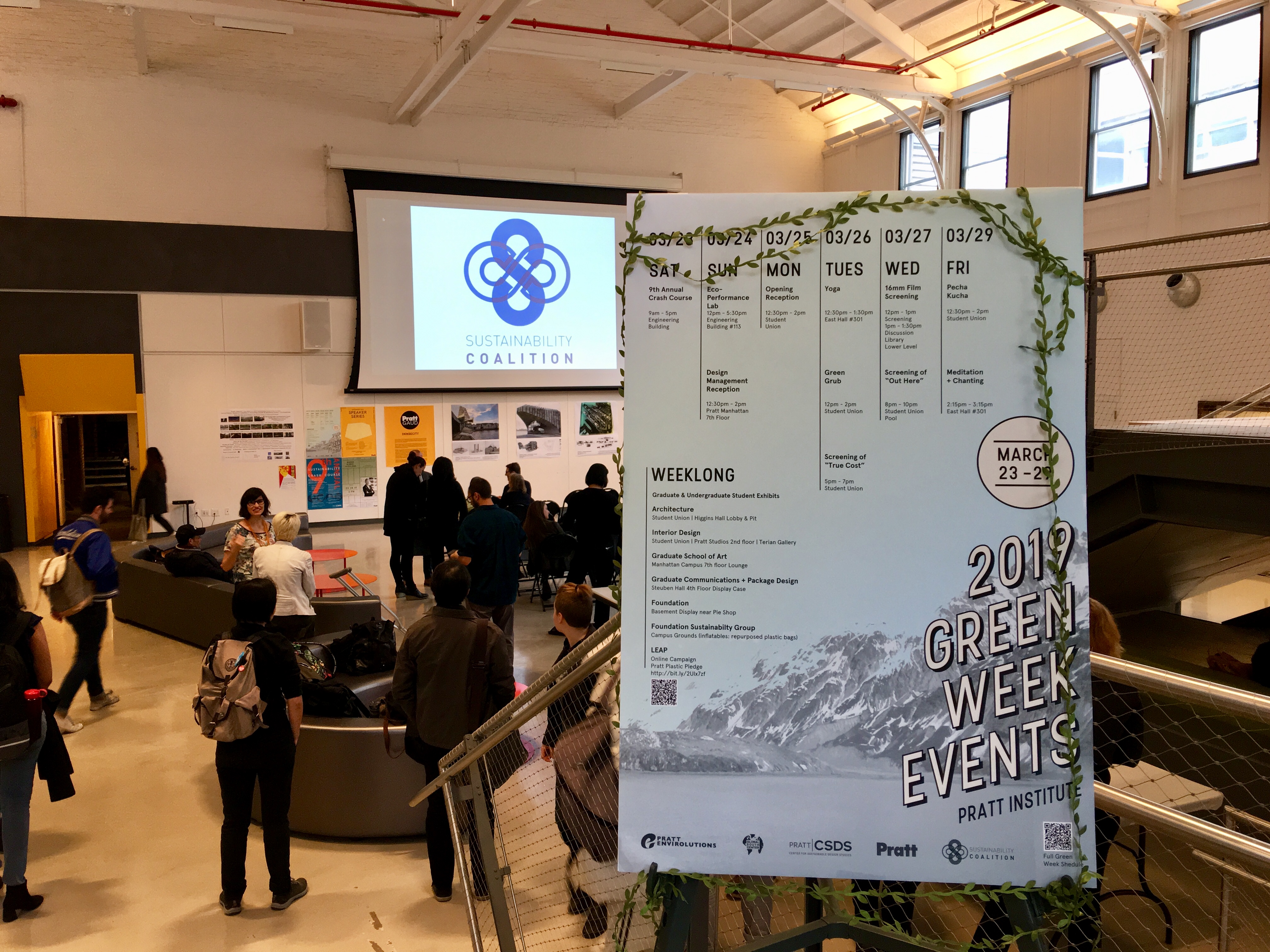 Sustainable design and environmentally-conscious work are happening year-round at Pratt Institute, and the 14th annual Green Week was an opportunity to showcase that leadership on both the Brooklyn and Manhattan campuses. Organized by the Sustainability Coalition with the Center for Sustainable Design Strategies (CSDS), it involved Pratt students, faculty, and staff from across disciplines in programs on climate change and sustainability, and offered ways to participate in local conservation efforts.
Events included exhibitions of work by undergraduate and graduate students addressing a range of issues and challenges. For example, ideas for more sustainable dorms were presented in Higgins Hall by third-year architecture students, while Design Management and Art and Cultural Management students exhibited projects on "Designing Cultures of Inclusion" at the Pratt Manhattan Campus. Graduate Architecture and Urban Design (GAUD) students had a "Densecity" display related to urban densification; a thermal imagery project from the Environmental Technology and Sustainable Elements course explored the connection between construction quality and energy efficiency.
Interdisciplinary projects were central to Green Week. For instance, an "eco-performance lab" highlighted how performance-making can respond to climate crises. The workshop, which was open to faculty, staff, and students, had a presentation by Dr. Nicole Davi of the Tree-Ring Laboratory at Columbia University's Lamont-Doherty Earth Observatory in Palisades, New York. Davi's research focuses on how the rings of trees can reveal information about climate change from the past 2,000 years. This workshop was a component of the STEAMplant project To The Core of Me: A Hike-Play, led by Jeremy Pickard of the eco-performance group Superhero Clubhouse and Pratt School of Liberal Arts and Sciences faculty members Christopher X. J. Jensen and Jennifer Telesca. Their ongoing collaboration involves a guided outdoor hike and interactive performance, all inspired by the stump of a 94-year-old tree in Astoria Park.
Green Week's ninth annual Crash Course led by CSDS Director Carolyn Shafer offered a day-long immersion in sustainability, with presentations, panel discussions, and workshops by members of Pratt's faculty and other experts in the field. As part of the dialogue-centered event, the Leaders in Environmental Advocacy at Pratt (LEAP) invited attendees to sign a plastic-free pledge for Green Week. LEAP also installed a sculptural wave of trash outside the Pratt Chapel, its composition reflecting one day of plastic waste on campus.
The Crash Course was a one-day happening, but sustainability is integrated year-round into the regular curriculum at Pratt. Nine faculty members each discussed how they embed environmental awareness in their coursework at a Green Week event modeled on the Japanese presentation style of PechaKucha, in which speakers have 20 slides for 20 seconds each. The event was organized by the Departmental Sustainability Coordinators. Professor Patricia Madeja, Coordinator for the Fine Art Jewelry Program, described how her students consider their material use through relationships with organizations like Ethical Metalsmiths, and Nurhaizatul Jamil, Assistant Professor in Social Science and Cultural Studies, discussed how students in her Sustainability and Fashion course engage with issues of clothing manufacturing waste and the economic accessibility of sustainably made clothes.
Other Green Week events included film screenings, such as the 2013 Out Here on the experiences of queer farmers, and vintage 16mm films in the library that presented different responses to Cold War nuclear proliferation. The Pratt Day of Service organized by CBoard coincided with Green Week and featured a park cleanup in partnership with the Fort Greene Park Conservancy.
Green Week is an ever-growing initiative spearheaded by the Pratt Sustainability Coalition—a group of Pratt faculty, administrators, and staff—with the newer Blue Week now occurring annually as a complement in the fall. "We still have a lot of work ahead of us to raise the level of urgency and awareness," said Tetsu Ohara, Green Week Coordinator and Adjunct Associate Professor and Departmental Sustainability Coordinator in the School of Design. "We are excited about the support from Pratt's leadership as well as increased interest from other disciplines, and are looking forward to reaching out to a wider audience next year."