Pratt Institute undergraduate and graduate industrial and interior design students, along with staff from Pratt's offices of facilities management and residential life, have created a "green" residence hall room model in Willoughby Hall on the Brooklyn Campus. The project, titled "1702 – Living Laboratory," began in Spring 2009 as an interdisciplinary studio course that examined the ways that campus and urban living can be made greener and healthier. The space includes the sustainable renovation of the kitchen, bathroom, and living area along with energy-efficient lighting, new storage and shelving options, and new furniture using wood from the original residence hall.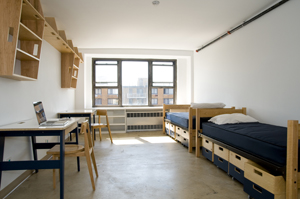 By having the students work with a real client – in this case, Pratt Institute – students collaborated between departments and with Pratt's facilities management team. The students were able to communicate to the facilities experts how Pratt students use their residence hall rooms while the facilities staff members shared their unique expertise on maintenance and operations. By teaming up, the group was able to design a space that is energy efficient, with a variety of sustainable design features that have both the student and the facilities needs in mind. The project will account for less water and energy use with a reduction of green house gasses by an estimated 10 percent.
The project was initiated through Pratt's Center for Sustainable Design Studies under the leadership of Debera Johnson, Academic Director of Sustainability. Anita Cooney, Chair of the Interior Design Department, oversaw the project along with Tony Gelber, Director of Administrative Sustainability; Stephen Brennan, Director of Maintenance and Operations; and Chris Kasik, Director of Residential Life. The interdisciplinary course was taught by Pratt faculty members Robert Langhorn, Julie Torres Moskovitz, Corey Yurkovich.
"The Living Laboratory project exemplifies design education at its most relevant – students and faculty from different professions working with the institution to make scalable change that is economically feasible and considers the environment," said Johnson. "Ultimately, this project reduces Pratt's carbon-footprint, creates a living lab for the educational community, and has given our students a practical experience in sustainable design that will add real world value to their portfolios," she added.
Willoughby Hall is a vintage 1960s-style building with approximately 300 apartments and relatively low greenhouse gas emissions due to its compactness and minimal air conditioning. One of the key challenges was to incorporate radical design elements and to reduce water, lighting, and energy usage in an already efficient space. To accomplish this, the kitchen, bathroom, and living area were renovated using the three tenets of sustainable design – reinvent, reuse/recycle — and choose environmentally-friendly and locally-sourced materials. The redesign utilized the original kitchen cabinets and kitchen sink, wooden furniture, and original concrete flooring.
Sustainable features of room 1702 include: energy control and monitoring systems, low VOC paints, resurfaced cabinets, and new furniture designs – including chairs, desks, a modular shelving system, and rolling storage bins that maximize storage space and customization – were built from existing wooden residence hall room furniture. Additional sustainable features of the space include the use of fluorescent or LED lighting, energy star appliances, and non-toxic non-off gassing materials and finishes. The space also maximizes daylight through a white-painted countertop designed to throw natural light into the room and utilizes existing wall space to provide additional storage options for students' personal items. These aspects of the redesign reduce the need for students to bring outside products that are less efficient, use excess energy, and encourage waste upon the end of their stay.
The projected 10 percent reduction in greenhouse gas emissions was achieved through water conservation methods including low flow fixtures and an apartment-based gray water system that uses sink water to flush the toilets while reducing reduce water consumption and wastewater generation. A Danfoss temperature control valve will maintain room temperature in the heating season and prevent overheating resulting in an estimated five percent reduction in energy usage. The day-lighting, energy efficient light fixtures, and a state-of-the-art Lutron lighting control system will reduce lighting loads by an estimated 25 percent.
"Learning is a lifelong process and the green residence hall room project fostered learning and collaboration between facilities management staff and the Pratt students and professors. We learned from them and they learned from us," said Tony Gelber, Director of Administrative Sustainability.
The room will be on view to the Pratt community and visiting school groups as an exhibition space and will also be open to current students and campus visitors as a guest room and living laboratory. Visitors will learn about 1702's sustainable features through an interactive exhibition in the space that will include a video showcasing the renovation and the space's green features. To schedule a tour of the space, please contact csds@pratt.edu or 718.636.3727.
The green residence hall room project exemplifies Pratt's commitment to innovate and demonstrate a sustainable lifestyle through the use of sustainable materials, local manufacture, water conservation, energy efficiency, and greenhouse gas reduction. Pratt was one of the first colleges in New York to become a 2030 Challenge Partner and accept Mayor Michael Bloomberg's challenge to reduce greenhouse gas emissions by 30 percent by 2017. Additionally, as a member of the Leadership Circle of the American College and University President's Climate Commitment, Pratt reinforces its commitments to neutralize greenhouse gas emissions by accelerating educational efforts to re-stabilize the earth's climate. The Institute was listed in The Princeton Review's 2010 Guide to 286 Green Colleges, which noted that Pratt's "reputation as a prestigious art school makes it an obvious choice for students interested in green design."
The "1702 – Living Laboratory" project was made possible through Pratt's Center for Sustainable Design Studies and with partial funding provided by the Fund for the Improvement of Postsecondary Education (FIPSE) Grant from the U.S. Department of Education.