Pratt Institute will celebrate renowned architect, alumnus, and longtime Pratt Architecture Professor Theoharis David, FAIA, with two exhibitions in 2012. Pratt's School of Architecture will present "Built Ideas: A Life of Teaching, Learning, and Action," an exhibition of David's models, photos, and concept drawings, from March 2 through March 30, 2012, at the Hazel and Robert H. Siegel Gallery at 61 Saint James Place in Brooklyn. From February 17 through September 28, 2012, Pratt's Department of Exhibitions will present "An Architect Drawing," an exhibition of drawings and texts from David's architectural experiences at The President's Office Gallery, Main Building, 200 Willoughby Avenue.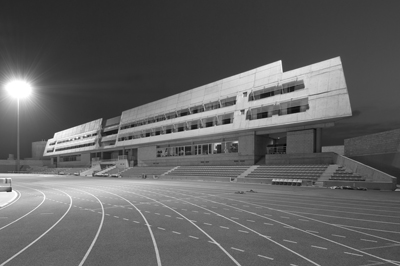 In addition to his work at Pratt, David, an American of Cypriot descent, is a visiting professor at the University of Cyprus and design principal of his own firm, Theo. David Architects TDA+KAL, located in both New York City and in Nicosia, Cyprus. As design principal, he has been responsible for the design of sports stadiums, educational and medical facilities, religious structures, extensive residential complexes and private residences, and the creation of comprehensive master plans for major leisure and mixed-use development. His work as an architect and as an educator has been exhibited and published worldwide. He formerly chaired Pratt's Graduate Architecture Program and was faculty president of the School of Architecture.

David is a fellow of the American Institute of Architects and the Institute for Urban Design, and serves on the boards of the Cyprus-U.S. Chamber of Commerce, the Cyprus Cultural Foundation, and the Congress of International Modern Architects, of which he is a former president. In addition, he is a nominator for the Aga Khan Award for projects that set new standards of excellence in architecture, preservation, and planning. David is a former elected member of the Honors Committee of AIA NY, and has served as chair of the American Institute of Architects New York Chapter's Design Awards Program and former chair of the American Planning Association New York Metro Chapter's Waterfront Committee. He has a bachelor of architecture degree from Pratt Institute and a master of architecture degree from Yale University, where he studied under Serge Chermayeff and Paul Rudolph.

His architecture has received a number of awards, including the New York City Bard Honor Award, the Cyprus Architects Association Prize in Architecture, the Cyprus State Award for Architecture, an Architect magazine award, a New York State AIA Citation for Design, and an Architects Designers, Planners for Social Responsibility Award. His work has also been nominated for the European Union's Mies van der Rohe Award.

"Built Ideas: A Life of Teaching, Learning, and Action"

"Built Ideas" is free and open to the public, and will be celebrated on March 1 with a 6 PM lecture by David, titled "Talking About You," in Higgins Hall Auditorium at 61 St. James Place. The lecture will be introduced by visionary architect Lebbeus Woods, and will reflect on David's 43 years as a teacher through the work of his former students, many of whom have gone on to become accomplished architects and teachers. An opening reception, with live jazz and Greek food, will take place immediately following at 7 PM. Seating priority at the lecture will be given to Pratt students and faculty members with valid ID at 5:30 PM. Members of the public will be admitted at 5:50 PM should seating be available.

"Built Ideas" is curated and designed by Christoph a. Kumpusch, adjunct assistant professor, Pratt Institute. The exhibition includes 19 mostly realized works, which demonstrate the interweaving of four primary architectural idea themes: Ground/Topio, Precedent/Proigoumeno, Symbolism/Symvolismos, and Art/Techni. The Built Ideas exhibited include significant works of the architect in Cyprus such as sports stadia and arenas, private residences, urban housing, educational facilities, and hybrid corporate structures. David's New York projects include recognized religious buildings and a proposal for a Greek Orthodox Church at the World Trade Center site.

"Ideas can become buildings and buildings can sponsor ideas. The exceptional thing about Theo's work is that he works in both directions–simultaneously," said a. Kumpusch. "The show is about authorship, tangibility, and genius," he added.

Also on view will be the work of David's students, which date from the start of his teaching career in 1969 at Pratt and in Nicosia, Cyprus; Athens, Greece; Barcelona, Spain; and Rome, Italy and have been developed in parallel with his own work.

"Built Ideas" will travel to Cyprus, Greece, and will be accompanied by a 80-page catalog with text contributions by Woods, a. Kumpusch, and Pratt School of Architecture Dean Thomas Hanrahan.

"An Architect Drawing"

"An Architect Drawing" will be celebrated with an opening reception on February 16 from 4:30 to 7 PM. The 55 drawings in this exhibition fall into four series: Roma, Petra Jerash, Moscow St. Petersburg, and The World Trade Center. The Roma series combines drawings from memories of Italy that relate to a specific place or event with descriptive text. The Petra Jerash series includes ephemeral drawings that portray the passage of time in two Jordanian cities, bringing with it the erosion of memory and erosion by natural forces. The Moscow St. Petersburg series represents Russia's past and present, including architectural artifacts of an imperial era that have been re-gilded and are now experienced as contemporary. The World Trade Center series, drawn on a bleak afternoon in December 2001, records a moment of mourning and a void that was filled with the kinetic architecture of reconstruction.

"An Architect Drawing" will be accompanied by a catalog with an essay by noted author Joel Agee.

"Built Ideas" is made possible in part with generous support from the Ministry of Education and Culture of the Republic of Cyprus, with additional support from the Dean's Office of the School of Architecture and the Department of Architecture at the University of Cyprus.

"Built Ideas: A Life of Teaching, Learning, and Action"
March 2-30, 2012
Hazel and Robert H. Siegel Gallery
Higgins Hall, 61 St. James Place
Lecture: March 1 at 6 PM
Opening Reception: March 1, 7-9 PM
Gallery Hours: 9 AM-5 PM Daily

"An Architect Drawing"
February 17-September 28, 2012
President's Office Gallery
Main Building, 200 Willoughby Avenue
Opening Reception: February 16, 4:30-7PM
Gallery Hours: Monday-Friday, 10AM to 4 PM
Photo: Allegra GSP Sport Center in Nicosia, Cyprus. Photo: C. Artemis.
MEDIA CONTACT:
Amy Aronoff at 718-636-3554 or aarono29@pratt.edu