WHO: Pratt Institute's Department of History of Art and Design and Department of Fine Arts will present a film titled a woman like that, which explores the dramatic life and work of 17th Century female artist Artemisia Gentileschi, who is considered one of the most important female artists in history. The event will include an introduction and post-screening Q&A with filmmaker Ellen Weissbrod. The event is free and open to the public.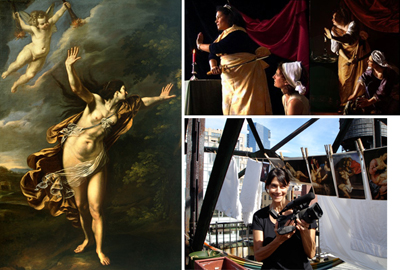 More about Artemisia Gentileschi:
Artemisia was taught to paint by her father Orazio, a renowned follower of the artist Caravaggio.
Artemisia's life story includes a famous rape trial when she was 17 years old, the friendship and support of Galileo and the Medici family, and–most striking for her time–a career as a working, professional artist.
More remarkable than her biography is the art itself as Artemisia told stories of women as heroes, relaying these stories from history, mythology, and the Bible.
Best-selling novels, popular plays, and one highly-protested French film have been made about Artemisia.
Her work is held in museums and private collections worldwide.
More about Ellen Weissbrod:
Weissbrod is a writer, producer, director, and editor who has been working in film for nearly 30 years. Her directing debut was the Warner Bros. feature documentary titled Listen Up: The Lives of Quincy Jones.
She has directed documentary portraits including the acclaimed Face to Face about conjoined twins Lori and Reba Schappell.
Weissbrod was nominated for an Emmy for It Just Takes One with Savion Glover.
WHAT: a woman like that explores the provocative work and heroic life of Artemisia Gentileschi (1593-1653), who survived a famous rape trial and became renowned in her own time. The film merges Weissbrod's personal coming of middle age story with her pursuit of the truths behind the legends of Artemisia Gentileschi's meaningful art and dramatic life.
The film has been screened at venues including the National Gallery of Art, Washington; Palm Springs Art Museum, California; Portland Art Museum, Oregon; The Cleveland Museum of Art, Ohio; Virginia Museum of Fine Arts, Richmond; Cincinnati Art Museum, Ohio; and The Walters Art Museum, Baltimore.
For more information, please visit www.awomanlikethatfilm.com.

WHERE: Room 307 in the Engineering Building on Pratt's Brooklyn Campus
Directions to Pratt's Brooklyn Campus
WHEN: Thursday, October 6 at 5 PM
The film is 93 minutes in length and will be followed by a Q&A with Weissbrod.
WHY: Filmed in New York, St. Louis, and Kentucky, a woman like that captures Weissbrod's five-year journey of discovery and includes rarely seen paintings from private collections and intimate views inside museums in Rome, Florence, and Naples.
Images (Clockwise from Left): Aurora by Artemisia Gentileschi, private collection, c. 1625-27; reenactment in the film a woman like that of Gentileschi's Judith and Her Maidservant with the Head of Holoferness, Detroit Institute of the Arts, c. 1625; and filmmaker Ellen Weissbrod in a scene from a woman like that.
MEDIA CONTACT:
Amy Aronoff at 718.636.3554 or aarono29@pratt.edu