Pratt's Center for Continuing and Professional Studies (CCPS) Gallery presents "Echoes of Tibet Find Refuge in the West," a conceptual photography exhibition of work by Adjunct Associate Professor Cheryl Stockton with film clips from guest artist John Halpern. Stockton's work, which is primarily photographic images printed on fabric, was created after she traveled to Tibet in 2007 as a leader in Pratt's Art of the Himalayas study abroad program. The exhibition, which is free and open to the public, runs through October 29, 2010.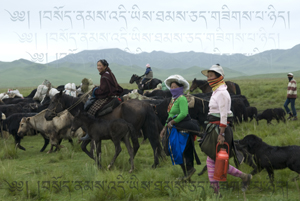 Stockton's work is influenced by the Tibetan prayer flags she encountered during her 40-day pilgrimage over the Tibetan plateau, where she and students visited and studied with many of the finest masters of the Amdo region's artistic heritage. Her work was further influenced by a class she took at the Latse Contemporary Cultural Library, New York, where she studied Tibetan language and script. It was her desire to add Tibetan script to her photography, which has been printed on semi-sheer fabric to hang as prayer flags in the gallery space. Some work is large, at 36 x 54 inches, while other smaller images hang in groups as traditional prayer flags.
The exhibition will be presented in collaboration with guest artist and documentary filmmaker John Halpern of MDS Films and will include clips from the films Talking with the Dalai Lama (2006) and Refuge (2005). The story of Refuge is told in a series of interviews with renowned filmmakers who have made major motion pictures about Buddhism and by accomplished Tibetan masters who have established themselves in the West.
Stockton's work is available for purchase after the exhibition; 10 percent of sales will benefit One Heart World-Wide for humanitarian efforts in Tibet.
For more information on CCPS and its gallery, please visit http://prostudies.pratt.edu/index.html.