Pratt Institute's senior class of fashion designers will present stunning, original looks for women and men at the Pratt Fashion Show on April 27, 2011, at 2 and 6 p.m. at The Metropolitan Pavilion at 125 West 18th Street in Manhattan. Hamish Bowles, Vogue's European Editor at Large, will be honored with the 2011 Pratt Institute Fashion Icon Award at the start of the 6 p.m. show. The award will be presented to Bowles by Diane von Furstenberg, who received the Pratt Fashion Icon Award in 2006. Funding for the Pratt Fashion Show was awarded in part through a competitive grant presented to Pratt Institute by the Importer Support Program of the Cotton Board and Cotton Incorporated. Pratt Institute will hold a cocktail benefit in honor of Bowles immediately following the show.
"We are delighted to honor Hamish Bowles, who has contributed so much to the fields of fashion and interior design, with the 2011 Pratt Fashion Icon Award," said Pratt President Thomas F. Schutte. "We greatly appreciate the support of our sponsors and event attendees as all proceeds from this event help to benefit the next generation of fashion design students at Pratt," he added.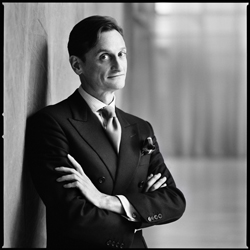 The 2011 Pratt Fashion Show will feature the best work of 18 of Pratt's graduating seniors. The designs to be shown on the runway have been pre-selected by a panel of fashion industry experts and will span several categories of apparel including women's, men's, evening, bridal, sportswear, and costume design. Showcased will be ready-to-wear looks for both men and women; elegantly-constructed and sophisticated bridal and eveningwear; and inventive costume designs. One of the most prestigious colleges for art, design, and architecture in the world, Pratt Institute is home to the first fashion design program in the United States.
"The inspiration provided by the Pratt environment and the broader creative community of Brooklyn has made this year's collections extremely fresh and innovative," said Rebeccah Pailes-Friedman, acting chair of the Pratt Fashion Design Department. "In Pratt's Department of Fashion Design, our world-class faculty not only provides rigorous training, but also encourages students to find their creative expressions, develop their individual design aesthetics, and hold true to their visions," she added.
Tickets to the 6 p.m. fashion show and the 7 p.m. cocktail benefit honoring Hamish Bowles and featuring event design by Avi Adler and music by The Misshapes are available for purchase at www.pratt.edu/fashionshow. Proceeds from ticket sales will benefit Pratt Institute's Department of Fashion Design. Members of the press should contact Amy Aronoff at 718-636-3554 or aarono29@pratt.edu to attend. Credentials will be required. For general inquiries, please email fashionshow@pratt.edu or contact 718-230-6814.
Pratt presents the Fashion Design Icon Award annually to a renowned figure in the fashion industry in recognition of his or her unique style and positive influence within the industry and ability to inspire young people interested in fashion. Bowles is one of the most respected authorities on the worlds of fashion and interior design. Bowles, who oversees all interior design features, writes profile stories, and covers fashion, contemporary culture, and the history of fashion and style for Vogue, will be the sixth Fashion Icon to receive this honor from Pratt, following Catherine Malandrino in 2010, Ralph Rucci in 2009, Carmen Marc Valvo in 2008, Narciso Rodriguez in 2007, and von Furstenberg in 2006.
This year's recipient, Hamish Bowles, is a recognized authority on fashion and currently contributes to Vogue.com under his rubric "The Hamishsphere." He curated the much-acclaimed exhibition, "Balenciaga: Spanish Master," which was held this winter at the Queen Sofía Spanish Institute, New York, and opened this spring at the de Young Museum, San Francisco as "Balenciaga and Spain." He also curated "Jacqueline Kennedy: The White House Years" at the Metropolitan Museum of Art in 2001. Bowles has written and lectured extensively on fashion history, art, lifestyle, and interior design, and he has authored and co-authored several books including Jacqueline Kennedy: The White House Years (Bulfinch, 2001); Carolina Herrera: Portrait of a Fashion Icon (Assouline, 2004); Vogue Living: Houses, Gardens, People (Knopf, 2007); Yves Saint Laurent Style (Abrams, 2008); The World in Vogue: People, Parties, Places (Knopf, 2009); Balenciaga: Spanish Master (Skira Rizzoli, 2010) and Balenciaga and Spain (Skira Rizzoli, 2011).
Presenting the 2011 Pratt Fashion Icon Award will be Diane von Furstenberg, founder of Diane von Furstenberg (DVF), a global luxury lifestyle brand renowned for its iconic wrap dress, which debuted in 1972 and has come to symbolize female power and freedom to an entire generation, and for signature prints. In 2005, von Furstenberg was awarded the Lifetime Achievement Award from the Council of Fashion Designers of America (CFDA) for her impact on fashion, and one year later, was elected the CFDA's new president, an office she continues to hold. She was recognized with the inaugural Pratt Fashion Icon Award, also in 2006. DVF, headquartered in New York City, includes a comprehensive line of ready-to-wear, swimwear, handbags, footwear, luggage, accessories, DVF by H. Stern fine jewelry and watches, eyewear, home, and rugs. Its distinctive collections are sold in over 71 countries and in 42 namesake retail boutiques worldwide.
Cotton Incorporated, funded by U.S. growers of upland cotton and importers of cotton and cotton textile products, is the research and marketing company representing upland cotton. The Importer Support Program is designed and operated to improve the demand for and profitability of cotton.
The 2011 Pratt Fashion Show is produced by Judith Rice, president of Judith Rice & Associates, a New York-based fashion event production company, and includes hair styling by Stefano Greco, make-up by Marie-Josee Lafontaine, and fashion styling by Kathie Young. Greco is a graduate of the CEPTA Beauty School in Geneva, Switzerland, whose work is informed by different ideas of beauty within world culture. Lafontaine has worked for over two decades in the fashion industry and has contributed her makeup artistry to major cosmetics companies such as Almay, Biotherm, L'Oreal, Clairol, Maybelline, and Revlon. Young specializes in styling runway shows and has contributed her styling expertise to Nordstrom, Macy's, and Bloomingdale's department stores and media outlets such as Good Morning America, The Today Show, Vogue, More, Seventeen, and Mademoiselle.
Avi Adler, event designer for the cocktail benefit, is a New York-based artist and designer. Adler creates fantastic, innovative, and otherworldly environments for international clientele, including the Brooklyn Museum, Council of Fashion Designers of America, Coach, Estée Lauder Companies, and Valentino. His paintings and drawings have been exhibited in museums and galleries in the U.S. and abroad.
The Misshapes, who will perform at the cocktail benefit, are a New York-based DJ trio composed of Leigh Lezark, Geordon Nicol, and Greg Krelenstein. In their early 20s, The Misshapes cultivated a worldwide following with the success of their downtown New York City dance party, titled "Misshapes." What began as an eponymously named weekly party has since evolved into a creative collective whose work ranges from DJing, sound design, modeling, publishing, and brand consulting.
Photo credit: Arthur Elgort