Pratt Institute's senior class of fashion designers will present stunning, original looks for women and men at the Pratt Institute Fashion Show on Thursday, April 26, 2012 at 2 and 6 PM at Center548 at 548 West 22nd Street in Manhattan. One outstanding graduating senior in Pratt's fashion design program will be recognized with the inaugural "Liz Claiborne Award – Concept to Product," which is a $25,000 award funded by the Liz Claiborne & Art Ortenberg Foundation that will support the student's creative entrepreneurial activities and will help cover the costs of developing a collection to show during New York Fashion Week.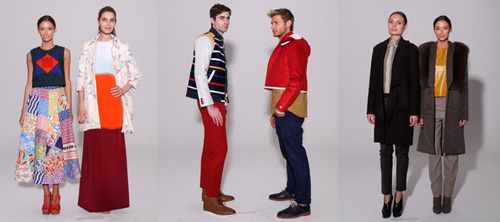 Fern Mallis, creator of New York Fashion Week, former executive director of the Council of Fashion Designers of America (CFDA), and former senior vice president of IMG Fashion, will be honored with the Pratt Institute Fashion Industry Lifetime Achievement Award at the start of the 6 PM show. The award will be presented by designer Calvin Klein. Funding for the 2012 Pratt Fashion Show was awarded in part through a competitive grant presented to Pratt Institute by the Importer Support Program of the Cotton Board and managed by Cotton Incorporated.
Pratt Institute will hold a cocktail benefit in honor of Mallis at PH-D Rooftop Lounge at Dream Downtown at 355 West 16th Street in Manhattan immediately following the show. Press access to the 6 PM fashion show is extremely limited. Tickets to the 6 PM fashion show are sold out and the 7:30 PM cocktail benefit honoring Mallis are limited and available for purchase at 718-399-4548.
The Pratt Institute fashion show and cocktail benefit have generated over $300,000 since 2011. Proceeds from ticket sales from both events benefit student scholarships and Pratt Institute's Department of Fashion Design. Members of the press should contact Amy Aronoff at 718-636-3554 or aarono29@pratt.edu to attend. Credentials will be required.
"We are so thrilled to honor Fern Mallis, who has championed the importance of fashion design in New York City and worldwide," said Pratt Institute President Thomas F. Schutte. "We greatly appreciate all of our supporters who are helping to benefit the next generation of fashion design students at Pratt," he added.
The 2012 Pratt Fashion Show will feature the best work by 17 graduating seniors from Pratt's Department of Fashion Design. The collections to be shown on the runway were pre-selected by a panel of industry experts and press and will span several categories of fashion. One of the most prestigious colleges for art, design, and architecture in the world, Pratt Institute is home to the first fashion-design program in the United States.
"This year's runway show will be dynamic and experimental, simultaneously showcasing individual student collections as well as the students' work as a whole," said Jennifer Minniti, who was named chair of the Pratt Fashion Design Department in summer 2011. "The presentation will celebrate the authenticity and strength of our students' creative approaches to design," she added.
Fern Mallis, the 2012 Pratt Fashion Show honoree, is one of a long list of prestigious honorees celebrated by Pratt in recent years. Hamish Bowles, Vogue's European editor at large was honored last year following Catherine Malandrino in 2010, Ralph Rucci in 2009, Carmen Marc Valvo in 2008, Narciso Rodriguez in 2007, and Diane von Furstenberg in 2006.
———————————————————————————————————————————————
Pratt Institute Fashion Industry Lifetime Achievement Award Honoree:
Fern Mallis is president of her own leading fashion and design consultancy firm, Fern Mallis LLC. She formed the firm to advise, consult, and create and to work with international and domestic fashion, lifestyle, and design companies on branding, image, creative business strategies, and event production. Mallis hosts a prestigious conversation series at New York's 92nd Street Y, titled Fashion Icons with Fern Mallis, which has featured guests including Fashion Industry Lifetime Achievement Award presenter Calvin Klein, Norma Kamali, and Donna Karan. Upcoming guests will include Tommy Hilfiger, Tom Ford, and Michael Kors. In addition, she hosts Fashion Insiders with Fern Mallis on Sirius XM's flagship celebrity talk channel, STARS, interviewing the best and brightest in the industry. Mallis recently celebrated the launch of her globally-inspired jewelry line titled Fern Finds:, available through QVC. She also made her theater stage debut this January in the Off-Broadway production of Nora and Delia Ephron's Love, Loss, and What I Wore.
Mallis served as executive director of the CFDA for 10 years, where she furthered the organization's charter to promote American fashion as a "recognized branch of American art and culture" and helped to implement the foundation's burgeoning philanthropic goals to raise money for breast cancer and AIDS charities, design scholarships, and numerous other initiatives to benefit designers and the industry at large. "7th on Sixth," as it was first known, organized, centralized, and modernized the American runways, allowing American designers to compete head-on with Milan and Paris, forever changing the global fashion business. After "7th on Sixth" was acquired by IMG in July 2001, Mallis created new fashion weeks in Miami and Los Angeles, as senior vice president of IMG Fashion, and was instrumental in the expansion of IMG's fashion portfolio with events in Sydney, Melbourne, Moscow, Berlin, and Mumbai.

Pratt Institute Fashion Industry Lifetime Achievement Award Presenter:

Calvin Klein is an award-winning fashion icon globally recognized as a master of minimalism. His name ranks among the best known brands in the world with Calvin Klein, Inc. reaching over $7 billion in global retail sales. Whether in fashion, fragrance, beauty, or his collections for the home, his work is subtle, sophisticated, and possesses a clarity that has redefined modern living, and the American point of view. He has been recognized with the prestigious Coty American Fashion Critics' Award–the fashion industry's equivalent of the Academy Award–and was the youngest designer ever elected into the Coty Hall of Fame in 1975. He has also received seven awards for outstanding design from the CFDA, including a Lifetime Achievement Award in 2001.

———————————————————————————————————————————————
Pratt Institute Fashion Show Committees:

Honorary Committee
Ted Allen
Solange Azagury-Partridge
R. Scott Bromley
Kim Hastreiter
Stan Herman
Tommy and Dee Hilfiger
Norma Kamali
Naeem Khan
Elizabeth King
Calvin Klein
Harold Koda
Catherine Malandrino
Nicole Miller
Todd Oldham
Danny Simmons
Yeohlee Teng

Benefit Committee
Isabel Bernardo
Adam Friedman
Veronique Gabai-Pinsky
Kathryn Calley Galitz
Jennifer Press Goodkind
Gary Hattem (M.S. Arch. '75) and Frazier Holloway
Allison Kornet
Marjorie and Jimmy Kuhn
Carol and Mike Pratt
Joan and Marc Sherman
Joanna L. Silver
Susan and Mark Stumer (B. Arch. '74)
Anne H. Van Ingen

Young Alumni Committee
Sam Bennett (B.F.A. Fashion Design '07)
Sarah Bergenheim (B.F.A. Fashion Design '07)
Samantha Black (B.F.A. Fashion Design '05)
Thea Bloch-Neal (B.F.A. Fashion Design '07)
Blaise Kavanagh (B.F.A. Fashion Design '06)

———————————————————————————————————————————————
Funding Provided By:
Funding for the 2012 Pratt Fashion Show was awarded in part through a competitive grant presented to Pratt Institute by the Importer Support Program of the Cotton Board and managed by Cotton Incorporated.
Cotton Incorporated, funded by U.S. growers of upland cotton and importers of cotton and cotton textile products, is the research and marketing company representing upland cotton. The Program is designed and operated to improve the demand for and profitability of cotton.
——————————————————————————————————————————————–
Photos from Left: Looks by graduating students Kelsy Parkhouse, Juan Pozo, and Kate A. Gross. Photos: Courtesy of Paul Mpagi Sepuya.
MEDIA CONTACT:
Amy Aronoff at 718-636-3554 or aarono29@pratt.edu