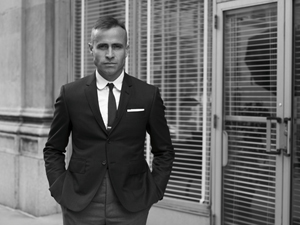 Pratt Institute's senior class of fashion designers will present their final thesis collections at the Pratt Institute Fashion Show on Thursday, April 25, 2013 at 6 PM at Center548 at 548 West 22nd Street in Manhattan. Renowned American designer Thom Browne will be the guest of honor at two ticketed events on April 25th: he will receive the 2013 Pratt Institute Fashion Visionary Award at the 6 PM runway show at Center548 and will be celebrated at a cocktail benefit at 7:30 PM at The Top of The Standard at 848 Washington Street in Manhattan. Funding for the 2013 Pratt Fashion Show was awarded in part through a competitive grant presented to Pratt Institute by the Importer Support Program of the Cotton Board and managed by Cotton Incorporated.

Tickets to the 6 PM fashion show and the 7:30 PM cocktail benefit honoring Browne are available for purchase at pratt.edu/fashionshow. Proceeds from ticket sales will benefit student scholarships and Pratt's Department of Fashion. Members of the press should contact Amy Aronoff at 718-636-3554 or aarono29@pratt.edu to attend. Credentials will be required.
The 2013 Pratt Fashion Show will feature exemplary work by graduating seniors from the Department of Fashion. The collections to be shown on the runway will be pre-selected by a panel of industry experts and press. One of the most prestigious colleges for art, design, and architecture in the world, Pratt is home to the first fashion-design program in the United States.

"No American sportswear designer better represents the aspirations of Pratt fashion than Thom Browne. His highly conceptual runway presentations and impeccable craftsmanship have set standards for excellence and originality that push forward and inspire our fashion students to do the same," said Jennifer Minniti, Chair of Pratt's Department of Fashion. "Browne revolutionized menswear, not only by changing the cut and silhouette, but by changing the conversation, and is now doing the same for womenswear. His ability to reconcile art and commerce is extraordinary and surely the key to the future vitality of American fashion," she added.

Past honorees include Fern Mallis, Hamish Bowles, Catherine Malandrino, Carmen Marc Valvo, Narciso Rodriguez, and Diane von Furstenberg.
———————————————————————————————————————————————
2013 Pratt Institute Fashion Visionary Award Recipient:
Thom Browne is founder and head of design of Thom Browne, an impeccably tailored menswear and womenswear brand based in New York City. Browne's traditionally-based handmade suits have evolved into designs that have drawn attention from the fashion and design industry worldwide. His work was most recently seen on an international stage when First Lady Michelle Obama donned an original navy bespoke coat and dress design at President Barack Obama's inauguration ceremony in Washington, D.C.
Browne is no stranger to Washington: he was honored with the 2012 Cooper Hewitt National Design Award for fashion at a White House luncheon hosted by Michelle Obama in July 2012. He was also honored with the CFDA Menswear Designer of the Year Award in 2006.
Browne has lent his signature tailored look to outside fashion brands including a 2009 collaboration with Moncler to design a menswear line titled "Moncler Gamme Bleu" and two collaborations in 2008 including a collaboration with Brooks Brothers to design a capsule collection for men and women titled "Black Fleece by Brooks Brothers" and a collaboration with Harry Winston to design a men's collection of jewelry.
Browne began his business with five suits and by appointment only in 2001 and introduced his ready-to-wear collection in 2003. The Thom Browne collection is available at luxury specialty stores around the world, including Bergdorf Goodman and Barneys New York, New York; Colette, Paris; Harrods and Dover Street Market, London; and Isetan, Restir, and United Arrows, Tokyo.
———————————————————————————————————————————————
Funding Provided By:
Funding for the 2013 Pratt Fashion Show was awarded in part through a competitive grant presented to Pratt by the Importer Support Program of the Cotton Board and managed by Cotton Incorporated.
Cotton Incorporated, funded by U.S. growers of upland cotton and importers of cotton and cotton textile products, is the research and marketing company representing upland cotton. The program is designed and operated to improve the demand for and profitability of cotton.
Image: 2013 Pratt Institute Fashion Visionary Award Recipient Thom Browne. Image Credit: Circe.

MEDIA CONTACT:
Amy Aronoff at 718-636-3554 or aarono29@pratt.edu