Pratt Institute School of Information and Library Science (SILS) has received $971,407 from the federal Institute of Museum and Library Services (IMLS) to collaborate with the Brooklyn Public Library (BPL), Brooklyn Museum (BM), and Brooklyn Historical Society (BHS) on a three-year program titled "Project CHART (Cultural Heritage, Access, Research and Technology)" to prepare information professionals as digital managers for cultural heritage institutions.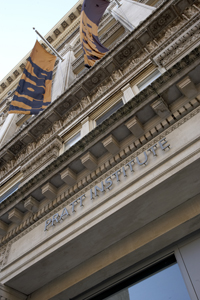 Funded by the IMLS as part of the 2010 Laura Bush 21st Century Librarian Program, Pratt will recruit 18 highly diverse master's degree students over the next three academic years to participate in internships across the BPL, BM, and BHS and as team members on Project CHART, which aims to digitize nearly 15,000 images in the partners' photographic collections. The partners will also produce a project Web portal, hosted by BPL, which will disseminate project results and use social media to provide public access to the digital photographic collections of the three institutions as well as content illuminating the social and cultural contexts and significance of the collections.
"We feel honored and inspired to have been awarded this IMLS grant," said Tula Giannini, Dean of Pratt-SILS and project director. "It opens up a world of new opportunities for collaboration, research and for developing a cutting-edge certificate program and curriculum in digital management for cultural heritage institutions designed to prepare our students to assume leadership roles for creating and advancing the emerging digital landscape for museums, libraries and archives."
Deborah Schwartz, President, The Brooklyn Historical Society, added, "The Brooklyn Historical Society is delighted to have an opportunity to work with three of Brooklyn's most distinguished educational and cultural institutions, helping to educate professional archivists of the future, while at the same time creating greater public access to our significant photography collection."
Beginning in fall 2010, in each academic year of Project CHART, six students pursuing the Master's of Science in Library and Information Science (MSLIS) will serve as project interns supervised by archive professionals at BPL, BM, and BHS to digitize and apply metadata and other digital cataloguing tags to create digital archives of Brooklyn historical photographs, including images dating from the late 1800s. In addition, through Project CHART, SILS will develop a new Digital Management certificate program that introduces new roles and responsibilities for information professionals in the digital age across libraries, museum, and archives and serves as a new curricular model for digital management.
"Brooklyn Public Library is thrilled to partner with Pratt SILS, Brooklyn Museum, and Brooklyn Historical Society, in Project CHART. Project CHART will provide the Library's users unprecedented
access to over 5000 historical photographs from our rich collections and ensure that future librarians are well prepared to manage our digital assets," said Linda E. Johnson, Interim Executive Director, Brooklyn Public Library. "We are grateful to the Institute of Museum and Library Services for its continued support in the development of our staff and the enrichment of our collections and services."
Project CHART builds on earlier collaborations between SILS and each of the cultural institution partners, whose historical photographic collections represent their rich holdings. The Brooklyn Public Library, the fifth largest public library in the United States, has an extensive image collection documenting Brooklyn in the late 19th and early 20th centuries, including photographs of subway construction and early immigrant neighborhoods. The photographic holdings of the Brooklyn Historical Society, a nationally recognized urban history center that includes a museum, scholarly research library, and educational center, include images from the 1977 Blackout as well as photographs of Brooklyn sites and residents dating from the 1800s through the 1970s. Images to be digitized from the Brooklyn Museum, one of the oldest and largest art museums in the country, include several documentary photographs, lantern slides, and postcards that are not readily available on the internet and feature buildings that no longer exist in the borough.
"The Brooklyn Museum is delighted to continue its collaboration with Pratt Institute in providing an excellent training ground for their School of Information and Library Science graduate students," said Arnold L. Lehman, Director of the Brooklyn Museum. "We are also pleased to partner with our colleagues at the Brooklyn Historic Society and the Brooklyn Public Library in digitizing an important group of historic photographs of Brooklyn from our respective collections. In doing so, they become much more accessible to students, scholars, and the general public. We are grateful to the Institute of Museum Services for its generous support of this important project."
Distinguished as the oldest library and information science school in North America and the only American Library Association-accredited graduate school of information and library science based in Manhattan, Pratt-SILS was established in 1890 and has been continuously accredited since 1923, when accreditation was first introduced to the field.
Pratt-SILS is recognized internationally for innovative programs in which libraries, museum, archives and special collection are studied at the intersection of culture, digital technology and information science. Students come to Pratt from across the United States and increasingly from foreign countries to develop their talents as creative and socially responsible information professionals. The school's student-centered programs blend practice and theory and integrate emerging technologies into the curriculum providing students a high-level academic experience. Interdisciplinary collaborations, partnerships, and internships enhance educational opportunities and serve as a bridge to professional practice. For more information on the Pratt-SILS program, please visit http://www.pratt.edu/academics/information_and_library_sciences/
The Institute of Museum and Library Services is the primary source of federal support for the nation's 123,000 libraries and 17,500 museums. The Institute's mission is to create strong libraries and museums that connect people to information and ideas. The Institute works at the national level and in coordination with state and local organizations to sustain heritage, culture, and knowledge; enhance learning and innovation; and support professional development. To learn more about the Institute, please visit http://www.imls.gov.
The Laura Bush 21st Century Librarian Program supports projects to develop faculty and library leaders, recruit and educate the next generation of librarians, conduct research, attract college students to consider careers in libraries, build institutional capacity in graduate schools of library and information science, and assist in the professional development of librarians and library staff. Since 2003, IMLS has awarded more than $160 million in grants to fund the education of 3,463 master's degree students, 178 doctoral students, 3,143 preprofessional students, and 30,466 continuing education students.