More than 400 guests attended Legends 2010-Pratt Institute's largest annual scholarship benefit-which raised a record-breaking $522,000 through ticket sales and an additional $38,000 in surprise, on-the-spot pledges at 7 World Trade Center in Manhattan. Pratt honored fashion designer Tommy Hilfiger; artist Ellsworth Kelly; and philanthropist and patron of the arts Emily Fisher Landau as distinguished individuals whose accomplishments and values resonate with those of Pratt.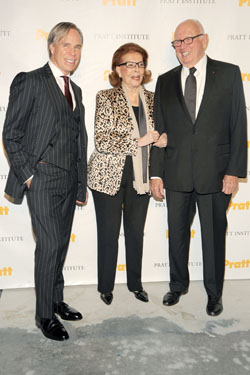 The surprise pledged donations at Legends 2010 came from Pratt Trustee James D. Kuhn, who generously donated $28,000 in honor of his wife and event co-chair Marjorie Kuhn; and Larry Leeds, chairman of Buckingham Capital Management, who donated an additional $10,000 in honor of Tommy Hilfiger which brought the total amount raised to $560,000.
Museum of Modern Art President Emeritus Agnes Gund gave a warm introduction to her friend Ellsworth Kelly by acknowledging his many accomplishments before presenting him with his award. Kelly, who attended Pratt in the 1940s, said "I want to thank Pratt for putting me on the road to becoming an artist."
Tommy Hilfiger was presented his award by Chairman and Chief Executive Officer of Phillips-Van Heusen Emanuel Chirico. Hilfiger accepted his award by speaking of luminaries from his past, present, and future who supported him in life and at the event including his wife Dee Hilfiger; Chirico and his wife Joanne; Martine and Prosper Assouline; Leeds; Mohan Murjani; Guy and Shawanda Vickers; and George Lois, art director, designer, author, and Pratt alumnus, and his wife Rosemary.
Director of Universal Limited Art Editions Bill Goldston introduced Emily Fisher Landau on behalf of Leonard Lauder, who was unable to attend following unexpected minor back surgery. Landau spoke of her keen eye for art and quipped -"You could take me into any gallery with art around the room and I could tell you which was the best. And that was usually the one the artist wasn't selling."
Guests included Jo Carole Lauder, philanthropist; Barbaralee Diamonstein-Spielvogel, arts advocate and author, and Ambassador Carl Spielvogel; Robert Siegel, principal and founding partner, Gwathmey Siegel and Associates Architects and Pratt alumnus; Devorah Rose, editor-in-chief of Social Life magazine; artists Francesco Clemente, Glenn Ligon, and Edward Mapplethorpe.
Legends 2010 was hosted by Pratt President Thomas F. Schutte and Board of Trustees Chair Mike Pratt. Pratt Trustees Kurt Andersen and Amy Cappellazzo along with Pratt friend Marjorie Kuhn served as co-chairs for the event.
Current undergraduate industrial design student Klara Varosy designed the Pratt Legends Awards, and was on hand to present the honorees with the awards she worked to create months in advance of the event.
The Legends 2010 ceremony was brought to a close with an acoustic set by Grammy Award-winning singer and songwriter Rosanne Cash accompanied by husband John Leventhal followed by a set by DJ Derrick Adams with special guest Mickalene Thomas, both graduates of Pratt Institute.