More than 250 guests attended the annual Pratt Institute and Luxe Pack Art of Packaging Award Gala at a private club in Manhattan on May 17. The gala, which supports the Marc Rosen Scholarship and Education Fund for Packaging by Design and raises funds for scholarships for graduating packaging design students at Pratt, has brought in more than 3.5 million dollars over the last 22 years. The glamorous black-tie fundraiser honored P&G Prestige for its outstanding commitment to packaging design and was hosted by Amy Fine Collins, special correspondent to Vanity Fair.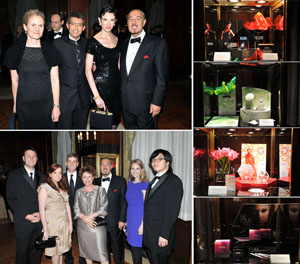 The Art of Packaging Award is presented each year to a fragrance company that has excelled in the art form and will be awarded to P&G Prestige Products. Sumit Bhasin, global leader of innovation, P&G Prestige Products, accepted the 2011 award on behalf of the company from Nathalie Grosdidier, Executive Director, Luxe Pack. As Global Leader of Innovation, Bhasin has partnered with and been responsible for developing leading-edge technologies for iconic fashion houses including Hugo Boss, Gucci, Dolce & Gabbana, Lacoste, Escada, and Puma. Past recipients include Avon, Bath & Body Works, Calvin Klein, Clinique, Coty, Inc., Coty Prestige, Dior Beauty, Estée Lauder, Lancôme, and Ralph Lauren Fragrances.

At the event, Bhasin spoke about how packaging is the embodiment of a concept that brings together an artistic vision with an underpinning of science. "Science keeps you grounded and actually forces you to go into the depth of the particular discipline," he said. He discussed how breakthrough innovation comes when art and science intersect and recognized Pratt Institute for nurturing creative and art disciplines.

Special guests included Marc Rosen, internationally-acclaimed designer and a Pratt trustee, alumnus, and faculty member; Arlene Dahl, legendary actress and wife of Marc Rosen; Jonathan Farkas, investor and theater producer, and wife Somers White Farkas, socialite; Pratt President Thomas F. Schutte and his wife, Tess; Mike Pratt, Chair of Pratt Institute's Board of Trustees; Concetta Stewart, dean of Pratt's School of Art and Design; Donald Stannard, jewelry designer; and Annette Greene, President Emeritus of the Fragrance Foundation.

This year's scholarship winners were Ashley Culver (M.S. '10) of Omaha, Neb; Rorke Greene (M.S. '10) of Scottdale, Pa.; Joo Hyung Jin (M.S. '12) of Seoul, Korea; and Karen Salomon (M.S. '10) of Miami, Fla. Each winner's fragrance packaging design work was on display in the lobby of the event venue.

The Marc Rosen Scholarship and Education Fund for Packaging by Design is the only scholarship in the world available to college students looking to pursue careers in cosmetics and package design. Each year the scholarship is supported by the cosmetic industry at The Art of Packaging Award Gala, an event that attracts the top-tier of New York City's multi-billion dollar cosmetics industry. At Pratt, Rosen teaches a course on cosmetic and fragrance package design, which is the only one of its kind in the world.

The Pratt program in which Rosen teaches-Communications and Package Design- is ranked as one of the top 10 graduate graphic design programs in the country by U.S. News and World Report and collegecrunch.org.