Pratt Institute has officially opened a new six-story, 120,000-square-foot green academic and administrative facility named Myrtle Hall at 536 Myrtle Avenue between Grand Avenue and Steuben Street to house the college's Department of Digital Arts as well as several administrative offices.
Designed by the New York City architecture firm WASA/Studio A, the new building is expected to meet the United States Green Building Council standards for LEED (Leadership in Energy and Environmental Design) Gold certification based on its eco-features that include exterior sun shades; a green roof that absorbs rainwater, reflects heat, and sequesters greenhouse gasses; and solar photo-voltaic panels that generate on-site electricity. It will be the first higher education building project in Brooklyn to receive any LEED certification and the first academic building to receive a LEED-gold certification in Brooklyn.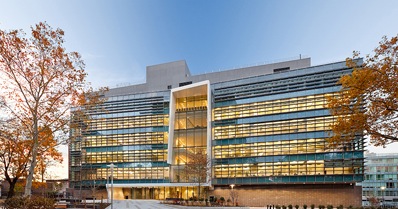 The new building will have a tremendous impact on the surrounding Fort Greene and Clinton Hill neighborhoods and on the Pratt community. It will serve as a physical manifestation of Pratt's commitment to sustainable design education and will further promote the revitalization of Myrtle Avenue, which has undergone a major transformation in recent years.

Myrtle Hall will afford Pratt's Digital Arts program the space and facilities necessary for its faculty and students to continue their cutting-edge design and research including state-of-the-art wired studio/classrooms, a digital resource center, animation labs, a recording studio, graduate studio spaces, and a prominent all-glass gallery in the atrium. The building will also soon allow for an incredible improvement to the Pratt student experience by consolidating all student services offices under one roof.

"This is a momentous occasion for Pratt as it demonstrates the Institute's commitment to innovative design, environmental sustainability, the renewal of Myrtle Avenue, and most of all to its students," said Pratt President Thomas F. Schutte, who also has been a driving force in the economic revitalization of Fort Greene and Clinton Hill for more than 10 years as chair of the Myrtle Avenue Brooklyn Partnership. "Myrtle Hall will move forward our academic program in Digital Arts and will tremendously improve Pratt's services for students while serving as a point of pride for the campus community and our neighbors as the first green building in the Fort Greene/Clinton Hill area."

The design of Myrtle Hall involves two site-specific wall types — a glass curtain wall and a paneled masonry wall that relates to the surrounding mercantile brick structures that are found along Myrtle Avenue while maintaining a contemporary look. Connecting the two wall systems is a four-story atrium with views into and through the building from both sides. The atrium is the building's most prominent feature and will serve as a second-floor gallery outside of the Office of Admissions to display alumni work, while the fourth-floor gallery will display the work of Digital Arts students and faculty. The atrium also serves as a symbolic gesture of transparency connecting Myrtle Avenue to the campus and illustrating Pratt's openness to the community. Other prominent design features include a loft-like light-filled interior that is consistent with the industrial character of Pratt's creative workspaces.

"Our building design is meant to explore the relationship between Pratt — a great New York institution — and the larger community within which it resides, and the development of the two principal wall systems, tied together by the transparent central gathering space, is meant to be a metaphor for that relationship," said the building's design architect, Jack Esterson, AIA, who is Partner-in-Charge and Lead Designer of the Myrtle Hall building project and Partner-in-Charge of Design at the architecture firm WASA/Studio A. "We hope that it fully expresses a positive relationship and the quality of design innovation that Pratt represents to its students, faculty and staff, as well as to the city at large."

WASA/Studio A beat out several other firms for the job after a highly competitive bidding process. Esterson is a graduate of Pratt's School of Architecture and is a long-time resident of Clinton Hill, where Pratt's 25-acre Brooklyn campus is located. He has practiced architecture in New York City for 34 years and has served as an adjunct instructor at Pratt, where he received an Alumni Achievement Award in 2000.

Despite its location in a neighborhood of historic importance, Myrtle Avenue began to lose some of its energy in the early 1970s with the decommissioning of the Brooklyn Navy Yard and the demolition of the elevated subway line, which contributed to the decline of the commercial strip. In recent years, it has begun to regain its vitality with Pratt as a major influence. The Institute first opened Prattstore, the college art supply and book store at Emerson Place, in 2005 on Myrtle Avenue driving thousands of students, faculty, and staff to the avenue. The new building will move 200 faculty and staff to Myrtle Avenue and will further promote foot traffic and business along the bustling strip.

Administrative offices at Pratt that will occupy the new space include the Pratt Center for Community Development, the offices for Admissions, Financial Aid, Bursar, Registrar, Human Resources, International Student Affairs, and Institutional Advancement.

Myrtle Hall will provide the Office of Admissions with visually stunning space for visitors including much needed office space for advisement sessions, convenient parking for prospective students and families, and a large lecture hall for information sessions. The move of the three student services departments — Registrar, Financial Aid, and Bursar — to Myrtle Hall will dramatically improve service to students by locating the three offices in one area. The adjacency of the three departments will serve as a tremendous improvement to Pratt's student services as it enables the cross-training of staff and a more integrated approach to provide better and more efficient service to Pratt's 4,700 students.

On the Willoughby side of the new building is a landscaped park designed by Pratt Professor of Architecture and Mathews Nielsen Landscape Architects Principal Signe Nielsen that provides an attractive and quiet public space. The park features light-colored pavement that reflects sunlight to reduce the "heat-island" effect as well as native and drought-resistant plants that require only rainwater. The landscaping was designed to recall the main campus in order to give the complex a sense of continuity.

Myrtle Hall also contributes to Pratt's ranking as one of the country's most environmentally responsible colleges according to The Princeton Review, which published its Guide to 286 Green Colleges and noted that Pratt's "reputation as a prestigious art school makes it an obvious choice for students interested in green design."

The building embodies Pratt's commitment to innovate and demonstrates putting green design into practice. Several years ago, Pratt was one of the first colleges in New York to become a 2030 Challenge Partner and accept Mayor Michael Bloomberg's challenge to reduce greenhouse gas emissions by 30% by 2017. As a member of the Leadership Circle of the American College and University President's Climate Commitment, Pratt reinforces its commitments to neutralize greenhouse gas emissions by accelerating educational efforts to re-stabilize the earth's climate.

The Kresge Foundationawarded Pratt a $75,000 Green Planning Grant for the design of Myrtle Hall. Kresge's Green Building Initiative, launched in 2003, supports non-profits to pursue sustainable or green buildings practices and encourages organizations to build green.