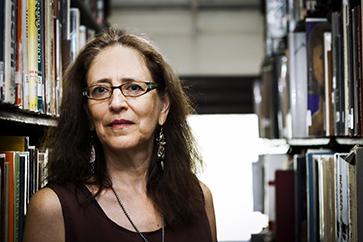 Pratt announced Maria Damon, a renowned poet, scholar, and academician with 25 years of experience in higher education, as chair of the Humanities and Media Studies Department, part of the School of Liberal Arts and Sciences. Damon's research covers a diverse range of scholarly concentrations including American poetry from post World War II to the present; poetry and prose by marginalized subcultures; and cultural studies in the areas of ethnicity, ethnography, and diaspora poetics. Damon's appointment began July 1 and she replaces outgoing chair Ira Livingston, who will remain a faculty member in the department.
"Professor Damon's poetry and scholarship represents the inter- and transdisciplinary work that is the hallmark of the department and school," said Andrew W. Barnes, dean of the School of Liberal Arts and Sciences. "Her international reputation will continue to elevate the department's status as a unique voice in creative and critical thinking," he added.
Damon has an extensive background as a published author and poet, exhibiting text/textile artist, and contributor to the digital poetics movement. Her department recognizes and fosters the relationship between visual and written texts and instills within its students critical thinking, reading, and writing skills that inspire intellectual and creative growth. As chair, Damon will oversee the department's B.F.A. degree program in Writing, new master's degree programs in Media Studies (M.A., launching fall 2013) and Writing (M.F.A., launching fall 2014), and a variety of courses for non-majors.
Damon is the author of several scholarly books, including Post-literary 'America': From Bagel Shop Jazz to Micropoetries (University of Iowa Press, 2011); Poetry and Cultural Studies: A Reader, which she co-authored with Ira Livingston (Illinois University Press, 2009); and The Dark End of the Street: Margins in American Vanguard Poetry (University of Minnesota Press, 1993). Her poetic work includes Literature Nation, the first book-length hypertext poem on the Internet (Potes & Poets Press, 2003), which she co-authored with frequent collaborator mIEKAL aND in 1998.
For 25 years, Damon has provided her expertise to students at the University of Minnesota, where she was a professor of English with affiliations in the departments of American Studies; Gender, Women, and Sexuality; Cultural Studies and Comparative Literature; Theatre Art and Dance; and, the Center for Jewish Studies.
Damon received a Ph.D. in Modern Thought and Literature from Stanford University and a B.A. degree from Hampshire College in Humanities and Arts. She currently resides in Brooklyn.
Media Contact: Amy Aronoff at aarono29@pratt.edu or 718-636-3554.
Photo: Peter Tannenbaum