For the fourth consecutive year, Pratt Manhattan Gallery will welcome back the election season with Pratt Falls, a free cabaret of political satire beginning at 7 p.m. on Tuesday, November 8 at 144 West 14th Street, Second Floor. The cabaret, which is titled "Before You Don't Vote," is produced by political satirist Larry Litt, who is best known for his work on the political television series, The Blame Show. Events will begin with a tour of the current Pratt Manhattan gallery exhibition, "Resonance: Looking for Mr. McLuhan," and the show will be followed by an election night watch party. The exhibition and event are free and open to the public, no reservation required.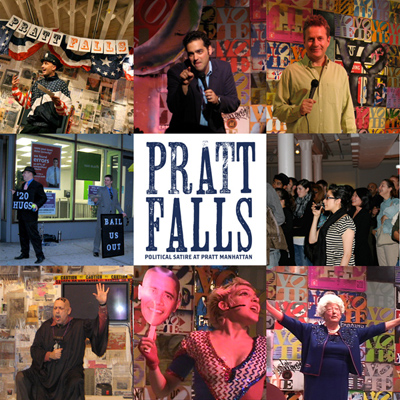 "The fourth annual Pratt Falls event looks at activism, anarchy, alienation, apathy, and anger," says Litt. "Each political satirist has a personal take on the current scene. We will 'Occupy Manhattan' with this thoughtful laughter," he added.
Roster of performances/performers:
Master of Ceremonies, Larry Litt
Scott Blakeman
Jim Costanzo
Jeff Kreisler
Joey Novick
"OBUSHMA MAKES ME MAD"
"Officer Carl Schaffer"
Clark Stoeckley
And other special guests
Scott Blakeman was featured on MSNBC's live coverage of the 2011 White House Correspondents' Dinner, and appears weekly as a liberal pundit on the live webcast FoxNewsLive.com. He performed his one man show "Liberal Jew" in September on Martha's Vineyard at the Grange Hall.
Jim Costanzo is an artist and educator living in Brooklyn, New York. His artwork includes video, photo, letterset press, performance, and installation. Costanzo has exhibited at Museo Nacional Centro de Arte Reina Sofía, Madrid; Museum of Contemporary Art Chicago; Mediamatic Lab, Amsterdam; and Judson Memorial Church, New Museum, White Box, and the Whitney Biennial, all in New York. He is a founding member of REPOhistory, a study group of artists, scholars, teachers, and writers focused on the relationship of history to contemporary society. He is director of the Aaron Burr Society and teaches at Pratt Institute.
Jeff Kreisler is an award-winning comedian, best-selling author, radio host, TV show talking head, and internationally-touring, law degree-wasting, funny word-making satirist who believes that the world can be saved with more thinking, passion, and naps. http://www.jeffkreisler.com/ and http://getrichcheating.com/
Larry Litt is an internationally renowned writer, performer, and producer whose topical political revue The Blame Show has been naming and blaming all kinds of hypocrites in worldwide live shows and on cable television for 20 years. This is his fourth year presenting Pratt Falls with some of America's best political satirists.
Joey Novick is a stand-up comedian and improv actor who has appeared on MTV, Rascal's Comedy Hour, One Life to Live, and Comedy Central. He has been featured regularly at Catch A Rising Star, The Comedy Zone, and Dangerfield's and at venues across the country. Novick has taught improv for more than 20 years, and has led humor workshops for many Fortune 500 companies and government groups. A law school graduate, Novick has taught hundreds of elected officials the benefits of skills derived of improvisation. http://www.improvforlawyers.com
"OBUSHMA MAKES ME MAD" is a short, interactive audience improvisational play about presidential campaign rhetoric. Larry Litt will inaugurate the play with questions for the audience.
"Officer Carl Schaffer" of the New York Police Department will give a humorous talk about police attitudes on civil disobedience in light of the current Wall Street occupation and protests of all kinds.
Clark Stoeckley is a performance artist, graphic designer, professor, and veteran Pratt Falls performer. He is the spreader of thousands of "VOTE" stencils and drives the infamous WikiLeaks Top Secret Mobile Information Collection Unit, which is a former U-Haul truck that he has turned into a creative "vehicle" for public political activism. The mobile unit, which Stoeckly describes as "part art, part activism, part prank," is currently a fixture at Occupy Wall Street.
——————————————————————————————————————————————-
Pratt Manhattan Gallery exhibition "Resonance: Looking for Mr. McLuhan" features works from the 1960s to the present that commemorate the 100th anniversary of the birth of the pioneering media critic Marshall McLuhan. The exhibition, which is ongoing through December 21, demonstrates how McLuhan's thinking resonates with contemporary artists and reflects how McLuhan's work is still pertinent to the general understanding of our complex media environment.
"Resonance" is a multi-media exhibition featuring drawings, installations, photographs, prints, sculptures, videos, and one full-length film by 19 artists. The exhibition is guest curated by Berta Sichel, former director of the Department of Audiovisuals and currently a curator at large at the Museo Nacional Centro de Arte Reina Sofía, Madrid, and assistant guest curator Mariano Salvador, a filmmaker and former assistant curator in the Department of Audiovisuals and Web coordinator, also at the Museo Nacional Centro de Art Reina Sofía.
Add Pratt Manhattan Gallery on Facebook by searching "Pratt Manhattan Gallery" and follow Pratt exhibitions on Twitter at "PrattGallery."
"Resonance: Looking for Mr. McLuhan"
Now–December 21, 2011
Pratt Manhattan Gallery
144 West 14th Street, Second Floor
Gallery Hours: Tuesday–Saturday 11 a.m.–6 p.m.
MEDIA CONTACT:
Amy Aronoff at 718.636.3554 or aarono29@pratt.edu
From top left to right: Albert Wilking '10, Jeff Kreisler '08, Scott Blakeman '08, The Bailout Buskers '09, Pratt Falls audience '08, Larry Litt '10, Suspicious Package Burlesque '08, and Martha Wilson '08 as Barbara Bush.