Pratt Manhattan Gallery will present "Crossing Disciplines – Art/Architecture/Technology," a free public panel discussion in conjunction with the gallery's "Envelopes" exhibition at 6 p.m. on Tuesday, May 4 in Lecture Hall 213 at 144 West 14th Street. Susan S. Szenasy, editor in chief, Metropolis magazine, will moderate a panel with "Envelopes" exhibitors Mary Ellen Carroll and Jason Kelly Johnson (future-cities-lab.net) and New York artist, architect, and designer Allan Wexler that explores the possibilities of combining disciplines and collaborating with professionals from multiple practices.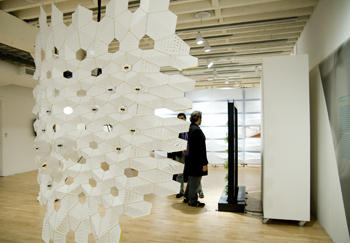 Pratt Manhattan Gallery's "Envelopes" is on view now through May 5, 2010. The exhibition explores new and sustainable potentials of the architectural surface in terms of the skin of a building and also as a sensorial space that envelops the body and features full-scale, interactive models accompanied by architectural renderings in the form of drawings and computer animations, and documentation of the process of investigation into these models from eight international firms and designers.
The exhibition is guest-curated by Christopher Hight, an associate professor at Rice University's School of Architecture. Participating architects and architecture firms include: !ndie architecture; Future Cities Lab; HouMinn Practice; Mary Ellen Carroll-MEC design studios; Michael U. Hensel and Defne Sunguroglu Hensel, OCEAN Design Research Association; Philippe Rahm; servo; and Weathers.
Moderator Biography:
Susan S. Szenasy is editor in chief of Metropolis magazine, the award-winning New York City-based magazine of architecture, culture, and design. Since 1986 she has lead the magazine through 24 years of landmark design journalism, achieving international recognition and winning numerous awards. Believing that design and architecture are humanist activities, Szenasy is committed to education. She is a frequent lecturer and panel moderator on broad-ranging design topics and the leader behind Metropolis's various design conferences. As a longtime professor of design ethics at New York's Parsons The New School for Design she has worked to instill the values of responsible sustainability in the next generation.
Panelist Biographies:
Mary Ellen Carroll is a conceptual artist living and working in Houston, Texas, and New York City. She is the recipient of numerous grants and honors including a Guggenheim Fellowship, a Rockefeller Fellowship, a MacDowell Colony Fellowship, and a Pollack-Krasner Award. Her work has been exhibited at the Whitney Museum of American Art, New York; the Institute of Contemporary Arts, London; Museum für Völkerkunde, Munich; and The Museum of Modern Art, Vienna. A monograph of her work will be published this spring by steidlMACK. Carroll teaches architecture at Rice University and in fall 2010 will realize in Houston the project prototype 180, a work of art that will make architecture performative by inverting an acre of land and the domestic structure by 180 degrees. She developed the project with Kevin Topek of Permaculture Design, LLC; and Carlise Vandervoort.
Jason Kelly Johnson (future-cities-lab.net) along with Nataly Gattegno are founding design partners of Future Cities Lab, an experimental design and research office based in San Francisco that has collaborated on a range of award-winning projects exploring the intersections of architecture with advanced fabrication technologies, responsive building systems, and urban space. Gattegno and Johnson were the 2008-09 Muschenheim and Oberdick Fellows at the University of Michigan Taubman College of Architecture and Urban Planning; the 2009 New York Prize Fellows at the Van Alen Institute, New York; and exhibited work at the 2009 Hong Kong and Shenzhen Bi-city Biennale of UrbanismArchitecture. They teach at California College of the Arts and the University of California, Berkeley, and lead workshops as part of the Architectural Association Global Summer Program and Hydra-Cities Lab in Athens, Greece.
Allan Wexler is an architect, designer, and visual artist who began to question the perceived divide between disciplines in the late 1960s. His work examines art's place and purpose and explores human activity and the built environment by isolating, elevating, and monumentalizing our daily rituals. Wexler has exhibited his work at the Hudson River Park, NYC; Contemporary Arts Center, Cincinnati; Long Island Rail Road terminal, Brooklyn. He is represented by Ronald Feldman Gallery, New York.
"Envelopes" is made possible by an award from the National Endowment for the Arts and with public funds from the New York State Council on the Arts, a state agency; and by the Cultural Services of the French Embassy in the United States.
For more information, please call 212-647-7778 or email exhibits@pratt.edu

. More information on this and all gallery exhibitions and events is available at http://www.pratt.edu/exhibitions. Add Pratt Manhattan Gallery on Facebook by searching "Pratt Manhattan Gallery" and follow Pratt Exhibitions on Twitter at "PrattGallery."