Pratt Institute undergraduate and graduate students in architecture and industrial design will present an installation as part of the 2012 DIFFA: Design Industries Foundation Fighting AIDS Dining by Design event from March 22-26, 2012, at Pier 94, Twelfth Avenue at 55th Street, Manhattan. The event, which runs concurrently with the Architectural Digest Home Show, will bring together some of the most talented and celebrated individuals in the worlds of fashion, interior design, art, and architecture to create spectacular, over-the-top dining environments. Pratt is one of several schools to exhibit as part of DIFFA's Student Design Initiative, which provides the next generation of designers with the opportunity to work with top design veterans and to participate in this exciting annual event. Last year, Pratt's display was recognized with one of two Best in Show awards by the American Society of Interior Designers.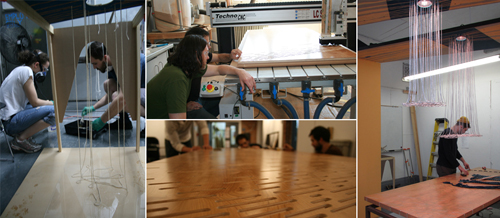 The Pratt installation considers a strong spatial design featuring two wrapping bands of color, light, and texture. Light cascades over the walls and charges the surfaces with depth and a gentle moiré effect. The cherry wood table includes banding that is stitched into the table with merino wool braids that transition from a darker, denser teal stitch to a lighter, more sparsely spaced seafoam and yellow underneath the hanging chandeliers. The chandeliers are a silver play of line and weave that suspend three and four feet from the ceiling in relaxed curves that hover over the table surface in an interplay of the tightness and looseness of light.

"Pratt's DIFFA installation marries traditions of craft and handiwork with a sophisticated use of the latest computer-aided technology and Computer Numerical Control (CNC) material manipulation," said Mark Parsons, director of production and technology for Pratt's School of Architecture and faculty advisor for the project. "The installation utilizes light to reveal textures, moiré, and weaves at different scales throughout the entire space to create a dynamic dining environment," he added.

The core design team includes undergraduate architecture students Peter Baldwin and Cory Watson, undergraduate industrial design students Casey Daurio and Evan Frenkel, and graduate industrial design students Hawley Braswell, Justin Crocker, and Sari Field. Undergraduate architecture students Jason Golub, Martha Madrid, and Keith Sagliocca are assisting as part of the build-out and installation team. All students were volunteers who worked outside of class and their regular academic responsibilities to create, design, and build the installation.

Pratt's industry mentor on the project was Stephen Apking, FAIA, design partner, at Skidmore, Owings & Merrill LLP (SOM). Pratt students visited SOM after creating their first four schematic designs. Each of these was presented by a student pairing to SOM design leaders Philippe Jouanneault and Madeleine Deschamps and studio designer Gary Ku. The SOM designers provided valuable feedback that helped the team evaluate the concept strength and the material viability of each of the designs.

DIFFA: Design Industries Foundation Fighting AIDS is one of the largest funders of HIV/AIDS service and education programs in the United States. Since being founded in 1984, DIFFA has mobilized the immense resources of the design communities to provide over $40 million to hundreds of AIDS service organizations nationwide. For more than 27 years, DIFFA has been one of the country's largest supporters of both direct care for people living with AIDS and preventative education for those at risk. For more information, visit www.diffa.org.
Left to right: Students epoxying the cotton fiber strands used in the installation's two chandeliers; Mark Parsons and a student at the CNC machine and (below) a detail of the CNC's precise, machine-made cuts; and a view of a student at work on the installation in a studio located within Pratt's School of Architecture. All photos courtesy of Mark Parsons except for photo on right, courtesy of Amy Aronoff.
MEDIA CONTACT:

Amy Aronoff at 718-636-3554 or aarono29@pratt.edu