Pratt Institute's Department of Industrial Design, in collaboration with Herman Miller, will present an exhibition of furniture, lighting, tabletop, and home accessories as part of the 22nd annual International Contemporary Furniture Fair (ICFF) from May 15-18 at New York City's Jacob K. Javits Convention Center. Pratt was one of six design schools selected to exhibit at this year's show by GLM, the producer and manager of the ICFF. This is the second year in a row that Pratt was selected to exhibit.
Pratt's Department of Industrial Design was chosen for its theme, "Empathy for Culture," which challenged graduate and undergraduate students to create modern and innovative furniture, lighting, ceramic, toy, and other design prototypes that explore design as a medium for sharing and integrating unique ideas of a particular culture. The cultures the students decided to explore were both mainstream or part of an emerging culture or subculture. The 14 most successful designs by 11 Pratt students will be on display at the fair as selected by Pratt industrial design faculty members Mark Goetz, Tim Richartz, and Kimberly Snyder and Herman Miller representatives Gary Smith, Fabienne Munch, and Tim McLoughlin, who, along with Jennifer Magnolfi, provided guidance to the students throughout the creative process.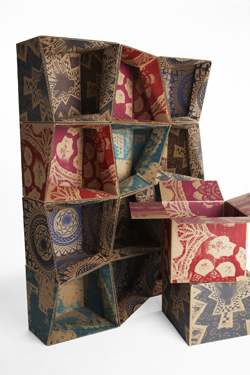 "Every day distances within the world are shrinking due to better forms of communication, transportation, and new technologies. Pratt, as an international gathering place for talent, is uniquely suited to express these issues," said Pratt ICFF lead faculty advisor for "Empathy for Culture," Mark Goetz. " 'Empathy for Culture' is an exhibition that represents a sincere effort from our students to express deeper understanding and respect for a culture. Who better than Herman Miller, as one of the world's most respected leaders in sustainability and ergonomics, to guide and advise us in this endeavor," he added.
Participating students and their cultures include Stevenson Aung, Hmong Culture; Nina D'Amario, Global Education Culture; Fernanda Fajardo, New York HardCore Scene Culture; Sahar Ghaheri Immigrant Culture; Laurent Hildreth, Tibetan Buddhist Monk Culture; Ivey Lian, Buddhist Meditation Culture; Chia Lin Hsu, Taiwanese Culture; Catherine Merrick, Las Vegas Culture; Sara McBeen, Middle Eastern Culture; Ryan Thistle, The Blues Culture; and Sarah Waxman, Consumer Culture.
Each year GLM mounts the design schools' exhibitions, inviting the world's leading design academies and the brightest of the next generation to submit student work for juried review. This year the exhibition shows off the benefits of wide-ranging inquiry and analysis of the stuff of living. GLM provides each school with a complimentary 200-square-foot (18-square-meter) booth for housing its exhibition.
Also showing at ICFF will be:
Umbra | Pratt Design Competition – Booth 2108
Finalists from the 6th annual competition will show designs for household products. The competition is coordinated by Adjunct Associate Professor Noah King. Umbra's Director of Design Matt Carr, who guided the competition, will announce the first, second, and third place winners of the competition from three winning designs by Michael Liu (Undercover toilet plunger cover), Jeni Tu (Bubbles Soap Dish), and Alvaro Uribe (Batea jewelry stand) on Sunday, May 16 at 2 p.m. Past Pratt competitions have allowed Umbra to introduce three new products into its catalog, including the Conceal bookshelf, the Wishbone soap dish, and the Talk bulletin board, all with a portion of proceeds benefiting the Institute.
Wilsonart© Challenges – Booth 2248
Laminate manufacturer Wilsonart International holds a student chair design competition at a college each year. This year, Wilsonart International asked Pratt to participate; students in Adjunct Associate Professor Mark Goetz's graduate furniture design course, and in the senior undergraduate furniture design course taught by Adjunct Associate Professor Tim Richartz, took part. The winner, Esin Arsan, and four runners-up-Jonathan Gillen, Mike Jozewicz, Sushir Kadidal, and Alexandra Pulver-will show their chairs at the Wilsonart International booth. Arsan won the $1,000 top prize for her 142 Chair, a two-person seat comprosed of two bold red bands that cross and curve in a seemingly affectionate embrace.
Fabric Images – Booth 1174
Pratt undergraduate architecture students Michael Dolatowski, Isolbel Hebold, David Irwin, and Katherine Kania, under the direction of Adjunct Assistant Professor Mark Parsons and Visiting Assistant Professor Dragana Zoric, will display a prototype design that was developed from a sponsored studio project based on the manufacturing and fabrication expertise of Fabric Images, one of the industry's leading manufacturers of fabric-designed architectural solutions and fabric displays. The students' prototype design was created from Fabric Images' architectural fabric assembled around a metal framing system; it is intended for outdoor living and leisure use.
Off-Site Exhibition Featuring The Guyana Project:
Model Citizens NYC
531 West 36th Street, 2nd Floor
Saturday, May 15-Monday, May 17, 11 a.m. to 7 p.m.
The Guyana Project, a collective of students from Pratt's graduate program in industrial design, will exhibit furniture and products made from renewable non-timber forest products as part of Model Citizens NYC, the second annual exhibition featuring 35-50 furniture, product, ceramic, glass, and jewelry designs. Many of the participating exhibitors are Pratt students and alumni.
The Guyana Project is an initiative combining cultural, material, and process research with design competencies and onsite manufacturing in a factory focused on sustainable and ecological manufacture in Guyana, South America. Last summer, 11 Pratt student designers worked in close collaboration with artisans at the Liana Cane Factory and with the indigenous Wai Wai weavers to produce a new collection of products and furniture made from renewable and local non-timber forest products. The project, organized by Pratt Adjunct Professor Rebecca Welz and Patty Johnson of North South Project, is aimed at developing a partnership with the artisan workers, creating an exchange rather than a traditional model of manufacturing used by industrialized nations.
Pratt Institute, an educational leader in art, design, and architecture, offers both undergraduate and graduate degrees in industrial design. Pratt's industrial designers seek to be innovative and impactful in creating beautiful forms and products that express their vision as reflected by the people and culture of the times. Pratt's undergraduate and graduate industrial design programs are among the highest ranked in the country according to 2010 rankings by DesignIntelligence.
ICFF is North America's singular showcase for contemporary design. More than 580 exhibitors will display contemporary furniture, seating, carpet and flooring, lighting, outdoor furniture, materials, wall coverings, accessories, textiles, and kitchen and bath for residential and commercial interiors, with over 24,000 visitors expected from around the world.