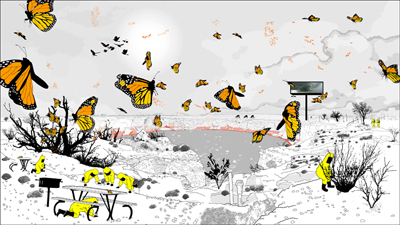 Pratt Institute's Department of Digital Arts will present three lectures by four artists as part of its fall 2012 lecture series, Wednesdays from 12:45 PM to 1:45 PM in Myrtle Hall, Lecture Room 4E-3, on Pratt's Brooklyn campus. Ribuoli Digital (Jennifer Mahiman and Andre Ribuoli), Marina Zurkow, and Joy Garnett will give lectures to the Pratt community about their involvement and careers in the digital arts. John Dilworth and Mark Amerika delivered the first two lectures of the series in September. This lecture series is free and open to the public; however, seating is limited.

The Department of Digital Arts Lecture Series is a seasonal series organized by the Department of Digital Arts in the School of Art and Design at Pratt Institute. The series features critics, artists, and curators of digital art. The guests include both emerging talent and established pioneers in the fields of digital animation, motion arts, interactive artwork, and digital imaging. Please see below for this semester's full line-up, followed by more information on each of these acclaimed artists and writers:

Ribuoli Digital (Jennifer Mahiman and Andre Ribuoli) on Wednesday, October 3, 2012, 12:45 p.m., Myrtle Hall 4E-3
"Inside the Collaborative Studio"
Andre Ribuoli and Jennifer Mahlman founded Ribuoli Digital, a collaborative fine art studio specializing in creating original artists' projects and editions utilizing digital technology and traditional printmaking techniques, in New York City in 2009. Mahiman works in a variety of print media and specializes in using photopolymer plates for photogravure. Along with collaborating with and printing for artists and studios, she also creates and exhibits her own prints.Ribuoli has printed for a number of fine art studios over the past 15 years. Prior to founding Ribuoli Digital, he was the director of Pamplemousse Press, the digital studio at Pace Editions. http://ribuolidigital.com/

Marina Zurkow on Wednesday, November 7, 2012, 12:45 p.m., Myrtle Hall 4E-3
"Intimacy, Agency, and Change"
In addition to her November 7 lecture, Zurkow will exhibit work in the Digital Arts Gallery, fourth floor, Myrtle Hall from November 12-16. Regular gallery hours are Monday-Friday, 10 AM to 8 PM.
Marina Zurkow makes media works about humans and their relationships to animals, plants, and the weather. By turns humorous and contemplative, these take the form of animation, print graphics, sculpture, and participatory temporary public art works. Since 2000, Zurkow has exhibited at the Sundance Film Festival, the Rotterdam Film Festival, the Seoul Media City Biennial, Ars Electronica, Creative Time, The Kitchen, the Walker Art Center, the National Museum of Women in the Arts, Eyebeam, and other venues. She is a 2011 Guggenheim Fellow, and has been a NYFA Fellow, a Rockefeller New Media Fellow, and a Creative Capital grantee. Zurkow is on faculty at New York University's Interactive Technology Program (ITP), and lives in Brooklyn, NY. She is represented by bitforms gallery. http://www.o-matic.com/
Joy Garnett on Wednesday, November 28, 2012, 12:45 p.m., Myrtle Hall 4E-3
"Painting and the Technical Image World"
Joy Garnett is New York-based artist whose paintings are based on news photographs, scientific imagery, and military documents she gathers from the Internet and uses to examine the apocalyptic-sublime at the intersections of media, politics, and culture. Her work is often associated with sampling in new media art and with appropriation art. Garnett's 2003 painting Molotov has drawn international scrutiny to issues of ownership and fair use in appropriation art. Her work has been reproduced in numerous publications including Harper's, Perspecta: The Yale School of Architecture Journal and Cabinet magazine. Since 2005, Garnett has served as arts editor at Cultural Politics, a contemporary culture, politics, and media journal published by Duke University Press. She is the editor of NEWSgrist, which she launched in 2000. Represented by the Winkleman Gallery in New York City, Garnett has shown her work at MoMA P.S.1 and the Whitney Museum of American Art. http://www.firstpulseprojects.com/joy.html

Academy Award-nominated animator John Dilworth delivered the first talk of the fall series on Wednesday, September 12, 2012. Dilworth, who is perhaps best known as the producer, director, writer, and creator of the animated television series Courage the Cowardly Dog, is the president of Stretch Films, a New York-based design and animation studio, which he founded in 1991. http://www.stretchfilms.com/

Internationally-renowned "remix artist" and internet art pioneer Mark Amerika spoke on Wednesday, September 19, 2012. His body of remix artworks includes published cult novels, pioneering works of Internet art, digital video and surround sound museum installations, large-scale video projections in public spaces, live audio-visual/VJ performance, and most recently, a series of feature-length "foreign films" shot with different image-capturing devices in various locations throughout the world. http://markamerika.com/

Myrtle Hall is located at 536 Myrtle Avenue between Grand Avenue and Steuben Street; the entrance to the building is located off 215 Willoughby Avenue. The closest subway stop is the Clinton-Washington station on the G line.For directions to campus or parking information, visit www.pratt.edu/directions.
Image: Marina Zurkow's Mesocosm (Wink, Texas), 2012, Software-driven animation. 146-hour year-long cycle, color, animation, sound. Dimensions variable. Image credit: Marina Zurkow.

MEDIA CONTACT:
Amy Aronoff at 718-636-3554 or aarono29@pratt.edu