Two months ago, 19-year-old Haitian artist and high school student Alex Louis was living on Grand Rue in a small makeshift house in his home town of Port-au-Prince, a city still recovering from an earthquake that devastated Haiti in January 2010. Today, he is sitting in on classes at Pratt Institute, one of the country's most prestigious colleges of art and design, gaining visual skills to take back with him to Haiti. The visit is thanks to the determination of Debera Johnson, director of the Pratt Design Incubator for Sustainable Innovation, who met Louis in Port-au-Prince while exploring how Pratt could lend its design expertise to help Haiti in its recovery efforts. Louis, who arrived the last week of June, is taking classes at Pratt through August 8.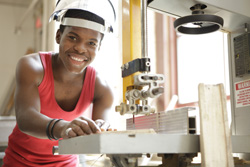 According to Johnson, Louis's more formal training at Pratt and general exposure to the New York art world will lead to his growth as an artist, and more importantly, his ability to take his skills back to his neighborhood, where they can be translated to other young and aspiring artists. Louis has also been a guest speaker at Pratt's pre-college program, where he has shared videos from his "TeleGhetto" series of reports on life in his home country. The Institute is exploring a possible exhibition showcasing Louis's work on August 9 before he travels back to Haiti.
"Pratt has given me an opportunity to develop a deeper understanding of art and artists that will help me expand the materials and techniques I use in my work," says Louis.
The epicenter of the earthquake, which was the worst in the region in over 200 years, was just outside of Louis's hometown of Port-au-Prince. The natural disaster caused thousands of deaths including the death of Louis's mentor, Louko; leveled countless dwellings, leaving many, including Louis, without homes; and brought suffering to what was already one of the poorest nations in the Western hemisphere. The region has yet to recover from the damage and is continuing with its efforts to rebuild and re-establish its infrastructure.
Louis mentors children in his home city by teaching painting, writing, and dance. He creates sculptural pieces in Haiti as part of Atis-Rezistans, an artist's collective where two sculptors, Jean-Herard Celeur and Andre Eugene, mentor and feed local children while encouraging them to finish school and experiment with art. Louis has sold his work to make money for his education and to care for his family, who struggle to meet the daily needs of existence. Atis-Rezistans is situated off a busy street at the southern edge of downtown Port-au-Prince and is known for transforming wreckage such as engines, TV sets, wheel hubcaps, and discarded lumber into sculptural assemblages.
"Alex's dedication to his art and his generosity in sharing his talents with others in Haiti is inspiring," said Johnson. "Despite its hardships, Haiti is a country rich in culture, and we are thrilled that he is here at Pratt getting a more formal arts training to bring back to his country, " she added.
Photo: Jonathan Weitz