Three Pratt Institute fashion design students were named winners in a competition to create the next generation of uniforms for a new and unique hospice in-patient care facility that is part of the Visiting Nurse Service of New York (VNSNY) Hospice and Palliative Care program. The student with the winning design received a $2,500 scholarship from VNSNY and will have her design produced and manufactured locally for hospice staff members at VNSNY's Haven Hospice Specialty Unit in Manhattan.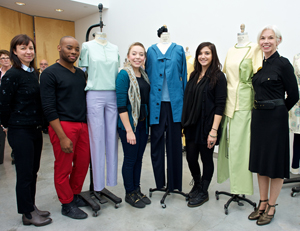 A total of 22 junior fashion design students participated in the "Designing for a Difference: New Approaches to Hospice Uniforms "competition, which required them to engage with the nursing community, do extensive research, incorporate creative design elements with a holistic and beneficial purpose, and create finished garments that reflect the soothing and therapeutic atmosphere of VNSNY's new 25-bed Haven Hospice Specialty Unit, which was designed by Jonathan Rosen.
One winner and two runners-up were selected by judges Daniel Cogan, VNSNY Nurse Practitioner; Jeanne Dennis, senior vice president of VNSNY Hospice Care; and Diane Hughes, VNSNY Registered Nurse. The judges selected the top three designs from six final designs based on the following criteria: design, aesthetics, uniform functionality, and creativity. The three top designers were presented with scholarship awards from VNSNY and the remaining three finalists received honorariums acknowledging their work. The winner of the competition was announced at a luncheon on November 1 at Pratt Institute's Brooklyn Campus where garments designed by the top 12 finalists were on display.
First-place winner Hannah Ross of Washington, Connecticut was recognized for a design that was inspired by graffiti artist Banksy's image of a doctor holding a stethoscope. She created a three-piece look from 100% cotton that is comfortable and professional in the care facility as well as stylish and comfortable on the streets of New York City. Ross used organic materials and soothing blue colors to create a simple and professional look for the nurses. Ross, who has been sewing since age 11, lives in Brooklyn. Her area of focus is textile manipulation, costume design, and futuristic fashion technology.
Second-place winner Jefferson Musanda of Lynn, Massachusetts was recognized for a sleek design that includes a pale seafoam green top of stretch cotton with lavender-colored cotton bottoms that compliment the decor of the Haven. He was inspired to incorporate modern day activewear into the design of the uniform, considering that the nurses move like athletes around the care facility in their daily work. Musanda has an associate's degree in fashion from Fisher College, where he received the college's Fashion Designer of the Year award in 2009. He lives in Brooklyn.
Third-place winner Alicia Arlotta of Gladwyne, Pennsylvania was recognized for a unisex uniform design that reflects the colors of the Haven and her research into color therapy, which indicates the most healing and calming shades of light green and beige. Arlotta was also inspired by the idea of using aromatherapy and other natural healing procedures in hospice care, so she opted for a stylish, soothing design similar to a uniform found in a spa setting rather than hospital scrubs. Arlotta was personally inspired by the competition since two of her best friends lost their mothers to cancer and spent time in hospice care. One of the women encouraged Arlotta to pursue a career in fashion, and Arlotta dedicates her work to her.
"There is nothing more important than for Pratt students to go out into the world and engage in the broader community and beyond their immediate community and the trends that exist on 7th Avenue," said Jennifer Minniti, Chair of Pratt's Department of Fashion Design. "The VNSNY competition provided our students with the opportunity to engage in a very meaningful project that makes design matter," she added.
Jeanne Dennis, senior vice president of VNSNY Hospice Care, added: "The look, feel, and function of the clothing worn by healthcare professionals can have an important impact on everyone involved in patient care. This is the first time that VNSNY has married the visual arts with the healing arts and these wonderful new designs by Pratt's very talented young designers promise to inspire an even deeper sense of caring and comfort."
Considered to be the model for quality, compassionate care for people facing a life-limiting illness or injury, hospice and palliative care involve a team-oriented approach to expert medical and nursing care, pain management, and emotional and spiritual support expressly tailored to the patient's needs and wishes. Support is provided to the patient's loved ones as well. At the center of hospice and palliative care is the belief that people have the right to die pain-free and with dignity.
VNSNY's Haven Hospice Specialty Unit was designed by New York City-based interior designer Jonathan Rosen to be a peaceful, therapeutic environment for patients and families that delivers expert clinical interventions for patients who need hospitalization for an urgent or acute need (i.e., when symptoms, such as pain cannot be managed at home). Designed with comfort in mind, the unit has many amenities for patients and families. Patient rooms are painted in tranquil, calming pastel shades and designed in a modern style, with all equipment tucked neatly into the walls above the bed. The spa room features a large tub for patients to indulge in a relaxing bath, which is a rarity in New York City hospitals.
One of the most prestigious colleges for art, design, and architecture in the world, Pratt is home to the first fashion design program in the United States. Pratt's fashion design program prepares students to design apparel for various markets by emphasizing both the technical and creative skills. The department, which includes a bachelor of fine arts in fashion design degree program, is chaired by Jennifer Minniti and is part of the Pratt Institute School of Art and Design, which is led by Dean Concetta M. Stewart, Ph.D.
From left to right: Jennifer Minniti, Chair of Pratt's Department of Fashion Design; Pratt students Jefferson Musanda (1st runner-up), Hannah Ross (winner), and Alicia Arlotta (2nd runner-up); and Jeanne Dennis, senior vice president of VNSNY Hospice Care. Photo Credit: Kevin Wick.
MEDIA CONTACT:
Amy Aronoff at 718.636.3554 or aarono29@pratt.edu
VNSNY MEDIA CONTACT:
David Smith at 212.561.7423 or David.Smith@Morris-King.com