Pratt Institute has expanded outside the gates of its 200 Willoughby Avenue campus by leasing a 10,460 square-foot space at 248 Flushing Avenue between Hall and Ryerson Streets. Pratt's Department of Fine Arts is using one floor of the five floor industrial building for 36 semi-private studios for some of its first-year M.F.A. candidates and a seminar room where classes will be held. Currently 27 of the 36 studio spaces are occupied by first-year painting students.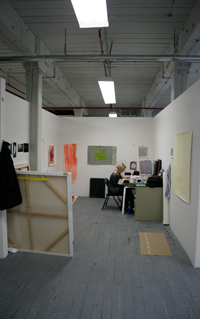 The Institute entered a five-year lease in August 2010 due to an increase in the number of undergraduate freshmen students and an increase of the number of incoming M.F.A. candidates to campus. One campus building, Canoneer, was formerly both residential and studio space and due to the increased number of first-year undergraduate students living on campus, was converted into an entirely residential space in summer 2010.
"The studios at Flushing Avenue afford our students a professional working environment in close proximity to the flourishing artist's community that is part of the Brooklyn Navy Yard and its surrounding environs," said Donna Moran, chair of the Fine Arts Department. "The spaces are geared towards the individual while still promoting a healthy atmosphere for peer dialogue," she added.
The Flushing Avenue space, which is a short 10-minute walk from the campus, is equipped with wireless Internet and storage racks in common areas as well as individual desks, chairs, and personal file cabinets in each of the studio spaces. As with Pratt's other studio spaces, students are guaranteed access to the space 24 hours a day, seven days a week on every day of the year except Christmas.
In addition to the space at Flushing Avenue, the Institute has also opened a new, 10,000-square-foot facility at 123 West 18th Street that will house 125 student studios, a computer lab, printing facilities, a resource center, and a lecture and seminar room for its Graduate Communications and Package Design Department in anticipation of its new M.F.A. degree program that will be offered starting in Fall 2011.
There are currently 147 students enrolled in the Graduate Fine Arts program, 68 of whom are first year students. The program, which emphasizes fine arts disciplines in painting/drawing, printmaking, sculpture, photography, and new forms, was ranked fifteenth in the nation according to U.S. News & World Report in its 2009 guide to America's Best Graduate Schools. For more information, please visit http://www.pratt.edu/academics/art_design/art_grad/fine_arts_grad/.