Modern home furnishings retailer west elm, and internationally renowned art and design school Pratt Institute, introduced today the Pratt Home Office collection, an eco-friendly office collection created in collaboration with the Pratt Design Incubator for Sustainable Innovation. The centerpiece of the collection is a simple and highly functional desk made with Forest Stewardship Council (FSC) certified wood. The collection also includes a chair, file unit, wall shelf and accessories set, and table lamp. The complete Pratt Home Office collection will be available at west elm today.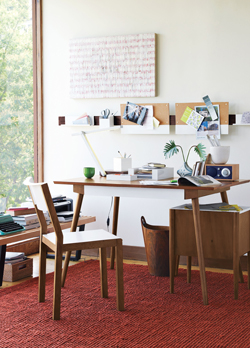 The collaboration between west elm and Pratt Institute, both Brooklyn-based organizations, began as a friendly competition between two groups of Pratt industrial design students (see list below). They were challenged to create a line of office furniture for west elm that embodied the brand's mandate to "live a little greener every day." The initial design brief required the Pratt designers to develop a desk, chair, and lamp using sustainably grown, harvested, and/or recycled wood material in order to tell a unique story about the life cycle of materials and the power of conservation and design. Use of other eco-friendly materials and processes including FSC-certified woods, powder-coated steel (a process that is less toxic than traditional plating), non-toxic glues, and water-based stains was also necessary. In addition, the desk lamp had to use energy-efficient Light Emitting Diode (LED) technology. Both teams presented their proposals to the west elm design group and continued to work with them in an apprentice-type relationship to develop the concept, create scale models and eventually produce full-size prototypes of the pieces.
"We couldn't be more thrilled to introduce the Pratt Home Office collection as our latest west elm collaboration," said Paulo Kos, director of furniture design at west elm and lead designer for the Pratt collaboration. "As a Pratt graduate myself, I am especially exited to see that the Pratt designers were innovative in their process and design, and the final result truly embodies our brand principles. The collection is well-designed, affordable, and sustainable."
"The students had literally just taken off their caps and gowns," said Debera Johnson, director of The Pratt Design Incubator for Sustainable Innovation. "We brought them together to work on the west elm project as they were making the transition from student to professional. It was a remarkable collaboration and the results really show how Pratt has prepared them for their careers."
The Pratt Design Incubator for Sustainable Innovation was founded by Johnson in 2002. She brought in a member of Pratt's industrial design faculty, Robert Langhorn, to lead the project at The Incubator's headquarters in the Brooklyn Navy Yard. The Incubator is a creative space that brings together an energetic network of people who share a common belief — that economic sustainability must also account for our world's environmental and social well-being.
A leader in art, design, and architecture education, Pratt Institute offers some of the nation's finest undergraduate and graduate degree programs, according to 2010 rankings by DesignIntelligence. Pratt's industrial designers seek to be innovative and impactful in creating beautiful forms and products that express their vision as reflected by the people and culture of the times. The Institute was also recently named one of the nation's most environmentally responsible colleges according to The Princeton Review's Guide to 286 Green Colleges.
The Pratt Office collection will be available in west elm stores, on westelm.com and in the west elm catalog. Prices for the collection range from $99 for the wall shelf and accessories set to $299 for the desk. The Pratt design team included Alex Binsted, Gregory Buntain, Sally Ann Corn, Evan Dublin, Sara Ebert, Rachel Feeser, Zachary Feltoon, Joseph Kent, Brian Persico, Jason Pfaeffle, Vanessa Robinson, Grace Souky, and David Wright.
For more on The Pratt Design Incubator for Sustainable Innovation, visit http://incubator.pratt.edu/