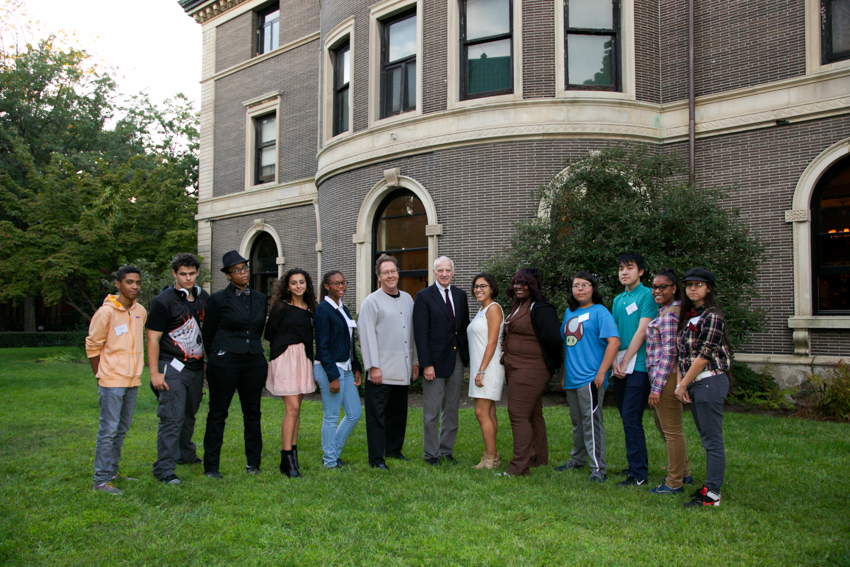 The Pratt Young Scholars program welcomed its second class of students with a reception at the Caroline Ladd Pratt House on September 23.
The 15 students, all sophomores attending Brooklyn public high schools, will receive three-year scholarships to attend the Department of Art and Design Education's Youth Programs at Pratt, which include the Saturday Art School, Design Initiative for Community Empowerment, and the Summer Design program. The Young Scholars will participate in studio classes, field trips, workshops, and lectures to prepare them with the skills and knowledge needed to pursue art and design careers with advanced, college-level studies.
Parents and families talked and enjoyed music and refreshments as the Young Scholars met each other for the first time.
"It is a pleasure to welcome the second class of Scholars to Pratt," said Aileen Wilson, acting chair of the Department of Art and Design Education. "The Scholars program is really central to our academic mission in that it offers opportunities to Brooklyn high school students who have limited access to sustained instruction in art and design. It creates pathways to college and careers in art and design for young people from Brooklyn's many diverse communities," she explained.
Young Scholar Eden Jamil, an aspiring painter at Edward R. Murrow High School, feels the program will help build self-confidence in her artistic ability. "Being chosen as a scholar is so encouraging. You have all of these people around you supporting you," she said.
The Young Scholars program is coordinated by Pratt's Department of Art and Design Education. For more information, visit www.pratt.edu/scholars.
Image (L to R): Jexel Dejesus, Michael Van Gorden, Monica Jeune, Eden Jamil, Shania Reid, Pratt Institute Provost Peter Barna, Pratt Institute President Thomas F. Schutte, Luna Rojas, Shakia Lingard, Marcel Cordova, Xianxiao Li, Ashley Cruz, Laura Cardona (photo by Samuel Stuart)