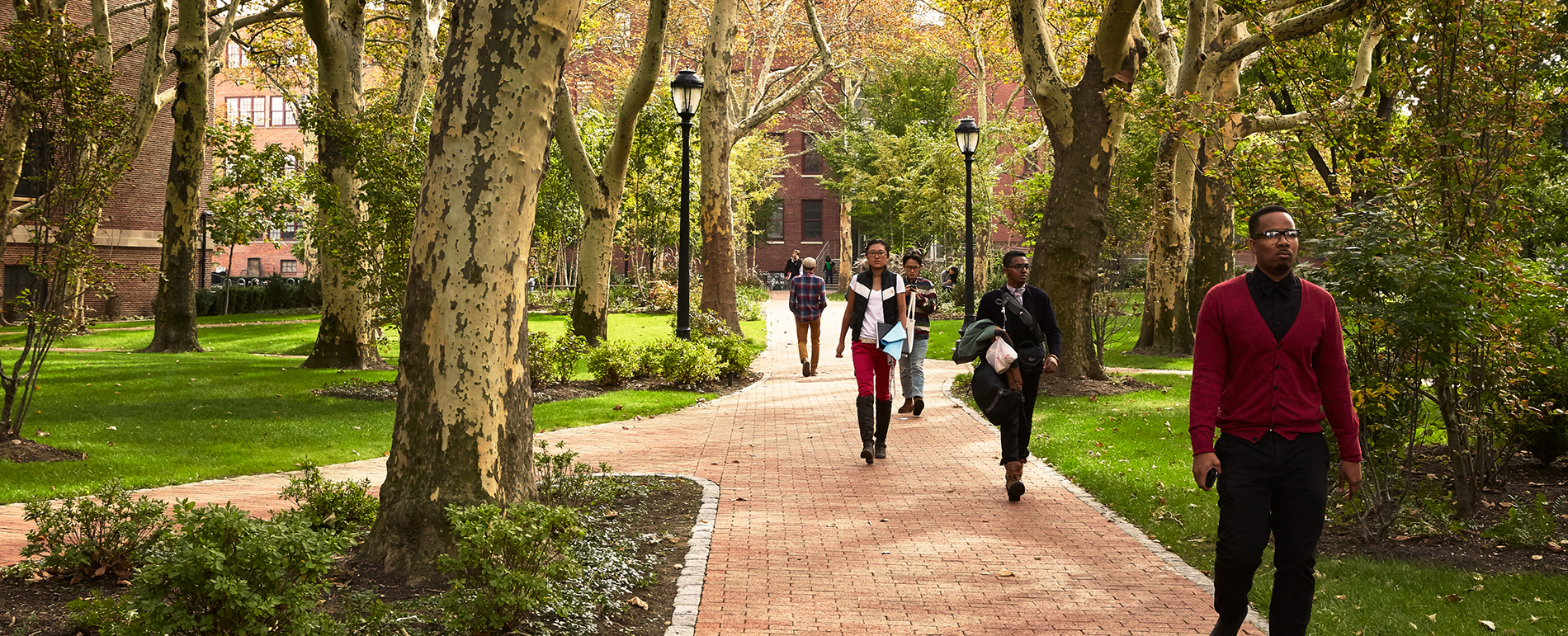 More than 20 new administrators and full-time faculty members have joined the Pratt community in time for the 2018-19 academic year. Representing a wide variety of disciplines and backgrounds, they share a commitment to excellence in teaching and research, and to a safe and inclusive environment that inspires learning and the creation of compelling work.
Leadership:
Anthony Cocciolo – Dean, School of Information
Anthony Cocciolo became dean of Pratt's School of Information on July 1, 2018, after serving as interim dean of the School since July 2017. He joined the School of Information faculty in 2009, and was granted tenure in 2016. Before coming to Pratt, he served as Head of Technology for the Gottesman Libraries at Teachers College.
Shannon Ebner – Chair, Photography (School of Art)
Artist and educator Shannon Ebner brings extensive experience to the position of chair of the Photography Department. For the past 10 years, while on the faculty of the University of Southern California's Roski School of Art and Design, Ebner served as Area Head of Photography from 2007-2013. She has exhibited widely in the United States and abroad, including at venues such as The Whitney Museum of American Art, the Museum of Modern Art (MoMA), the Guggenheim Museum, Tate London, Stedelijk Museum, and the Walker Art Center.
Dennis Mazone – Director of Public Safety
Dennis Mazone has more than 25 years of experience in emergency management/disaster preparedness and law enforcement. Prior to coming to Pratt, he served as the Director of Special Operations for New York City's Office of the Chief Medical Examiner. As Director, he was responsible for oversight of the Agency's Security, Emergency Management, Fleet, and Logistics Departments. He has also worked for the New Jersey Division of Criminal Justice, where he earned the rank of Deputy Chief of Detectives.
Leslie Mutchler – Chair, Foundation (School of Art and School of Design)
Leslie Mutchler, an artist, teacher, and academic leader with a wide range of experience, comes to Pratt from the University of Texas at Austin, where she served as Associate Chair of the Department of Art and Art History and Director of the Department's Core Program. Her teaching has been recognized with two teaching awards, and her creative work has been exhibited widely.
Nsombi B. Ricketts – Vice President for Diversity, Equity and Inclusion
Nsombi B. Ricketts, an accomplished diversity leader with significant higher education experience advancing inclusion efforts on college campuses and beyond, leads Pratt's Office of Diversity, Equity and Inclusion. Before joining Pratt, Ricketts served as the Assistant Provost for Diversity and Inclusion at Northwestern University, and was previously the inaugural Assistant Dean of Diversity and Inclusion at The Graduate School at Northwestern.
Helio Takai – Chair, Math and Science (School of Liberal Arts and Sciences)
Dr. Helio Takai, a physicist, author, scholar, researcher, and educator, comes to Pratt from Brookhaven National Laboratory, where he has been a physicist since 1989. He has served as an adjunct professor at Stony Brook University, and as an assistant professor at Universidade Federal do Rio de Janeiro. Takai's field of research has been in nuclear and elementary particle physics.
Judit Török – Director, Center for Teaching and Learning
As the inaugural Director of Pratt's Center for Teaching and Learning, Judit Török will lead the development of a Center that will advance, support, and sustain a strong and inclusive culture of teaching and learning across the Institute. Dr. Török joins Pratt from Berkeley College, in New York, where she served as Director of the Teaching and Learning Commons since 2014. Prior to that, she was co-director of the Making Connections National Resource Center at LaGuardia Community College.
Full-Time Faculty:
Nida Abdullah – Assistant Professor, Undergraduate Communications Design (School of Design)
Mrinalini Aggarwal (AICAD Fellow) – Assistant Professor, Fine Arts (School of Art)
Leanne Bowler – Associate Professor, Information (School of Information)
Melissa Brown– Assistant Professor, Cataloging and Metadata Librarian (Library)
Nick Dease – Assistant Professor, Digital Learning Librarian (Library)
Matthew Garklavs – Assistant Professor, Electronic Resources Librarian (Library)
Nurhaizatul Jamil – Assistant Professor, Global South Studies, Social Science and Cultural Studies (School of Liberal Arts and Sciences)
Courtney Knapp – Assistant Professor, Graduate Center for Planning and the Environment (School of Architecture)
Ane Gonzalea Lara – Assistant Professor, Undergraduate Architecture (School of Architecture)
Shaun Leonardo – Visiting Artist, Fine Arts (School of Art)
Xinyi Li – Assistant Professor, Undergraduate Communications Design (School of Design)
Erica Morawski – Assistant Professor, History of Art and Design (School of Liberal Arts and Sciences)
Wendy Muniz – Assistant Professor, Social Science and Cultural Studies (School of Liberal Arts and Sciences)
Swati Piparsania (AICAD Fellow) – Assistant Professor, Industrial Design (School of Design)
Jason Vigneri-Beane –Associate Professor, Undergraduate Architecture (School of Architecture)
Beth Warshafsky – Professor, Foundation (School of Art and School of Design)