On a fall day in Central Park, Pratt Institute students got hands-on experience using illustration to communicate a time and place. As an extension of the Drawing on Location class led by Veronica Lawlor, adjunct professor-CCE of undergraduate communications design, the students joined recent Pratt graduates and other sketching enthusiasts to engage in reportage drawing, a style of visual journalism that is conducted on-site. They captured the kinetic energy of the day: people passing by the Bethesda Fountain with its sculpted angel, the rowboats bobbing on the lake, the dog walkers and families enjoying the sun, the singers and bubble makers entertaining visitors, and even an exuberant dancer wearing butterfly wings.
"There is so much to learn by drawing on location—how to draw people in motion, how to design people in their environments, how to find and convey the narrative of a location, and how to capture the mood of a place through line, texture, scale, and color," Lawlor said. "Students discover a lot about their own taste and aesthetics by the choices they make on-site."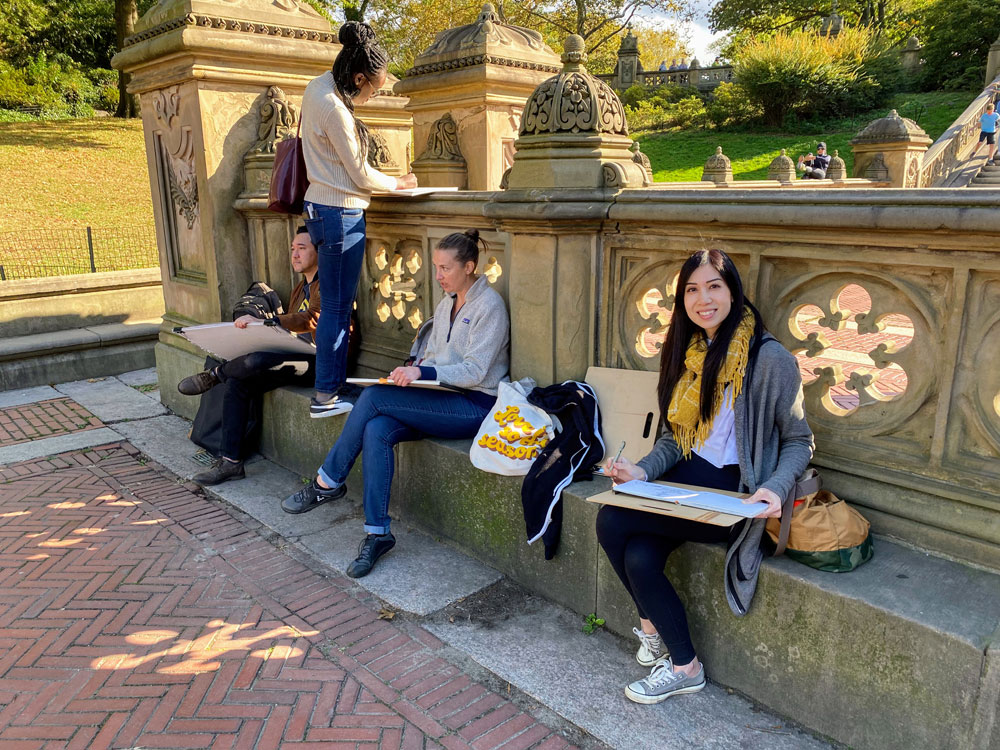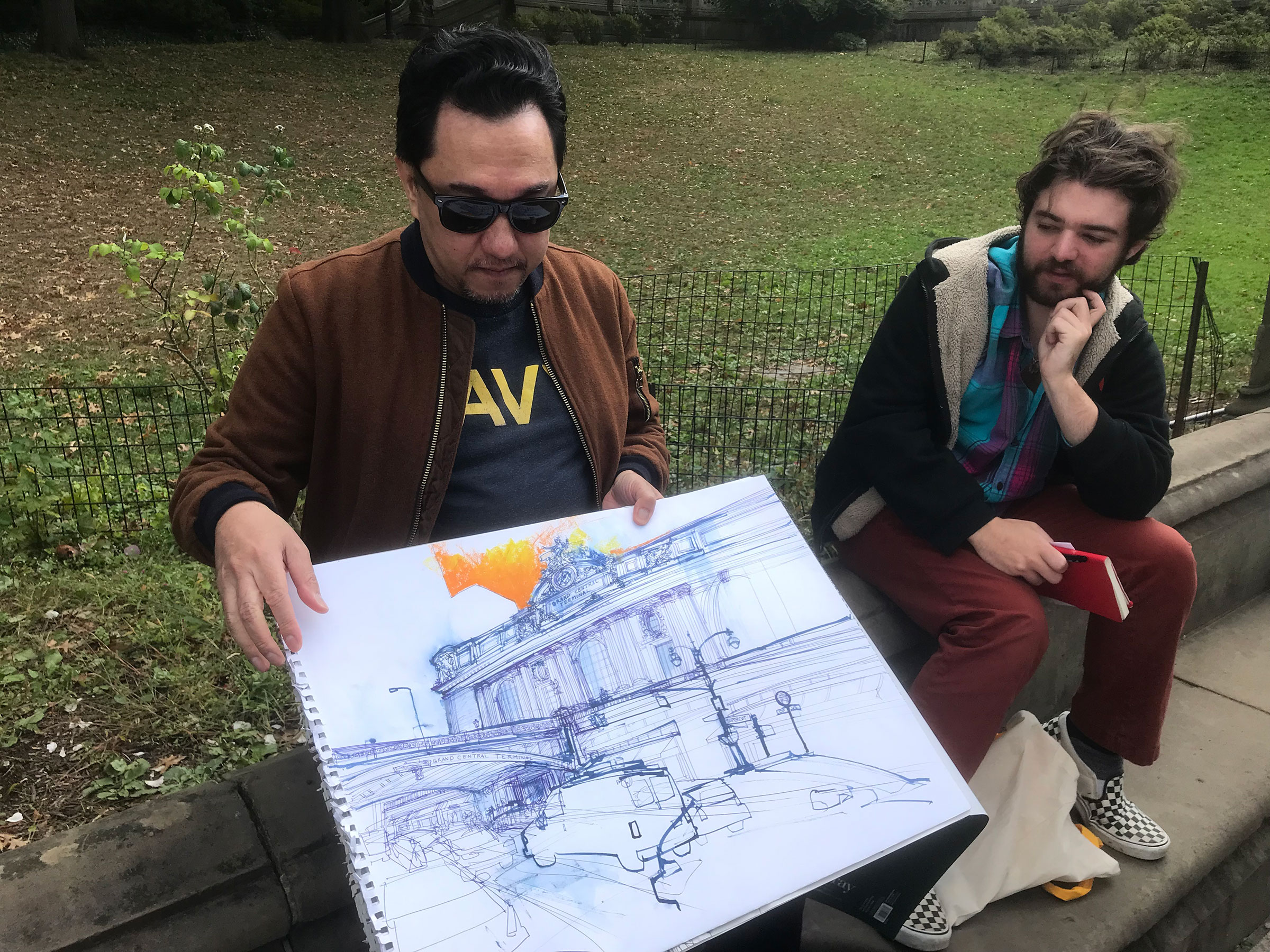 The students had been part of Lawlor's fall 2020 class which was online, in which they sketched from videos, Google Earth, and locations near their homes. This year's gathering in Central Park allowed them to come together and put what they had learned into practice. They were joined by Jedidiah Dore, BFA Communications Design (Illustration) '02, who had led a virtual visit for the class while he was working on an on-site reportage mural of New York City for the Daily News headquarters in Midtown.
"Going to places and having experiences, seeing stories unravel, and documenting them with artistic practice, and also seeing through the artistic lens, is so vital to enhancing visual language," Dore said. "This gives us the gift of range in communication skills, and wider language implicit in drawing and design, therefore forming a deeper connection to the world around us."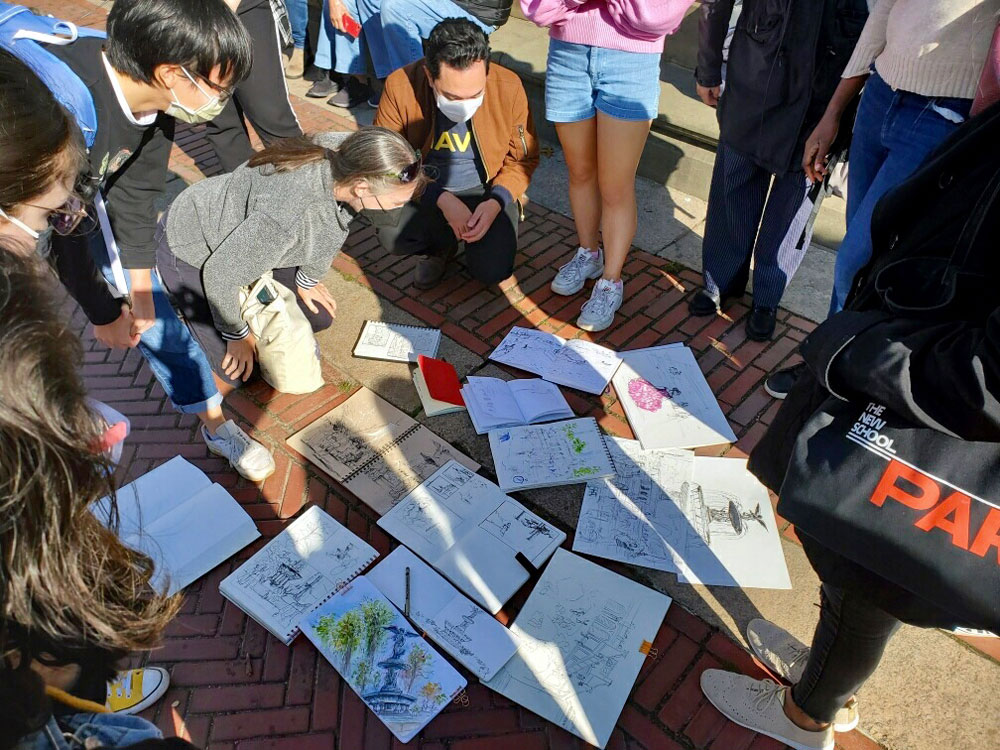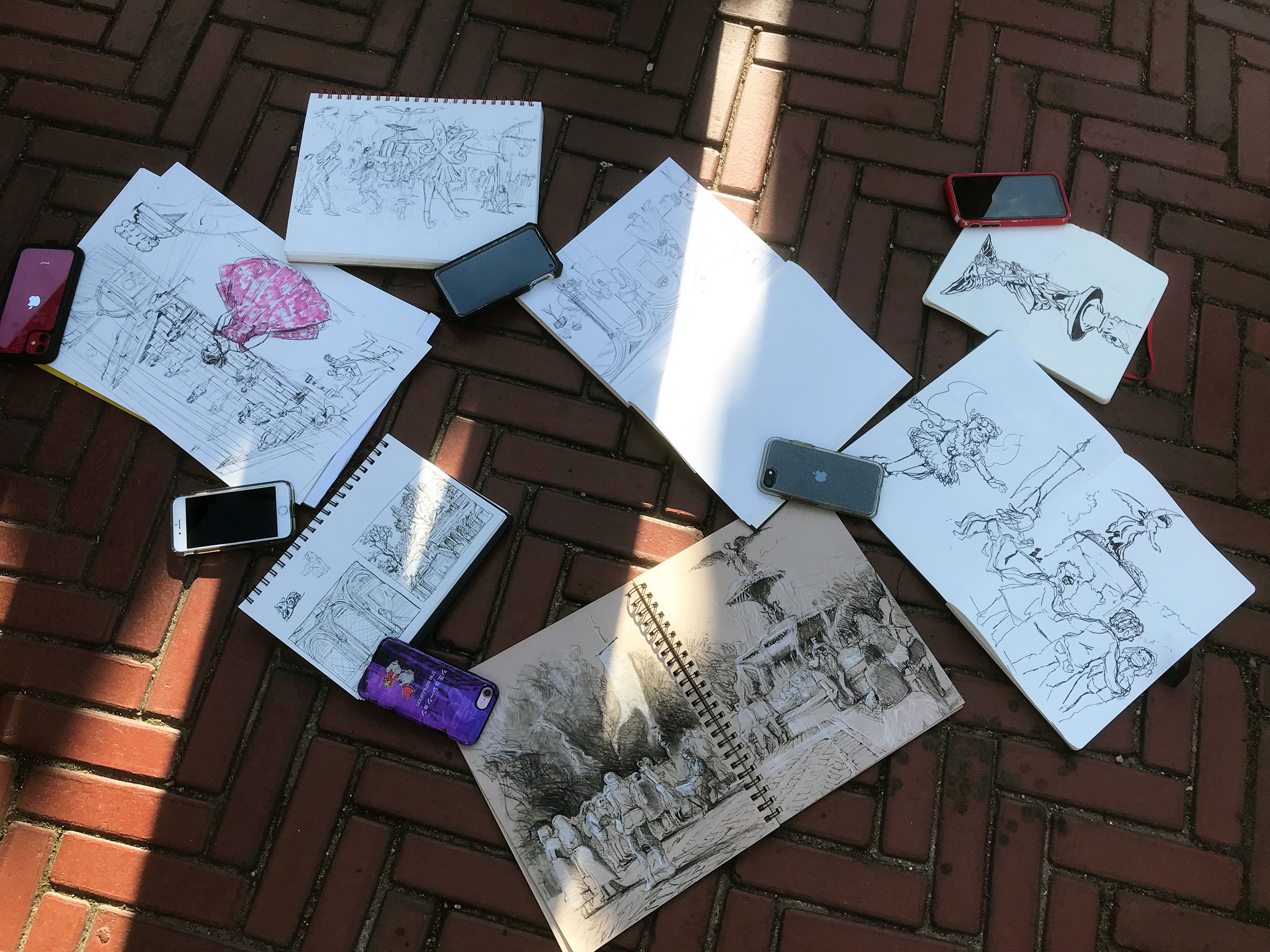 After the students spent time drawing separately, they all came together to share their stories and the unique ways they had witnessed the park. Phoebe Liu, BFA Communications Design (Illustration) '23, said that the collaborative nature of the day led her to add elements others had noticed that she may have overlooked, such as the pattern of bricks in the ground.
"It's easy to ignore details that feel too complicated and write them off as non-essential but if you examine those closer, you may find that those details are exactly what gives a place or person character," Liu said. "Sometimes I feel like I don't properly see something until I draw it. Nothing can substitute the way on-location drawing can get you viscerally connected to a place."
Lawlor will be teaching Drawing on Location at Pratt again in the spring. She plans for the students to visit different sites in the city each week, from Grand Central Terminal with its constant flow of movement to the tranquil beauty of the Brooklyn Botanic Garden, each inviting the students to pause, watch, and illustrate the vibrant life of New York.