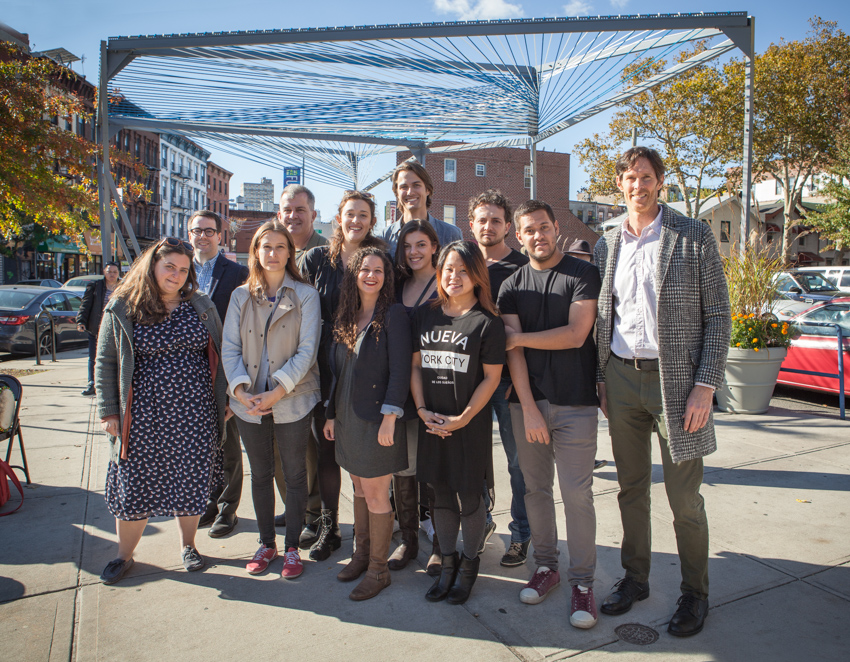 Students from Pratt's graduate and undergraduate architecture programs have recently devoted their time and skills to a neighborhood project located a few blocks away from Pratt's Brooklyn campus. Working as volunteers with the Pratt Student International Design Efforts (PrattSIDE) organization, the students designed and installed a temporary sidewalk pavilion to provide shade for community space at the Putnam Triangle Plaza in Brooklyn's Clinton Hill neighborhood. The Putnam Triangle Installation is a collaborative project involving PrattSIDE; the Fulton Area Business Alliance (FAB Alliance), which proposed the pavilion; and the Pratt Center for Community Development, which provided funding through a Taconic Fellowship grant. A small public celebration was held at the plaza on October 30 to mark the completion of the pavilion, which will remain in place for eleven months at Fulton Street between Cambridge Place and Grand Avenue. Pratt Institute President Thomas F. Schutte; FAB Alliance Executive Director Phillip Kellogg; New York State Assemblymember Walter Mosley; Department of Transportation Project Manager David Breen; and PrattSIDE Graduate and Construction Directors Danica Selem (M.Arch. '15) and Matt Boker (M.Arch. '15) gave short speeches at the event.
The installation was proposed by the FAB Alliance in spring 2014 with the goal of enhancing the use of the Putnam Triangle Plaza as a community gathering space. Under the guidance of Mark Parsons, director of production technologies in the School of Architecture, PrattSIDE students worked closely with the FAB Alliance and the New York City Department of Transportation to research, design, and construct the pavilion.
The team sought input from the local community through presentations and discussion with area residents and business owners and incorporated feedback into the final design. The completed pavilion features plantings and seating beneath a canopy of steel and rope designed to filter light and offer a pleasant, shaded public space for the community members.
"This installation is a wonderful addition to the plaza, and is a direct response to feedback from residents and plaza users. Partnering with Pratt continues FAB's efforts to bring a broad coalition of the community together to make great things happen on Fulton Street," said Kellogg.
The Putnam Triangle Installation is the first locally based project for PrattSIDE, which has worked on design projects in other countries to strengthen communities through efficient and effective environments. It gave the students an opportunity to work closely with each other and with the neighborhood in which many of them live. They collaborated on every stage of the project, from deciding which ideas to incorporate into the final design to planning and completing the construction.
"It's a lot of responsibility for us as students to put something in a public space," said Selem. "Seeing people sitting on the bench or looking up as they walk underneath the pavilion is a great feeling. It's been an amazing experience," she added.
Image: Image: L-R (front row): Jessica Cronstein, urban designer, DOT; Agathe Ceccaldi (M.Arch. '16); Emma Weiss (M.Arch. '16); Jennifer Arizala (M.Arch. '16); (back row): David Breen, project manager, DOT; Phillip Kellogg, executive director, FAB Alliance; Danica Selem (M.Arch. '15); Matt Boker (M.Arch. '15); Eleni Kroi (B.Arch. '17); Pablo Escudero (M.S. Arch. '15); Bryant Mojica (B.Arch. '16); and Mark Parsons, director of production technologies, School of Architecture, in front of the Putnam Triangle Installation