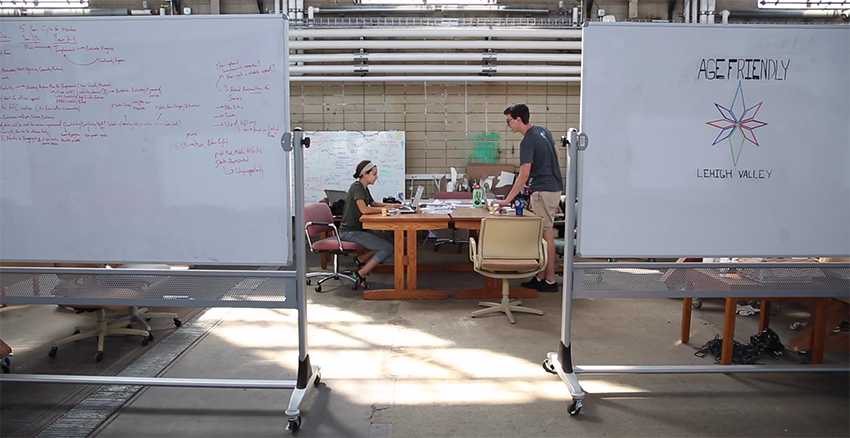 Selected Pratt students from a range of disciplines are taking advantage of a unique opportunity to work collaboratively to solve challenging problems through the Institute's recent partnership with Lehigh University in Bethlehem, Pennsylvania. Lehigh's Mountaintop Program is an innovative 8- to 10-week summer program in which students work in teams to identify and solve a variety of problems with real-world implications. The Institute joined Lehigh as a partner in the program in 2016, and the partnership emphasizes the Institute's vision of education as a way to prepare students to take on significant challenges in innovative and effective ways.
Pratt students bring to the Mountaintop program an expertise in art and design, building on Lehigh University's strong foundation in areas such as engineering. By taking advantage of the two schools' different learning cultures and academic strengths, the program fosters interdisciplinary collaboration that leads to new possibilities, and the open-ended structure allows students to pursue their creations outside of the traditional boundaries of syllabi and grades.
"As an industrial designer, I'm very interested in working with people with other expertise," said Megan Lighty (B.I.D. '17), one of the seven 2016 Mountaintop participants from Pratt. She explained that the program offered her the opportunity "to work with engineers, psychologists—people from all different backgrounds."
Lighty joined a team exploring "Aging and Technology," in which students collaborated to design technologies to help aging adults remain self-sufficient. Other Pratt students, whose disciplines range from fine arts to industrial design and interior design, worked on teams investigating 3D concrete printing methods and applications, urban planning and transportation, sustainable development, orthopedic shoes, and the intersection of technology and childhood development.
As part of an expansion of the partnership, Pratt students now have the option of proposing team projects in addition to joining existing teams, and the Institute aims to send a second cohort of 10-12 students to the Mountaintop program for summer 2017.
Read more about the Lehigh Mountaintop Program. Pratt students may apply for the summer 2017 program or learn more about it by contacting Peg Fox in the Office of the Provost (mfox@pratt.edu).