Who is running for office, what they believe in, and how their election could shape the future are all essential questions for any voter but the answers, especially in a sprawling city like New York with numerous candidates for each position, can be difficult to access. Over the past few months, Pratt Institute students in collaboration with artists and peer leaders with the Recess: Assembly program interviewed representatives and candidates about the issues that matter to them, from reducing the wealth gap to the cuts in the sanitation budget. As part of this art and civic engagement initiative, they created prints to visualize these issues, with their activist artworks joining a video of their interviews in an installation in the Pratt Manhattan Gallery windows.
On view through June 22 to coincide with the upcoming New York primary election, Political Intimacy is co-curated by Amy Khoshbin who is currently the inaugural Pratt Fine Arts Civic Engagement Fellow. Khoshbin organized the initiative and exhibition with Pratt's social practice student group, Brooklyn Engaged. The undergraduate and graduate members of the group—who are from disciplines including printmaking, history of art and design, and industrial design—created both artwork for the installation and conducted the interviews in partnership with participants in Recess: Assembly. The artist-led alternative to incarceration program is co-directed by Shaun Leonardo, a recent Pratt Fine Arts fellow. Together they worked to demystify and humanize the local elections process.
Their interviews included discussions with city council candidates Erik Bottcher, Michael Hollingsworth, Crystal Hudson, and Kristin Richardson Jordan; mayoral candidate Paperboy Love Prince; and State Senator Jabari Brisport. Held virtually or outside in parks and on street corners, the interviews covered issues with a citywide impact as well as the process of running for office. Presented in the Political Intimacy exhibition, these interviews encourage awareness of local politics, the power of voting, and how running for office can be a pathway for anyone who is interested in making change.
"As a Chinese-born international student who has been in the US for almost eight years, this project opened up my understanding of the local electoral process," said Zichen "Oliver" Yuan, BID '21. "It is incredible to observe how there are candidates like Michael Hollingsworth and Paperboy Prince Love who are putting a voice out there that is different from conventional politicians. I interviewed Paperboy Love Prince at their gallery in Bushwick, and it was an experience I will never forget. While I was asking about the proposed policies, they started freestyle rapping and making cash rain in the middle of the interview! I am excited to see emerging possibilities for politics that make young people like me feel more intimate with the systems of power."
The interview project and exhibition are aligned with other initiatives at Pratt that are focusing on social change, inclusivity in politics, and the importance of civic engagement in creative work. For instance, Fine Arts recently launched Pratt>FORWARD, a program co-directed by Mickalene Thomas, BFA Fine Arts '00, and Chair of Fine Arts Jane South that is connecting emerging artists to mentorship and pathways to being leaders in cultural advocacy. When Shaun Leonardo was a Fine Arts fellow at Pratt, he led campus experiences like the 2018 event Long Table that created a space for informal conversations on ideas of community and belonging.
Khoshbin's work has furthered this focus. Political Intimacy is part of the ongoing Civic Engagement Series which has had forums on voting and electoral politics alongside the 2020 elections that she co-hosted in partnership with Pratt Presents, as well as discussions on mutual aid and abolitionism.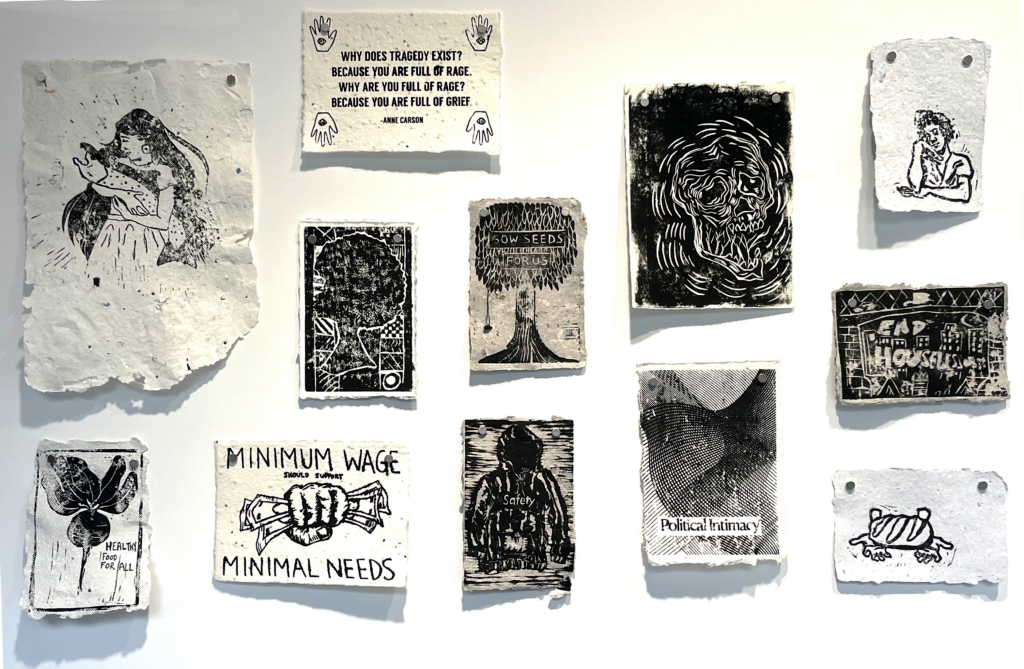 As one of the first exhibitions in the recently relocated Pratt Manhattan Gallery, which was previously on the second floor of the building, Political Intimacy also reinforces why it's powerful to have a fluid connection between the city and the campus. Anyone can see the work, day or night, as they pass by on 14th Street, bringing the conversation on local politics into a public space.
For several pieces on view, the Pratt students and Recess: Assembly participants learned printmaking techniques that they could easily use at home, producing vivid visuals for issues they are passionate about such as raising the minimum wage, ending homelessness, and equity in healthy food. They made handmade seed paper for the prints, with the works planned to be planted after the exhibition so they can flourish into flowers, fruits, and vegetables.
"Through the Political Intimacy project, I was able to better understand the impact that city council's decisions have on the everyday lives of New Yorkers," said Taylor Dean, MFA Fine Arts (Printmaking) '21. "Who we vote into the city council can affect everything from the sanitation budget to gentrification. This is why as citizens we need to get as many people as possible involved in and educated about voting for local elections."
Their prints are installed alongside pieces by contemporary artists who have a focus on social practice in their work. For instance, a knitted piece by Polish artist Olek, who regularly uses performative fiber art to advocate for the visibility of political issues, is joined by prints by the Brothers Sick (Ezra and Noah Benus) who use their art to bring attention to disability justice, while Sarah Kanu, BFA Communications Design (Illustration) '21, contributed a series of dynamic prints focused on social justice.
Along with the installation, the Political Intimacy final interview video is accessible on the Pratt Manhattan Gallery site, with the April 29 program launch event also available to watch online.