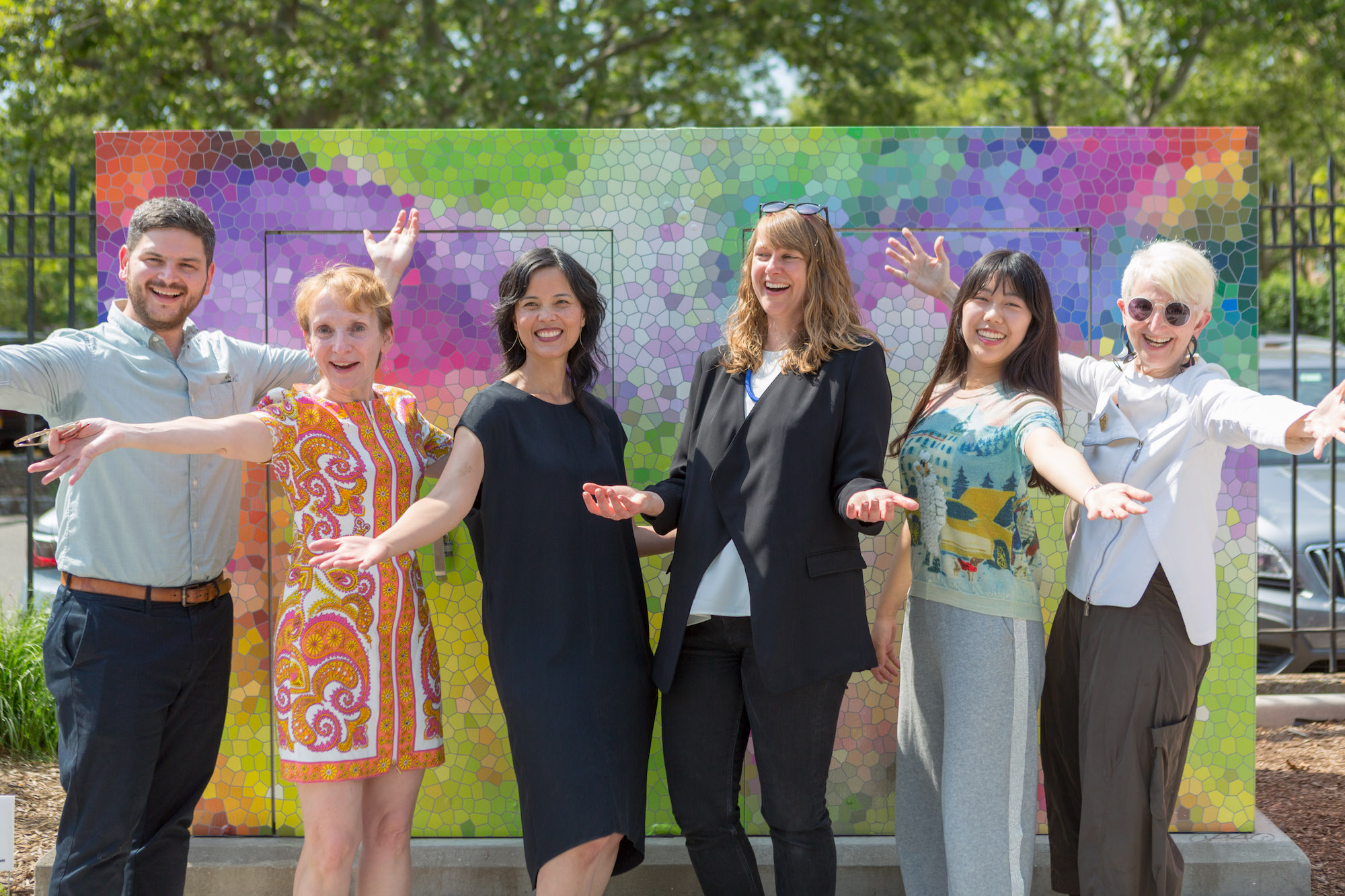 Pratt student Elodia Wei, BFA Interior Design '22, was inspired by the seasonal shifts of color along Myrtle Avenue in creating her new installation for Myrtle Avenue Plaza located next to Pratt Institute's Brooklyn campus. Called "Wonderland," the work wraps three utility boxes in the pedestrian plaza with colors representing the changes in the area across spring, summer, fall, and winter. Mingled in the mosaic-like designs are hues evoking the built environment and street life of Myrtle Avenue, from the mottled feathers of a pigeon and the rosy brickwork of buildings, to the pops of vivid advertisements on storefronts and the verdant landscape of Fort Greene Park. Wei developed the idea for "Wonderland" in the Light, Color, and Design Studio as part of the Foundation curriculum for first-year undergraduate students in the School of Art and School of Design.
"Wonderland" was unveiled on Friday, June 28, at an event featuring remarks from Pratt Institute President Frances Bronet, BID Executive Director at the Myrtle Avenue Brooklyn Partnership (MARP) Chad Purkey, Vice Provost for Academic Affairs Donna Heiland, Chair of Foundation Art Leslie Mutchler, and Corinne Ulmann, Associate Professor of the Light, Color, and Design Studio. The yearlong installation was developed by Pratt with MARP, and the project is planned as an annual collaboration involving Foundation students in creating temporary and semi-permanent works.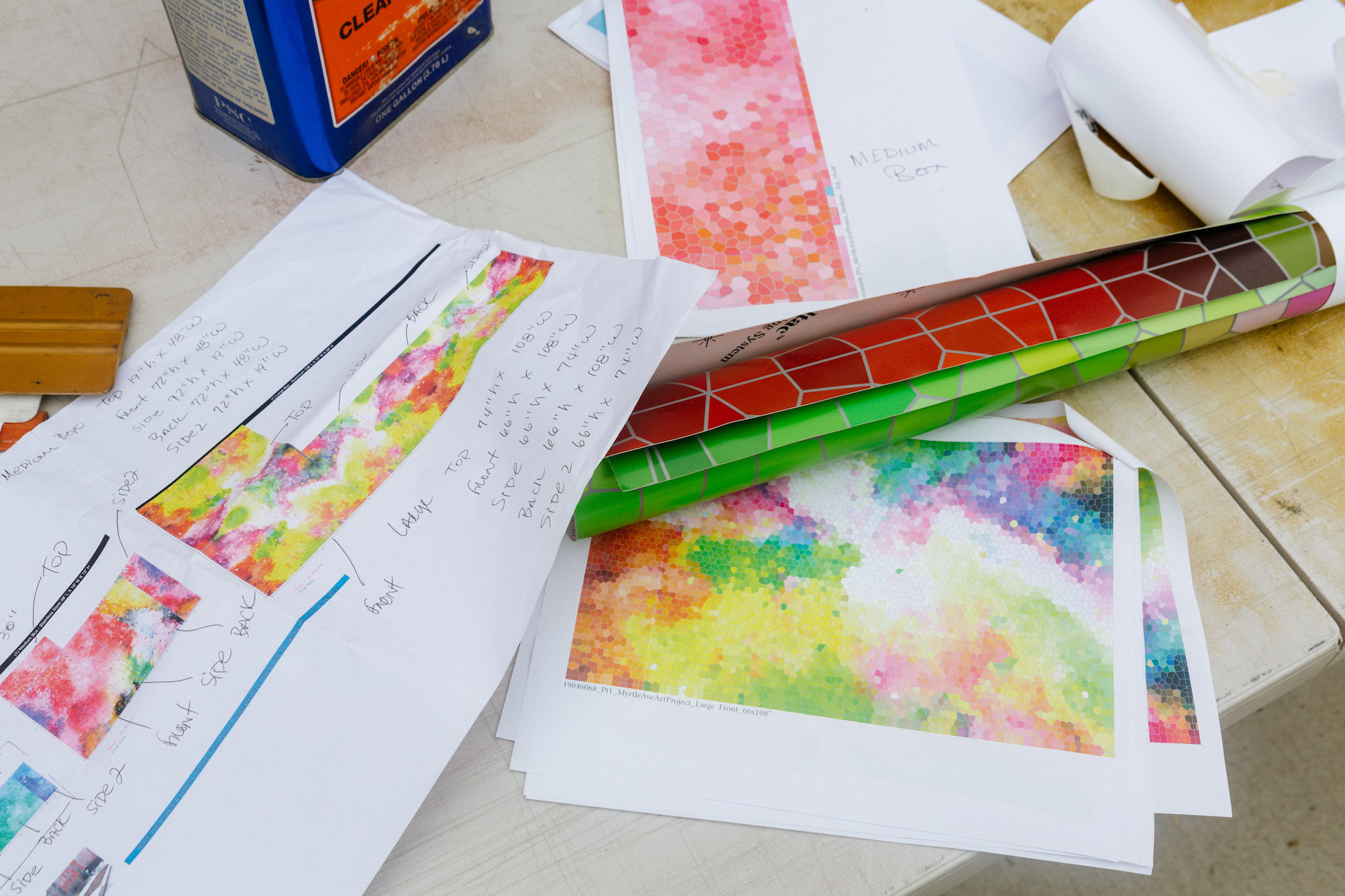 Students in the Light, Color, and Design Studio explore the experience of light, color, and design and how these elements are connected across media. Wei was one of 18 students in Professor Ulmann's Studio last semester who submitted designs engaging with these principles of light and color. Wei spent extensive time researching the color palette of Myrtle Avenue, including its architecture, flora, and businesses. She was influenced by Matthew Geller's "I Ought To" permanent installation in Myrtle Avenue Plaza. Its canopy is embedded with cast glass that streams a vibrant pattern on the sidewalk like a rose window, and Wei's artwork similarly recalls stained glass in its use of gridded color outlined in gray.
"It's a loop that represents the cycle of the four seasons," Wei said of the design. "When I was walking on Myrtle Avenue, I didn't pay attention to these boxes, and I think it brings energy and enthusiasm to this community."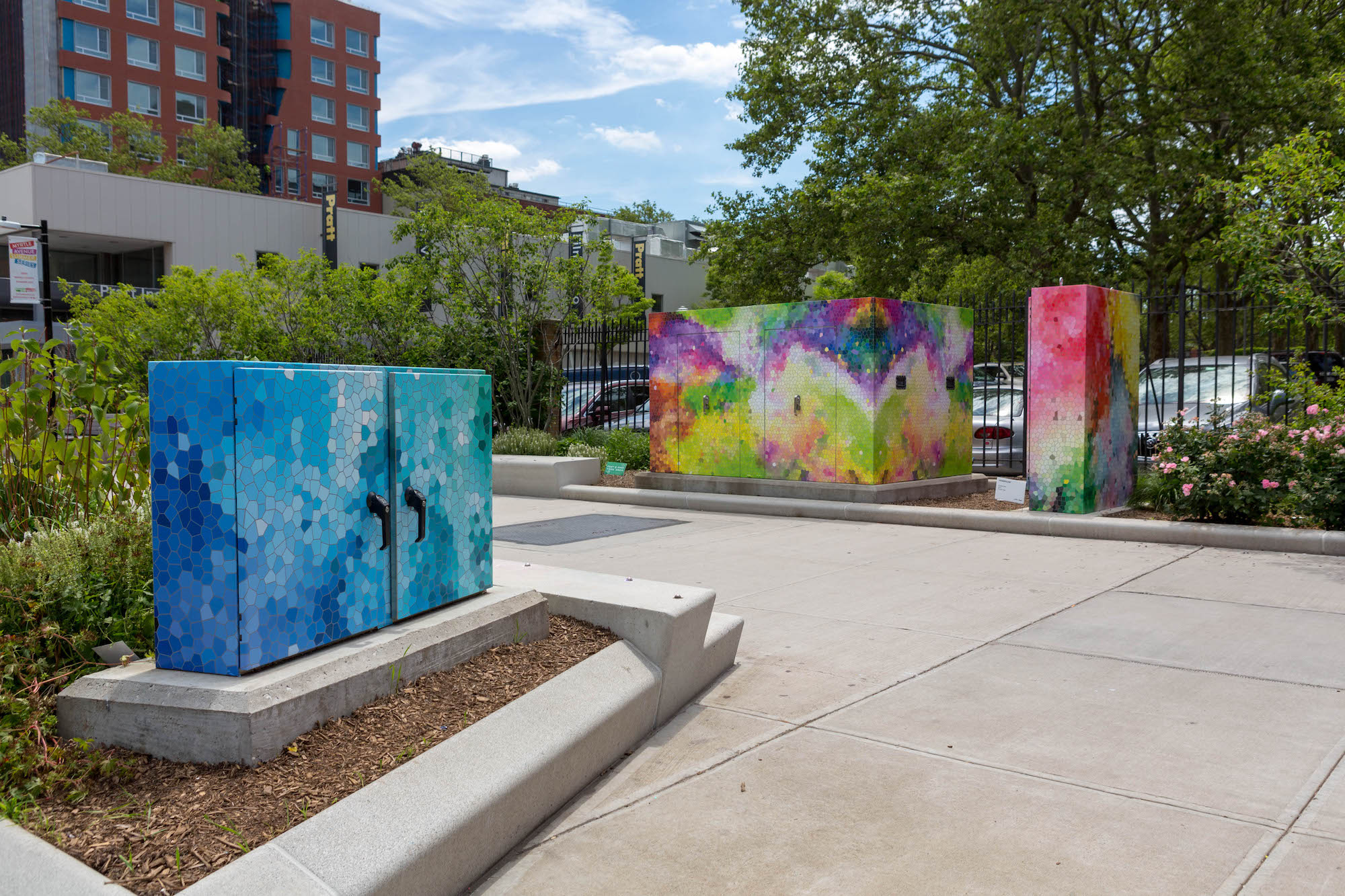 This artistic enhancement to Myrtle Avenue Plaza is just the latest contribution in Pratt's ongoing partnership with its neighborhood, which focuses on how public space is essential to strengthening relationships through collaboration. From the Pratt Design Incubator's work on the artist-designed tree guards and benches along Myrtle Avenue, to Wei's transformation of the plaza's utility boxes, each initiative has helped revitalize Myrtle Avenue into a gathering place that supports community and creativity.
Images (all photos by Armon Burton): BID Executive Director at MARP Chad Purkey; Vice Provost for Academic Affairs Donna Heiland; Associate Professor Corinne Ulmann; Chair of Foundation Art Leslie Mutchler; Elodia Wei, BFA Interior Design '22; and Pratt President Frances Bronet; Installation of Elodia Wei's "Wonderland"; Elodia Wei's "Wonderland" in Myrtle Avenue Plaza